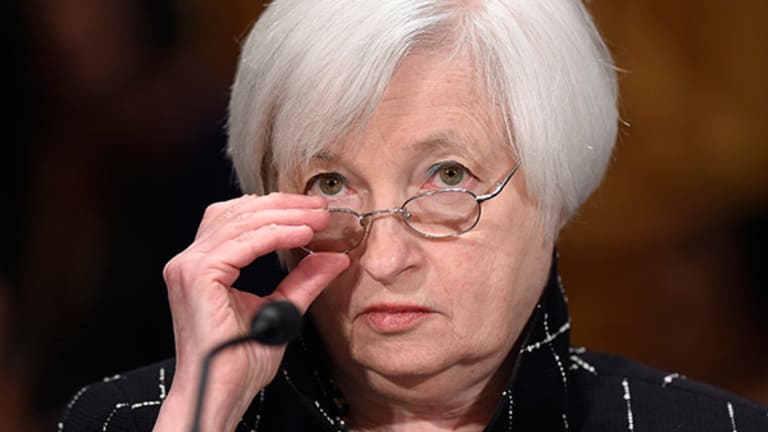 This Jobs Report Gives Janet Yellen Permission to Go Slow
The pickup in labor participation shows there's a little more slack in the job market than we thought, so inflation is less of a risk.
The pickup in labor participation shows there's a little more slack in the job market than we thought, so inflation is less of a risk.
Editors' pick: Originally published April 1.
The jobs report just gave Janet Yellen permission to do what she wants to do anyway -- go slow on raising interest rates.
The economy added 215,000 jobs in March and the unemployment rate climbed a tenth of a point to 5% -- a few more jobs than the 200,000 economists predicted and unemployment a little higher than the 4.9% forecast. The real news is in the reason why the rate could rise when more people are working: Americans are coming back into the work force in greater numbers than anticipated.
The "labor participation rate" climbed to 63%, up from a low of 62.4% last September. That means there are more potential workers to hire than we thought, and a little less inflationary pressure on wages. And that tells investors the Federal Reserve has a little less need to raise interest rates soon than it had at this time yesterday, sustaining the super-low rate strategy that has helped nearly triple stock prices since 2009.
Job markets are like any other. They work on supply and demand. And with the percentage of people seeking work dropping after 2008, there has been less competition for available jobs, and, as the economy got better, more competition for available workers. That's why real household incomes are now just about back to the peaks in the year 2000, and why wages rose 2.3% in the last year, according to the Labor Department. Consulting firm Sentier Research, using Census data, says median household real incomes have risen a much stronger 3.5% in the last year.
Right now, markets are getting tighter in industries like construction, which added 37,000 jobs even as builders like Lennar (LEN) - Get Report and KB Home (KBH) - Get Report report stronger earnings and orders for upcoming quarters.
Retail has been dotted with bad earnings reports and forecasts from the likes of Nordstrom (JWN) - Get Report and Macy's (M) - Get Report , but stores added 48,000 jobs.
Health care employers like the HCA Holdings (HCA) - Get Report hospital chain kept up their steady pace, adding 37,000 jobs of their own
The question has been why workers are dropping out -- because they despaired of finding jobs in Barack Obama's America (the Republican argument) or because 2008 coincided with the first year Baby Boomers could claim Social Security and they left the work force in large numbers. (The big drops in participation from a 2007 peak of 66.4% took place in the years that people born in 1946 could claim Social Security, join Medicare, and nab the higher Social Security benefits that kick in at age 67).
The Fed has been on record publicly as saying that demographics are the largest reason for the shift. It has made monetary policy accordingly. In part, that meant getting ready to raise rates as unemployment went to 5%, assuming that there was no new cohort of workers to keep a tighter market from causing inflation.
Now, the move up in participation is large enough, and sustained enough, that we have to concede that it's real and that it's changing the labor market. I've proposed a gentlemen's bet to economists like Jared Bernstein of the Council on Budget and Policy Priorities that the ongoing surge of Boomer retirements would push participation below 60% -- where it is in Germany, and where it was in the U.S. until the first Boomers poured out of college in the late 1960s -- before it ever reached 65% again. I'm not off that bet yet, but it's going to take longer to get to 60% than I thought.
It's not yet clear why more workers are coming back, but the participation gain adds about 620,000 workers to the work force, enough to sop up three months of job creation.
It's unlikely that Boomers are going back to work. More likely, we're seeing a return of some people who were getting more training -- the technical term is "hiding in graduate school" -- or temporarily staying home with children until prospects improved.
Either way, just the gain that has happened so far buys the Fed three more months before it has to raise rates more than it did in December.
That time, the results were ugly -- a 10% market plunge and especially bad impact on exporters like Boeing (BA) - Get Report and Caterpillar (CAT) - Get Report . Rates moving too quickly in the U.S. as European and Asian banks keep forcing them lower juices the dollar, making American goods more expensive globally and hurting employment and wage growth.
The jobs report gives the Fed three more months -- and counting -- before it has to raise rates again and risk a repeat.
Right now, the jobs report is one more reason why the Fed won't raise rates in April. Futures markets already figured that was no better than a 5% risk before the news hit. But the under-the-surface news is this slow, steady climb in participation. If it continues, that's going to mean less reason for the central bank to move in June or even September.
This article is commentary by an independent contributor. At the time of publication, the author held no positions in the stocks mentioned.