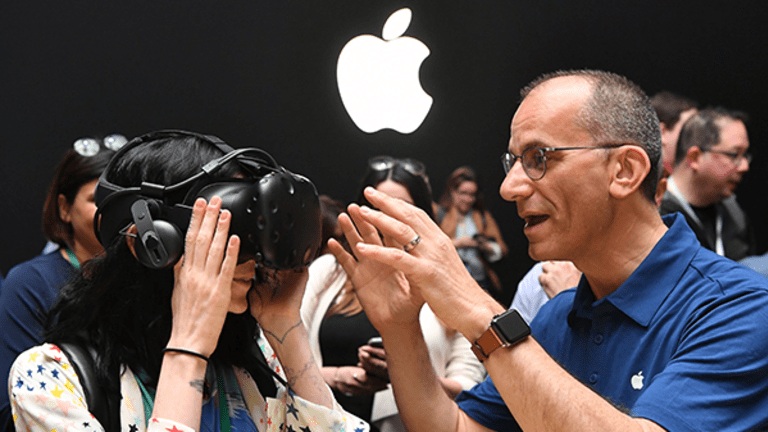 Why Apple and Intel Could Help Keep the Boom Cycle In Memory Chips Alive
The iPhone 8 and new Intel server chips could provide an extra boost to a booming memory industry during its seasonally stronger months.
Whenever the memory industry enters a boom cycle, it almost becomes a sport to guess when the music will stop playing, and some mixture of higher supplies and weakening demand bring about the inevitable downturn. This time certainly hasn't been any different, as production hikes sparked by strong demand and pricing stoke fears that the good times won't last much longer.
But while it would be a mistake to assume that the current boom cycle will last forever, it's hard not to be impressed by how well pricing has held up during what's a seasonally weak period for demand. And with demand in the seasonally stronger period due to benefit from major Apple Inc. (AAPL) - Get Apple Inc. (AAPL) Report and Intel Corp. (INTC) - Get Intel Corporation (INTC) Report product launches, the good times for DRAM and NAND flash makers could continue for a while longer.
This column originally appeared on Real Money, our premium site for active traders. Click here to get great columns like this.
On Thursday, June 15, research firm TrendForce reported that server DRAM contract prices rose nearly 10% in Q2 2017, after growing nearly 40% in Q1. It also noted fulfillment rates for server DRAM orders have been only in the 60% to 70% range this year due to supply shortages, and forecast server shipments -- under pressure during the first half of 2017 due to weak enterprise demand -- will rise 10% sequentially in the second half of the year. The amount of DRAM shipped in the average server is also expected to rise, as adoption of high-capacity 32GB and 64GB modules grows.
The mid-summer launch of Intel's Purley Xeon server CPU platform, which is based on its Sklylake processor architecture, has been much-anticipated by top server OEMs, and is expected to spark an enterprise refresh cycle. Cloud giants, whose data center capital investments continue to rise, are also eager to adopt Purley -- indeed, Alphabet Inc./Google (GOOGL) - Get Alphabet Inc. Class A Report appears to be the first company to get its hands on the chips.
Pricing for non-server DRAM chips also remains solid. Mizuho reported this week that spot pricing for 4Gb DDR3 DRAM chips, while down slightly over the last two months amid seasonal pressures and a Chinese phone inventory correction, remains up over 70% from its fall 2016 lows. In addition to controlled supplies, an improving high-end PC market (high-end PCs typically feature more DRAM than cheaper models) and smartphone DRAM content increases have helped.
Mizuho thinks pricing could start trekking higher again in the second half of 2017, as demand benefits from Apple's iPhone 8 and 7S ramps, Chinese phone launches and server ramps. On the supply side, it's worth noting that Micron Technology, Inc. (MU) - Get Micron Technology, Inc. (MU) Report has forecast industry bit shipments will only rise by 15% to 20% in 2017, as an industry largely consolidated around Micron, Samsung and SK Hynix keeps spending in check (for now, anyway).
The story looks fairly similar for the NAND flash market: TrendForce believes NAND contract prices rose 20% to 25% in Q1, and Mizuho's data indicates pricing for both chips and solid-state drives (SSDs) has been flat to slightly up this quarter. Micron has forecast NAND bit shipments will rise by 35% to 45% this year, as production of high-density 3D NAND chips surges. But for now, strong PC and enterprise SSD demand and smartphone storage capacity increases -- Apple doubled iPhone storage across price tiers last fall, and Samsung doubled the Galaxy S8's base model storage relative to the S7's -- have more than soaked up the extra supply.
Apple's iPhone 8/7S ramps, along with expected second-half phone launches from Samsung, Google and Chinese OEMs, should allow the NAND industry's supply-demand balance to stay favorable at least into the fall. Production challenges for the iPhone 8 could hurt demand a little in the short-term, but Apple appears to be expecting a strong consumer reception for the phone, which is expected to feature a curved OLED display and wireless charging support. Credit Suisse reported this week that Asian supply chain data now points to 156 million second-half iPhone builds, up from a prior estimate of 145 million.
And while 3D NAND ramps are increasing supply, they're also lowering production costs: Mizuho estimates Micron's pending ramp of 64-layer 3D NAND chips -- it follows last year's ramp of 32-layer chips -- could drive 30%-plus cost reductions. Micron NAND partner Intel is also migrating to 64-layer 3D NAND, as are Samsung, Toshiba and Western Digital Corp.'s (WDC) - Get Western Digital Corporation Report SanDisk unit.
Western and Intel each reported stronger-than-expected NAND product sales, with Western also issuing very strong sales and EPS guidance thanks in large part to its NAND outlook. Micron, whose shares soared in March after the company beat estimates and very issued blowout guidance on the back of both DRAM and NAND strength, delivers its May quarter results on June 29.
Apple, Alphabet and Western Digital are holdings in Jim Cramer's Action Alerts PLUS Charitable Trust Portfolio. Want to be alerted before Cramer buys or sells AAPL, GOOGL or WDC? Learn more now.
Conditions could get tougher for the NAND industry in 2018. Continued 3D NAND capacity growth, some of which is due to come from new Chinese players, could easily make next year's supply/demand balance worse than this year's. And while the DRAM industry doesn't have to worry about that kind of supply growth, a fresh PC sales downturn or smartphone weakness could potentially weigh on the industry. As could attempts by OEMs to pass on higher DRAM prices to customers -- HP Inc. (HPQ) - Get HP Inc. (HPQ) Report and Dell Technologies (DVMT) both recently reported that they've hiked hardware prices in response to rising component costs.
But as of this moment, the outlook for 2017 looks pretty solid. Chances are that the current boom cycle will eventually conclude the way that its predecessors have, but those predicting a quick demise will probably end up being disappointed.
Apple's shares fell 0.6% to $143.44 early Friday afternoon. Intel's shares fell 0.4% to $35.17.
Visit here for the latest business headlines.