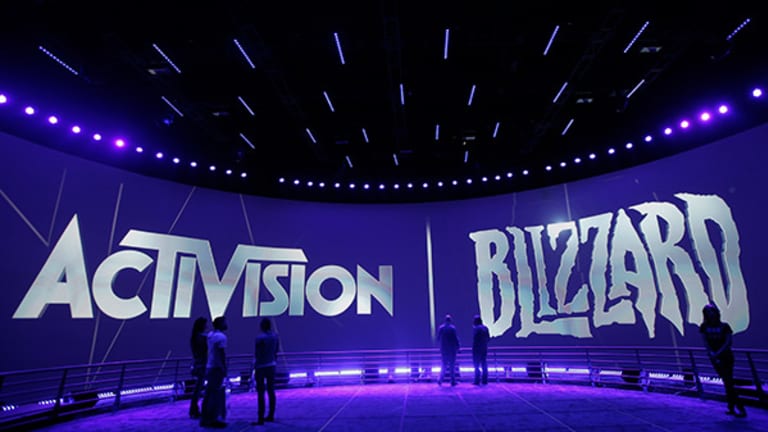 This Is the Best Stock to Capitalize on the Mobile-Gaming Craze
A big acquisition puts Activision Blizzard at the leading edge of this skyrocketing trend.
No matter what happens with the global economy, one sure bet is that more people will play and buy video games, and mobile gaming, in particular, has taken off.
Which company is best positioned to take advantage of the trend? One of the most successful technology stocks in the business is Activision Blizzard (ATVI) , which is making big moves in the mobile-gaming arena.
A study released by industry research firm Newzoo this month shows that game fanatics around the world will pour $99.6 billion into their hobby this year, up 8.5% from 2015.
By 2019, that figure is expected to hit $118.6 billion.
And the blistering rise of mobile gaming is a booming tech trend.
According to Newzoo, revenue from games played on smartphones and tablets came in at $30.4 billion last year, and that is expected to leap 73%, to $52.5 billion, by 2019.
Looming on the horizon is virtual reality.
The leader in that area is Facebook, which released its Oculus Rift headset at the end of last month. The HTC Vive followed shortly after, and the Sony PlayStation VR, designed to work with the PlayStation4 console, is due out in October.
Facebook is a holding in Jim Cramer's Action Alerts PLUS Charitable Trust Portfolio. See how Cramer rates the stock here. Want to be alerted before Cramer buys or sells FB? Learn more now.
It is too early to say how big an opportunity VR will be for game makers, but Goldman Sachs has called it "the next-generation computing platform" and expects it to be an $80 billion business by 2025.
Founded in 1979 as a maker of games for the Atari console, Activision Blizzard has gone on to develop some of the most successful titles in the video game history, including Call of Duty, Destiny, Skylanders and World of Warcraft.
The company gave itself a big lead in mobile gaming when it closed its $5.9 billion acquisition of U.K.-based King Digital Entertainment, maker of the popular Candy Crush Saga game, in February. Aside from its expertise in mobile, King Digital Entertainment brings $700 million in annual revenue, mostly generated through in-game purchases, and 475 million monthly active users.
So where does the competition stand?
Mobile offerings from rival Electronic Arts are mainly offshoots of established franchises, such as Madden NFL Mobile.Take-Two Interactive Software, maker of the Grand Theft Auto franchise, has taken a similar go-slow approach, mainly focusing on extensions of its console- and PC-based sports games.
For its part, King Digital Entertainment hasn't had much luck building on Candy Crush's success, but Activision Blizzard's experience keeping long-running games going -- Call of Duty was first released in 2003, while World of Warcraft has been around since 2004 -- should help push it over the hump. And Activision Blizzard isn't afraid to spend big on game development, investing $646 million in research and development last year, or about 14% of its revenue.
Meanwhile, Activision's forward price-to-earnings ratio clocks in at 16.4, a discount to Electronic Arts and Take-Two Interactive Software, at 17.8 and 17.1, respectively. The average 12-month price target from analysts who cover the stock is $38, implying a 12% upside.
And unlike its two main rivals, Activision Blizzard pays a dividend.
The stock's yield isn't much to get excited about, at 0.75%, but it does have a solid history of dividend growth. Since the video game giant initiated its annual payout in 2010, it has raised it by 73%.
The bottom line? Activision Blizzard is a winning tech stock that has done a good job positioning itself to profit as mobile becomes a major force in gaming.
The company is slated to report earnings next Thursday, so the time to buy the stock is now.
The best tech stock under $8: There is a battle raging in the fast-moving world of Silicon Valley. Just as VHS tapes snuffed out Betamax and CDs killed cassettes, the winner of a new "gold standard"" for data is about to be crowned. Here is a small company that figured out a way to corner this new $10 billion market, no matter who comes out the winner. Click here to learn more.
This article is commentary by an independent contributor. At the time of publication, the author held no positions in the stocks mentioned.