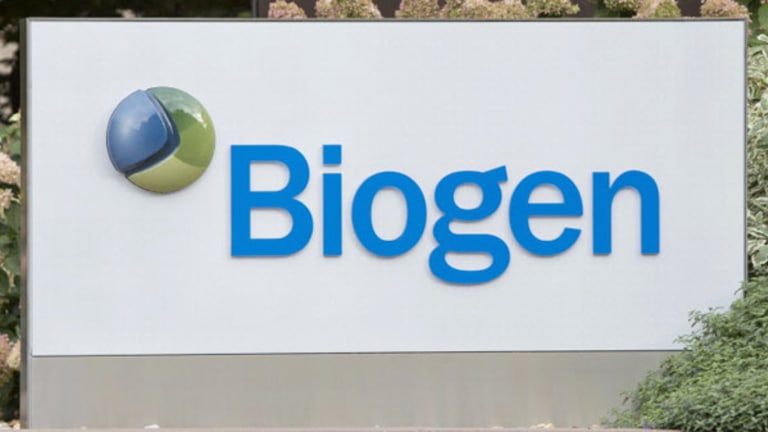 This Biotech Has Gone from Wall St. Darling to Distressed Equity
Biotechnology tends to be a risky sector, but Biogen's stock in particular should be avoided. Here is why its low valuation is a dangerous temptation.
After a nearly 45% stock price decline over the past year, Biogen (BIIB) shares are near a two-year low.
The stock is available at a bargain price of 12.72 times forward earnings. Some analysts say it is a value play, but it actually looks to be among the market's most dangerous stocks.
For starters, Biogen's single-digit earnings-per-share growth outlook is hardly reassuring. In an industry where the average growth rate is expected to be in the high teens, Biogen's weak outlook is worrisome.
Biogen seems to be a mere shadow of its former self when it was a Wall Street favorite.
Although the company enjoys profitability from several multiple sclerosis products and the cancer drug Rituxan, major MS money-spinners Avonex, Plegridy, Tecfidera and Tysabri have recently under-performed.
Additionally, close rival Roche may emerge as a tough competitor with its ocrelizumab molecule showing solid promise.
Biogen mostly deals with MS drugs, which account for 90% of sales. Single-drug or portfolio-dependent companies such as Biogen and Celgene, where multiple myeloma drug Revlimid is 60% of sales, can have a single revenue stream.
Biogen's slow-growth story makes it a risky bet in this volatile market. Net income growth has been patchy over the past four quarters.
After the company increased profits from $1 billion to $3.5 billion between 2010 and 2015 at a nearly 30% run rate, analysts now project a 9.4% annual rise for the next five years.
Although peers such as Amgen and GileadSciences are also grappling with weak outlooks, smaller biotechnology plays such as Alexion and Regeneron offer 20% growth opportunities.
For Biogen investors, the company's chunky free-cash flow and more than $3 billion cash chest means little, because there are zero dividend payouts. The only solace is the stock repurchases employed by Biogen to cut share counts by 33% in a decade.
The company's pipeline, including Aducanumab and Nusinersen are promising, yet they don't appear to be as impactful as its MS portfolio drugs.
Patent issues are also another worry. The European Patent Office revoked one of four patents covering money-maker Tecfidera, putting an estimated $1 billion in potential sales at risk for Biogen.
In fact, the only attractive thing about the stock is its valuation. But Biogen isn't even dirt cheap, after almost halving in value in a year.
Biogen shares trade at a five-year expected price-to-earnings growth ratio of 1.47 and trailing 12 months' enterprise value to earnings before interest, taxes, depreciation and amortization of 10.49.
This is about in line with Amgen, with a PEG ratio of 1.69 and an EV/EBITDA ratio of 10.47, but it isn't as cheap as Gilead Sciences, with an EV/EBITDA ratio of 5.61, and Celgene, with a PEG ratio of 0.78.
Biogen looks likely to languish in the absence of solid growth triggers, so caveat emptor.
You see Jim Cramer on TV. Now, see where he invests his money and why Biogen stock is a core holding of his multimillion-dollar portfolio. Want to be alerted before Jim Cramer buys or sells BIIB? Learn more now.
Biogen is cheap for a reason. As for the broader markets, will there be another 2008-style debacle? Prepare now by weeding out the fundamentally flawed stocks that could ruin a portfolio. We have done the homework for you, by putting together a report on the world's most dangerous stocks. To download a free copy, click here.
This article is commentary by an independent contributor. At the time of publication, the author held no positions in the stocks mentioned.