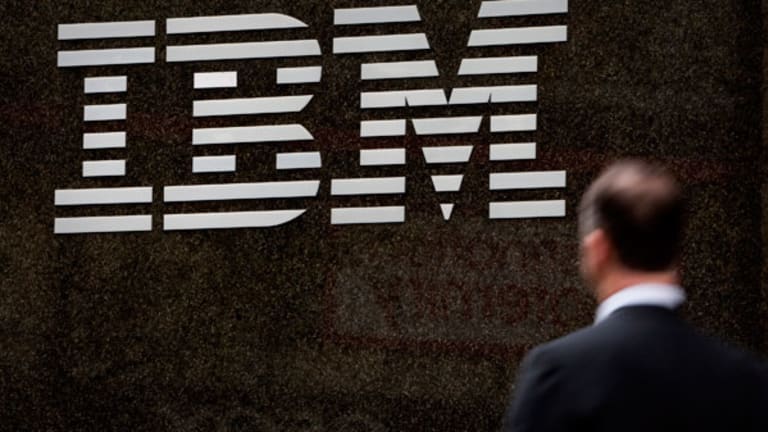 This Big IBM Bet Doesn't Deserve a Pass
How much growth will $2.2 billion buy? Management hasn't said. It seems Watson didn't do the math.
NEW YORK (TheStreet) -- Despite persistent revenue declines over the past couple of years, the Street has always had a love-affair with IBM (IBM) - Get International Business Machines Corporation Report. Even though management has wasted well over $16 billion in acquisitions the past couple of year in search of growth, none has been found.
Although IBM produces strong cash flow and above-average return on equity, the stock has lost roughly 20% of its value in the past nine months. Investors have demanded better. Recently, CEO Ginni Rometty insisted that the company is not exiting hardware. Yet this affirmation comes on the heels of IBM's decision to sell the x86 computer server business to Lenovo (LNVGY) .
Sure, IBM did well in the deal, which secured $2.3 billion. I will credit Rometty for successfully monetizing a business the company no longer cared to pursue. But cash has never been the issue for this company. The problem has been growth. And the server business was a strong profit producer.
The Street has applauded the decision. But that's only because it comes with 25% reduction in IBM's workforce, most of which will be shed from the company's hardware division. When has that ever been good news? The company called it "rebalancing its workforce" so that it can better focus on its new priorities including analytics, cloud and cognitive computing.
All of that sounds good. But what does it actually mean? With shares up 9% since the announcement, investors seemed content with Rometty's remarks, even though details were lacking. What will be the new growth targets for these new "priorities"? We can't assume a clear and credible plan is in place.
The company also said it has committed $1 billion to its new Watson unit and $1.2 billion to expand its cloud footprint around the world by building up its platform-as-a-service (PaaS) capabilities.
That's $2.2 billion in investment, and it sounds compelling. But IBM is not breaking new ground here. And the company has proven incapable of responding to nimbler rivals like Workday (WDAY) - Get Workday, Inc. Class A Report and Salesforce.com (CRM) - Get salesforce.com, inc. Report.
In fairness, this is an encouraging sign. The company has finally come to terms with its history of underinvestment. But I do question management's sudden overconfidence in the PaaS platform. Why else would they get rid of a strong money-maker like the server business? No to mention, there will be execution risks with this $1 billion investment.
Over the past twelve months, both Salesforce and Oracle (ORCL) - Get Oracle Corporation Report have built up their own PaaS capabilities through acquisitions. Salesforce in particular has a system that allows corporations to develop applications or services in the cloud, without the need for a specific platform. It's made available to users through the Internet. In fact, this has become Workday's bread and butter.
Plus, when you throw Microsoft (MSFT) - Get Microsoft Corporation Report into the mix, the space gets crowded very quickly. Microsoft seems exceptionally motivated to grow its cloud capabilities with new CEO Satya Nadella at the helm. And I haven't even mentioned cloud giant Amazon (AMZN) - Get Amazon.com, Inc. Report.
So aside from having "PaaS" added to its list of buzzwords, investors have to wonder -- what exactly does IBM stand to gain? Salesforce already has a stranglehold in the enterprise market. The company has bought itself some time. IBM believes it will get a Street pass as long as it embraces PaaS. But at some point, growth is going to matter, even for a strong dividend payer. Just ask Apple (AAPL) - Get Apple Inc. Report.
For now, the company believes it is adding profits by subtracting assets from the workforce and server business. But how much growth will $2.2 billion buy? Management hasn't said. It seems Watson didn't do the math.
At the time of publication, the author was long AAPL and held no position in any of the stocks mentioned.
This article represents the opinion of a contributor and not necessarily that of TheStreet or its editorial staff.