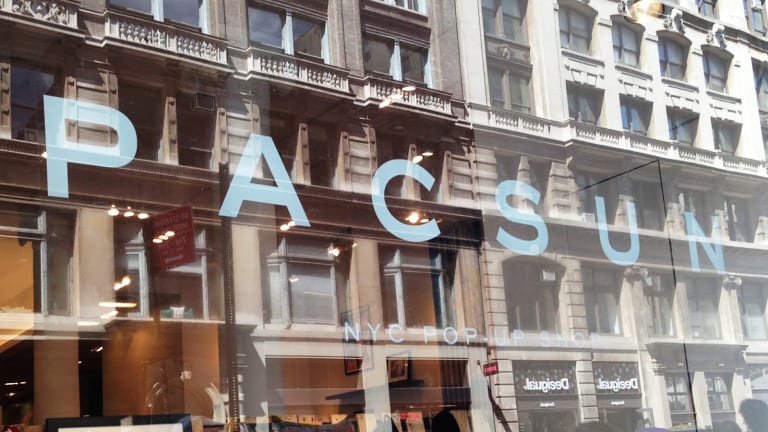 Publish date:
This Bankrupt Retailer Is Bleeding Executive Talent
Bankrupt teen apparel retailer Pacific Sunwear has seen many top executives walk out the door, which could hinder any form of turnaround.
Bankrupt teen apparel retailer Pacific Sunwear has seen many top executives walk out the door, which could hinder any form of turnaround.
To mount any form of post-bankruptcy turnaround, struggling Pacific Sunwear (PSUN) will need a host of new executives.
That's because as of right now many top officials have fled a retailer that recently entered Chapter 11 and whose future is highly uncertain. According to a review of Pacific Sunwear's latest bankruptcy filings by TheStreet, the company since the start of the year has lost the following executives: vice president of inventory management and Web quality assurance; two senior graphics designers; senior director of financial planning; senior director of marketing; senior merchandise planner; manager of human resources; manager of allocation.
In total, Pacific Sunwear said 17 key executives have left its headquarters in Anaheim, Calif.
But the hemorrhaging of talent doesn't stop there.  The company has lost 10 field employees, including a regional director in charge of about 150 stores, two senior district managers, seven district managers and seven distribution center employees. 
The disclosures were made as Pacific Sunwear asked the court to approve its employee bonus plan, which it believes is critical in retaining the executive talent that remains. If the plan isn't approved, said Pacific Sunwear, it may see continued high levels of employee turnover. Consequently, the company will be forced to divert its attention to getting scores of new executives instead of trying to emerge successfully from bankruptcy. 
Given the lack of executive talent currently at Pacific Sunwear before the start of the crucial back-to-school selling season, and when decisions are being made on holiday assortments and marketing, emerging bankruptcy with some form of momentum will be no easy task. 
As part of Pacific Sunwear's reorganization unveiled on April 7, private-equity firm Golden Capital -- which had extended a $60 million loan to PacSun in 2011 -- will convert 65% of its debt into equity, effectively giving it control of the company once it emerges bankruptcy in about four to six months, a source close to the matter said. It will also provide a minimum of $20 million in additional capital upon PacSun's emergence from Chapter 11.
Wells Fargo also has committed $100 million in debtor-in-possession financing, as well as a five-year, $100 million revolving line of credit.
PacSun said the reorganization plan will allow it to address "very high occupancy" costs of some $140 million a year, while not having to dole out cash it didn't have to service $90 million in debt coming due later this year. The company didn't disclose how many stores it intends to close as part of the reorganization process or the number of expected layoffs.