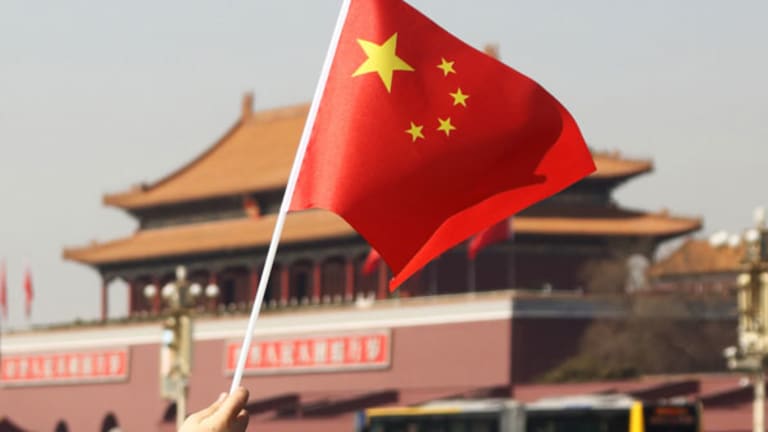 Think Tech: One Way to Invest in the 'China Miracle'
Guggenheim China Tech ETF is up 17% compared to a 3% drop for iShares China Large Cap ETF.
NEW YORK (TheStreet) -- What happened to the Chinese miracle investment theme? Investors remember a few years ago when the promise of cheap Chinese labor and low priced exports would be the back bone to 9% GDP growth as far out as could be forecasted. China was seen as becoming so financially powerful that there was fear of it taking over the financial world leaving America perpetually subjected to the threat of China selling its vast cache of U.S. Treasurys which would presumably harm our economy.
Along the way there has been the much publicized construction of ghost cities -- truly beautiful cities across the countryside where no one lives, allegations of manipulated economic data, mismanaged growth by the government and lax lending standards by Chinese banks. There was even a report in the last few days that pollution in the northern part of the country is so bad that it is reducing life expectancy by an astounding 5.5 years.
The benchmark Shanghai Composite Index has been a terrible performer. It peaked near 6000 in 2007 and is down 64% from the pre-financial crisis high. For some context the
iShares MSCI EMU Index
(EZU) - Get iShares MSCI Eurozone ETF Report
is only down 43% from its 2007 peak. China has underperformed Europe.
There is at least one part of the Chinese miracle that continues to play out as more Chinese see an improved financial quality of life. Both personal income and retail sales are continuing to grow at double digit annual rates. This plays into the theme of an emerging middle class aspiring to what many Chinese consider to be an American lifestyle.
Investing in China through broad based ETFs like the
iShares China Large Cap
(FXI) - Get iShares China Large-Cap ETF Report
has not worked; FXI is still down 50% from 2007. To the extent that the outlook for the Chinese consumer is still positive then investments focusing on where the consumer is spending money would be a logical place to look for investment possibilities.
The
Guggenheim China Technology
(CQQQ) - Get Invesco China Technology ETF Report
captures consumer spending by allocating to tech service companies like Internet services company
Ten Cent Holdings
(TCEHY)
which makes up 10% of the fund and search engine
Baidu
(BIDU) - Get Baidu Inc. Report
which makes up another 9% of the fund. BIDU was up 6% in the premarket today on news that it is buying the largest app store in China for $1.9 billion.
The Chinese economy is not immune to normal cyclicality but the elasticity of demand for these consumer oriented services looks to be more favorable than most other parts of the Chinese equity market. In the last year the Guggenheim China Technology ETF is up 17% compared to a 3% decline for the iShares China Large Cap ETF.
Surprisingly the
Global X China Consumer ETF
(CHIQ) - Get Global X MSCI China Consumer Discretionary ETF Report
has not benefitted from the American aspiration trend. The ETF is down 12% in the last year. The reason for this could be the nearly 40% in more staples oriented segments of the consumer sector like food, beverages and healthcare which don't necessarily capture the Chinese perception of the American lifestyle the way using tech gadgets to surf the internet does.
Looking forward the debate over China seems to be how much its economy will slow down. The International Monetary Fund has cut growth estimates for all emerging markets including China but China did report 7.5% GDP growth for the second quarter earlier this week.
It is important to maintain some exposure to emerging markets in a diversified portfolio because the segment will again rotate back into favor as it did during the last decade but since there is no way to know when that will happen a small exposure means being there when they do finally turn up.
For an investor wanting their emerging exposure to come from China then Guggenheim China Technology ETF would seem to be a good choice because it has done well as the perception of the Chinese miracle has waned.
At the time of publication the author held no positions in any of the stocks mentioned.
This article is commentary by an independent contributor, separate from TheStreet's regular news coverage.
This contributor reads:
On Twitter, this contributor follows: