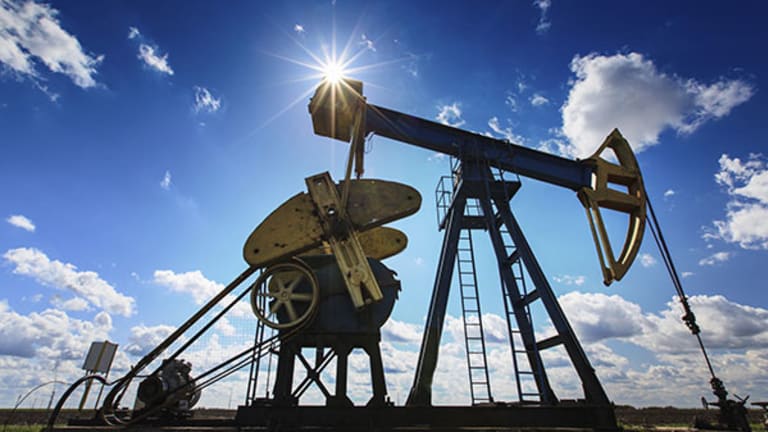 Think Oil Prices Will Rebound Next Year? Here's How to Play It
These names should jump higher if oil prices rally next year, but don't carry enough debt to make them bankruptcy risks.
NEW YORK ( TheStreet) -- If you believe oil prices are inevitably headed higher next year, energy analysts at Credit Suisse Securities Research and Will Riley, a portfolio manager, think they know the best way to play the move. 
They recommend buying energy companies with enough balance sheet leverage to look scary -- so that they have fallen more than the safer names -- but not enough debt to make them real bankruptcy risks. Newfield Exploration (NFX)  fits the bill here. They also advise looking at energy firms with strong enough balance sheets to survive if oil takes longer to rebound, but enough cash flow at $70-a-barrel oil to fund outsized production growth. Examples here include Anadarko Petroleum (APC) - Get Free Report and Devon Energy (DVN) - Get Free Report . In early trading Thursday, Brent crude prices jumped 2.5 percent to trade above $62 a barrel.
Riley is a portfolio manager at Guinness Atkinson Global Energy (GAGEX) - Get Free Report who may be worth listening to because his fund has a solid long-term record. It beats the market by 1.86 percentage points a year over the past 10 years, according to Morningstar.
Before we get to more names that meet the criteria above, why do these analysts predict oil will be higher in the second half of next year, when so many investors are so negative on crude?
Riley believes that even if OPEC holds the line, production cuts in North America combined with increased global energy demand sparked by declining prices will support a significant increase in oil prices by the second half of next year -- though moves over the next six months are anyone's guess. "The current price is unsupported," he says. There's also a chance that OPEC reverses course and cuts production.
Credit Suisse energy analyst Jan Stuart believes oil inventories will build in the first quarter of 2015 as U.S. producers will be slow to cut production. But he thinks the supply overhang will contract by the second half of the year -- driving WTI to $75 a barrel and Brent to $80 by the end of the year. "The unknown is how much pain is required for how long to elicit a material downgrade of activity in the U.S. shale," says Stuart.
How can you profit from this? Own energy stocks that have sufficient debt to be troubling enough to have fallen more than the "safer" names, says Riley, but not so much debt that they are at risk for bankruptcy. To illustrate this, Riley breaks energy names into four tiers.
At the top are those with the safest balance sheets which have fallen the least, such as Exxon Mobil (XOM) - Get Free Report . Since oil started its dramatic descent last summer, Exxon shares have fallen about 16% to around $87 from about $104.
In the next tier down, energy names with a bit more leverage such as Occidental Petroleum (OXY) - Get Free Report have fallen more, or about 25%.
That's a nice decline for a contrarian, but not as much as the decline in names in the next tier, with even more leverage, including Newfield, Carrizo Oil & Gas (CRZO) - Get Free Report , down 45% and 51%, respectively. These names are the sweet spot, says Riley. They will have more spring when oil recovers than Exxon or Occidental. But they don't carry as much bankruptcy risk as names in the most leveraged tier, such as Penn Virginia (PVA) or Goodrich Petroleum (undefined) - Get Free Report . Riley is not predicting they will go bankrupt. But the risks in the most leveraged names is too high, even if they stand to rebound more in the oil price recovery scenario, he believes.
"You want to own the names that have been reasonably beaten up because they have higher-than-average gearing, but can survive if oil stays at this level for a couple of years," says Riley. "Newfield and Carrizo have put their balance sheets in good order in past two years mainly through asset sales. They are not immune to volatility, but we think they can weather low oil prices."
Analysts at Credit Suisse suggest large-cap names that have strong balance sheets and quality energy assets -- as well as business models that produce enough cash flow at $70 oil (WTI) to fund above-average production volume growth. They put Anadarko, Devon, EOG Resources (EOG) - Get Free Report and Marathon Oil (MRO) - Get Free Report in this category.
Not everyone agrees it's time to pull the trigger on energy stocks, of course. Charlie Wilson, portfolio manager at Thornburg Investment Management, believes oil prices may have bottomed, but he'd rather wait to see a lower rig count in North America and actual declines in production growth before adding add energy names.
This could take awhile because in the short term, producers have little incentive to cut production since most of the cost of setting up wells happens up front, before they're pumping oil. "They have little incremental cost to continue to produce," he says. Producers may also hold off on cutting production while waiting for others to do so, in a kind of gamesmanship that drags out the process. "We may see supply growth for a few quarters," says Wilson. "I might miss the absolute the bottom, but I could also miss some near-term pain."
This article is commentary by an independent contributor. At the time of publication, the author held no positions in the stocks mentioned.
Brush is a Manhattan-based financial writer who publishes the stock newsletter Brush Up on Stocks. Brush has covered business for the New York Times and The Economist group, and he attended Columbia Business School in the Knight-Bagehot program.