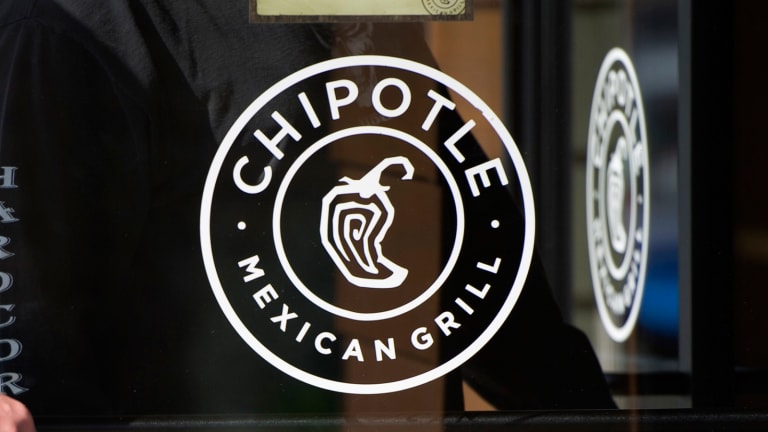 Things Still Look Absolutely Ugly for Chipotle In April
Chipotle can't gain any sales momentum and April isn't being too kind to the burrito chain.
Chipotle can't gain any sales momentum and April isn't being too kind to the burrito chain.
Despite all of the free food it has handed out to consumers, embattled Chipotle (CMG) - Get Report just can't seem to gain any sales momentum. 
The better burrito giant said same-store sales for the first three weeks in April declined 22%. Excluding the sales lift related to the calendar shift of Easter vs. last year, Chipotle's sales in April have plunged 26%.
Chipotle is seeing a continuation of dreadful sales trends pretty much throughout the country this month. Same-store sales, excluding the benefit of the Easter shift, are down 15% in the Midwest and lower by 20% in both the Southeast and Mid-Atlantic regions. On the West Coast and in the Northeast, the two areas closest to the food safety incidents -- an E. Coli outbreak and norovirus cases -- that have surfaced in the past six months, same-store sales have declined 24%.
"The impact of the headlines concerning Boston taught us that the recovery [in sales] can be fragile, and that we need to rebuild trust with our customers, every single customer, every single day and in every single restaurant," conceded Chipotle Chief Financial Officer Jack Hartung on a call with analysts Tuesday. In an attempt to rebuild trust with consumers, Chipotle is moving forward with the introduction of a spicy chorizo sausage after successful tests months ago, a rewards program for its most loyal customers and buy-one get-one free food offers.
Hartung was non-committal on how Chipotle's bottom line would shake out for the second quarter amid the promotional efforts and weak sales trends. "We're not prepared to guess what the earnings per share is going to be in the second quarter, it all depends on sales. If sales recover, the earnings per share will turn positive very quickly, but if they stay at this level, it's going to be hard to deliver the higher margins and earnings per share," said Hartung, who added later in the call, "I would not expect a loss in the second quarter."  
With Chipotle's sales in April not improving much from those seen in the first quarter, investors may question why they have bid up the company's stock about 11.5% from a 52-week low set on Jan. 12. Chipotle reported its worst sales growth ever as first quarter same-store sales plunged 29.7% vs. estimates for a 28.4% decline. The company posted a loss per share of 88 cents for the first quarter, compared to a profit of $3.88 a share a year earlier. It was the first time in its history as a public company that Chipotle reported a quarterly loss.