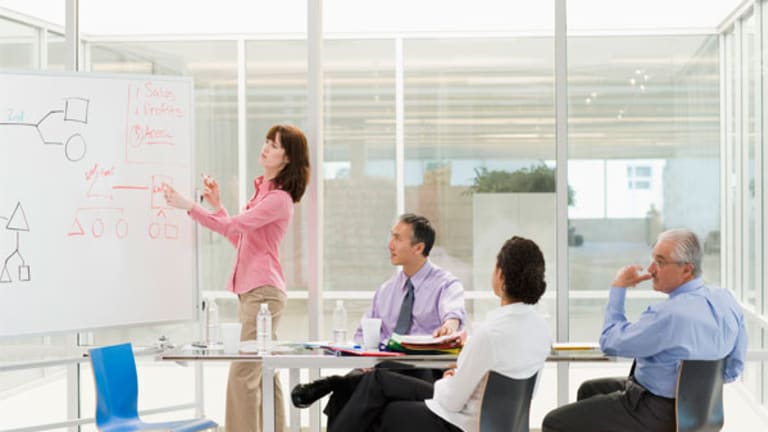 They Just Don't Get RIMM!
Marek Fuchs, senior contributing analyst at TheStreet, explains reeling RIMM's row back.
NEW YORK (TheStreet) -- Research in Motion's (RIMM) new fearful leader made as ignoble a debut as possible. Charged with turning around the obviously ailing telecom company, newly minted CEO Thorsten Heins elicited puzzled blinks (and worse) by telling the world that when it came to the reeling RIM "no drastic change is needed" and "we are headed absolutely in the right direction."
Uh, OK. Whatever, dude.
Then on Friday, he sat down with
The Wall Street Journal
(NWS) - Get Report
. In an attempt to rebuild his reputation, Heins made big claims about his power and plans. The Wall Street Journal summed it up in a highly favorable headline: "New RIM Chief Plots Overhaul."
There was only one problem...and it was a huge one. The Journal made no mention of Heins' initial comments that everything was peachy at RIM. They didn't point out the inconsistency, the contradiction and the legitimate questions of uncertainty in his leadership this raised.
Minyanville did well, showcasing all that matter in the headline: "RIM CEO Backpedals on `No Change Needed' Comment." When a CEO has trouble communicating effectively and bounces between verbal extremes within the span of a week, traders--and the media--need to take note.
At the time of publication, Fuchs had no positions in any of the stocks mentioned in this column.
Marek Fuchs was a stockbroker for Shearson Lehman Brothers and a money manager before becoming a journalist who wrote The New York Times' "County Lines" column for six years. He also did back-up beat coverage of The New York Knicks for the paper's Sports section for two seasons and covered other professional and collegiate sports. He has contributed frequently to many of the Times' other sections, including National, Metro, Escapes, Style, Real Estate, Arts & Leisure, Travel, Money & Business, Circuits and the Op-Ed Page.
For his "Business Press Maven" column on how business and finance are covered by the media, Fuchs was named best business journalist critic in the nation by the Talking Biz website at The University of North Carolina School of Journalism and Mass Communication. Fuchs is a frequent speaker on the business media, in venues ranging from National Public Radio to the annual conference of the Society of American Business Editors and Writers.
Fuchs appreciates your feedback;
to send him an email.