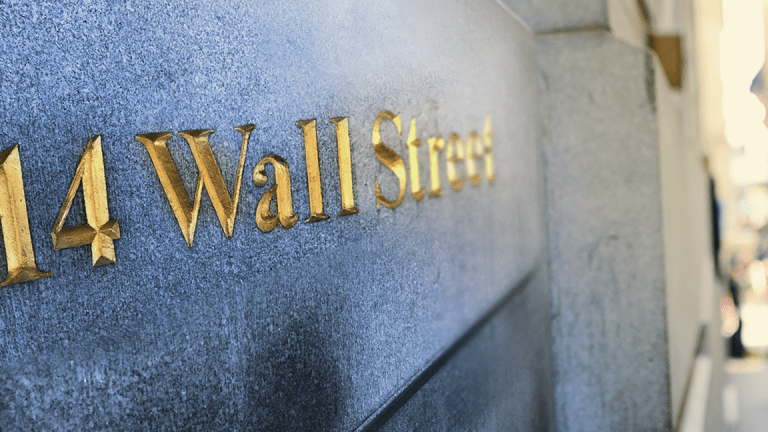 TheStreet Staff Recalls Black Monday and the Crash of 1987
As part of our Black Monday 30th anniversary series, TheStreet staff recaps their memories of Oct. 19, 1987, the single worst trading day since the Great Depression.
For many investors, investment professionals and even us journalists who were around to witness Black Monday, Oct. 19, 1987 is a day they remember. Whether as a monumental event for the world of trading or a window of weakness on an otherwise strong financial decade compared to the 1970s.
There's no denying the events of the day: Then-high tech trading tools and complex hedges caused sellers to hit the sell button over and over and over and over again and the markets tanked. The Dow lost 500 points in a single trading day, 22% of the market or almost a 6,000 point-equivalent in today's Dow. Individual fortunes seemed to have gone up in smoke in the course of hours.
But at the same time, others argue that it was a crash without consequence. A crash that was expected to signal the next Great Depression, but didn't. The markets would recover in the coming months and the '80s continued into the '90s. The Lacoste collars went from popped to not, Kevin Costner went from "Field of Dreams" to "Dances With Wolves," but not much changed.
The opinions of colleagues (many now working in our main office at 14 Wall Street) and others who witnessed the day's events seem to differ so much. But the longer I talked to those people the more I understood that Black Monday was something either you remember deeply or you sort of marveled at the event but shrugged off. It either led to a shift in trading practices and technology or was just an inevitable blip on the radar as the modern financial system took shape. It's hard to explain, even when you ask the savviest professionals.
To help investors — and myself — understand the mood of the day I decided to ask some of our top reporters, editors and columnists to weigh in and describe what they remember from that day.
Needless to say, when you ask a bunch of financial journalists—many of whom were in different careers or fields of journalism 30 years ago—what they were doing during the worst day in financial markets history you get a range of responses. Add to the equation some were in diapers and others playing ultimate Frisbee in the quad and the mix is entertaining to say the least. Some detailed and poignant, others a bit more vague. Many of the stories are New York-centric, but others from across the country felt the impact.
Here we go:
David Callaway, CEO, TheStreet Inc. (TST) - Get TheStreet, Inc. Report --
I was three weeks into my first reporting job at The Boston Herald. I walked into the newsroom about 10 a.m. that morning, one of the first to arrive, when the early city editor came running up and said "Dave, the Dow is down 200 points. Is that important?"

A surreal day began that included a rush to the Boston Stock Exchange, where they had barred visitors, and an exchange with someone running out screaming "it's down 500 points." Around the corner a crowd of about 150 gathered in front of the Fidelity investment center, which had a ticker in its window, and was watching in Depression-era fashion, when someone jumped out of a cab and fell flat on his face. The crowd collectively turned to look at the man, and then looked up, to see if he had jumped out of a window above. The specter of 1929 was everywhere. 

Back in the newsroom, an antiquated Dow Jones news ticker clacked out headlines on paper rolls we tore off and used to add numbers to the color of the day, both from downtown Boston and from Wall Street. Because our senior banking reporter was on his honeymoon, I was chosen to write the story - my first front page byline. The next day it appeared along with a double-truck spread on page 2 and 3 of the newspaper, which my father dubbed "The End of the World by David Callaway."
Leon Lazaroff, Deputy Managing Editor, TheStreet --
Just a couple years out of college I had an internship at The Nation magazine when Victor Navasky was still the editor and the 99-year-old weekly was housed in a worn but still stately townhouse on Fifth Avenue. At some point around 2 p.m., an editor rushed into the windowless room where the interns were housed, dutifully fact-checking the latest screeds from Andrew Cockburn and Christopher Hitchens.

"The stock market is crashing," he exclaimed. "Let's go down to Wall Street." Like vultures receiving a tip about a new shipment of carrion, we charged into the street, heading for the 4-5 train, still referred to by older New Yorkers of that era as the Lexington Avenue line.

We were giddy and green, keen to see cracks in the edifice of capitalism. Maybe this was the big one.

When we emerged onto Broadway in lower Manhattan, there were already crowds gathering at the western end of Wall Street, which was still open to traffic back then. Making our way down the narrow street, we got close enough to stand and watch. One by one, men in rumpled jackets, their hair asunder, exited the New York Stock Exchange. They looked bad. They looked so bad that the crowd got quiet. The excitement was blunted by the despair. The only voices heard were tabloid reporters barking out questions, trying to provoke a comment that might explain the confusion. Ashen, stunned, these men of the market glanced away and kept walking.
Michelle Lodge, Senior Editor, TheStreet -- 
Oct. 19 is my birthday, so it has always been a special day.

Oct. 19, 1987, was no different. I began the bright, crisp day in Midtown New York on assignment for Crain's New York Business interviewing a principal of City Electric Distributors Inc., the type of traditional old-school firm that forms the backbone of the city.

This, of course, was pre-internet, pre-smart phone, so little did I know then that all hell was breaking loose on Wall Street. A friend told me afterward that she had been warned to be careful walking in the Financial District because people were jumping out windows.

Later that day, my father called me from his office in Sarasota, Florida, to wish me a happy birthday. My dad was a businessman with wide-ranging investments and businesses, including a brokerage firm modeled after Charles Schwab's based on limited advice and discounted commissions. We talked about the day's events and how they may play out for investors, the country and the markets. Many of his clients had lost a bundle--a thought that pained him mightily.

Lots of birthdays are forgettable. That Oct. 19 is one I remember.
John Pickering, Senior Editor, TheStreet -- 
On Black Monday, Oct. 19, 1987, I was a 31-year-old literary agent working out of a storefront office on Hudson Street in the West Village section of New York City. My job in those days was on the periphery of the book publishing business, which at the time was a good deal more glamorous and popular than it is today. My partner and I represented authors, and we marketed their books to publishers, negotiated contracts and collected advance and royalty payments for our clients.

In those days before computers were widely used, we communicated with the outside world either over the telephone or via the U.S. Postal Service. That day I remember working inside most of the day, and it wasn't until I got home after work and turned on the evening news that I even knew that the stock market had crashed. The news carried no resonance for me, other than surprise that something so seemingly consequential could happen without my knowing about it. At the time I had no investments and probably couldn't name any of the Dow components, describe what a market-maker is or explain what companies like Goldman Sachs even did. A whole bunch of trees fell in the forest that day, and I couldn't hear.

Within a year of that date I was married and had a child, and within two years I had given up on literary agenting and become a financial journalist, starting out at a trade paper called Accounting Today. That sensation of something important happening that I didn't even know about has stuck with me as one I never wanted to have again, and has led to a fairly interesting career in journalism.
Stephen "Sarge" Guilfoyle, Columnist, TheStreet.com/Real Money -- 
People think of Halloween when they think of October. Not this guy. When I think of October, I think of Black Monday. I am experiencing chills down my spine right now as my mind drifts back in time. At the time, I was the lead clerk (trading assistants were known as clerks in 1987) for the Pershing division of Donaldson, Lufkin & Jenrette in booth ZZ in the Main Room of the New York Stock Exchange. We shared that booth with folks from EF Hutton, and Salomon Brothers, just to take you back in time. It was the best of times, and it was the worst of times.

In 1987, brokerages had to call someone on the trading floor, and that someone had to answer the phone in order for an order to be entered. We wrote the order down on paper and clocked "the ticket". We had three minutes to get back to you. Three minutes!! Seems strange in this era of micro-second executions, doesn't it? Well, in 1987, on Black Monday October 19th... three minutes was not enough. Not even close. The Dow Jones Industrial Average came in 508 points that day, or what was then 23%. After I took the orders by phone, and wrote them down by hand ... I then needed a floor trader (member) to execute the order and report back to me. There were too many orders, and not enough floor traders that day. I don't remember what the actual volume was that day, but I do remember bragging that executed orders bearing my handwriting amounted to 1.7% of NYSE composite volume for the session. I told my fiancee that this was a big deal. She thought that I was an idiot. We worked 4 a.m. to 11:30 p.m. every day that whole week just to push paper. The fiancee? She still, for some reason, decided to raise a family with me.

There would over time, be other crashes. There would be terrorist attacks. We would lose friends along the way. All of that came after there was at least some automation though ... or at least after circuit breakers had been invented. I have never in all of my life experiences (except maybe that first night at Parris Island), been through and witnessed the all-out bedlam of that day.
Ronald Fink, Executive Editor, The Deal --
Editor's note: In 1987 Ron worked at Medical Economics, a trade publication for doctors then located in Oradell, N.J. Living on the Upper East Side ... I cringed at Ron's commute as I read his account.
After reading about the plunge [on the Red and Tan bus line], and how program trading involving portfolio "insurance" against such a decline was ironically responsible, I was jogging around the Central Park reservoir an hour and a half after the close. [Note: It was still a functioning reservoir in 1987]

I heard two traders not far behind me shouting about what a shitshow it all was, and I thought, "Boy, I guess it really was that bad." Except that the market soon recovered all of its losses and then some and never did I hear another word about anything like it from traders or ordinary joggers on any of my every-other-day, 4-to-6 mile runs during the next year or so of reporting on finance, or for that matter in my 30-odd years since of covering the beat but practicing a saner form of exercise, at least.
Steve Zuckerman, Senior Editor, TheStreet--
I was the editor of the weekly Dallas Business Journal, an American City Business Journals paper, in October 1987. This was pre-Internet and I remember that we put our publication "to bed" -- sending it off to the printers -- on Thursday nights. Subscribers would receive it Monday morning.

So our big challenge was not only how to come back on the story a full week later -- even as the Dallas Morning News and Dallas Times Herald did strong work during the week of Black Monday, but also how to write our stories not knowing how the week was going to end on Friday.

I remember that we bet right regarding Friday, and I believe we did a good job with some fresh and timely articles that come out on Monday, Oct. 26.
Steve was the only one brave enough to supply a photo of himself:
Editor's note: This last one, a parody of The Beatle's 1965 song "Yesterday," was unedited for your reading pleasure. Tom lives in California. What can I say? The sun brings out the creativity:
Tom Bemis, Senior Editor, TheStreet --
I remember I rewrote the words to "Yesterday"

[Song starts:] Yesterday

All my shares went up up and away

Now it looks as though they're down to stay

Oh I was rich, just yesterday

Suddenly

My net worth's not what it used to be

Margin calls are hanging over me

Oh, I've lost all my equity

Why they went so low, I don't know, I couldn't say

I stayed long too long, now I long for yesterday

Yesterday

Stocks were such an easy game to play

Now my capital has gone away

Oh I was rich, just yesterday [Ends, Tom now writing for Katy Perry]
Ends, Tom now writing for Katy Perry
The "Crash of '87 -- TheStreet Special Report" is a series of stories, videos, graphics and other multimedia elements that look at the stock market crash of 1987, also known as Black Monday. TheStreet examines the cause of the crash, reveals some of the hottest stories of the day, and discovers what could cause a similar crash in the future. How can we prevent another Black Monday? Read more about the Crash of '87.
Originally published Oct. 19.