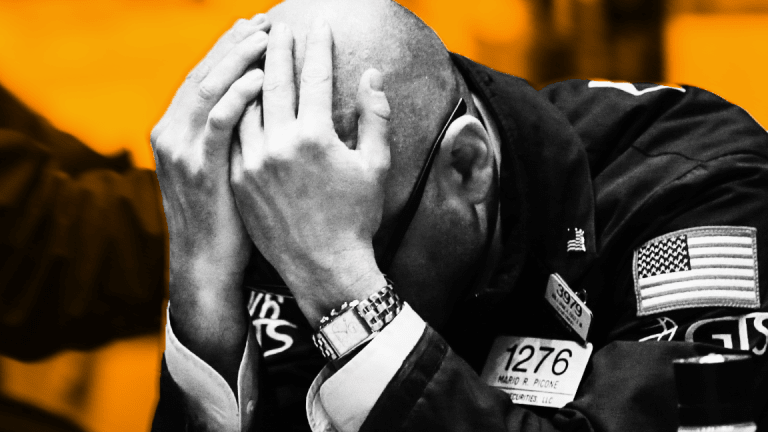 Live Blog: The Stock Market Is Completely Falling Apart
Tesla CEO Elon Musk sure has an odd sense of humor. Investors return after a long holiday weekend with news of China tariffs on U.S. goods.
It's game time after a long holiday weekend. Cheers to FAANG stocks having a better week...
SOX Gets Smashed
Guess investors think Apple will eventually be making all its iPhone and Mac components. The Philadelphia Semiconductor Index dropped 4% on news that Apple would no longer use Intel chips in its Mac computers. The SOX is on a collision course with its Feb. 8 low. 
Outside of Intel, Action Alerts Plus holding Nvidia (NVDA) - Get NVIDIA Corporation Report and Lam Research (LRCX) - Get Lam Research Corporation (LRCX) Report were the worst performers in the SOX.  
How You Know Monday's Session Is Bad
Investors can't even find a reason to nibble on the bruised, battered 3.4% yielder General Electric (GE) - Get General Electric Company (GE) Report . Shares fell as much as 4% on the session. 
Here are several other reasons not to like Monday's session.
Bad News for Intel
Action Alerts Plus holding Apple (AAPL) - Get Apple Inc. (AAPL) Report plans to use its own chips in its Mac computers as early as 2020 instead of Intel (INTC) - Get Intel Corporation (INTC) Report chips, according to a report from Bloomberg. Good news for Apple's investors: this is one way to pump up profit margins. Bad news for Intel -- shares dove 8.2% on the news. 
An Intel spokeswoman didn't immediately return a request for comment. 
Afternoon Markets
The bottom has dropped out of the market. Nasdaq Composite in correction. S&P 500 in correction. Watch our live analysis below. 
Retirement Tips
With the stock market looking shakier, there is no better time to sit back and assess your retirement planning. TheStreet's latest premium product Retirement Daily, presented by long-time retirement expert Robert Powell, launches shortly. Learn more here.
Here are several short stories to get you thinking today:
No Love for Dividend Stocks
No doubt there are some values to be had in dividend stock land. S&P Global just dropped this chart showing investors remain too obsessed with growth names. That mindset has to change as we enter a steady diet of interest rate increases. 
About Stock Market Crashes
What better way to start a week than calling for a 50% stock market crash. That's exactly what one market expert predicted when hopping on set with TheStreet's Scott Gamm. Watch here. 
Buy Bank Stocks?
The financials have cooled off this year after a sizzling 2018. Fears over trade wars and a shakier bull market will do that. Goldman Sachs offers up some good reasons below on why to get long banks into earnings season later this month. They are bullish on Morgan Stanley (MS) - Get Morgan Stanley (MS) Report and Bank of America (BAC) - Get Bank of America Corp Report . 
Via Goldman:
Elon, What Are You Doing
We quickly got raked over the coals on Twitter by Tesla (TSLA) - Get Tesla Inc Report fanboys after responding to a bizarre April Fool's day tweet from CEO Elon Musk. But, Musk's tweet -- which jokes about a bankruptcy filing -- is the type a CEO of a public company shouldn't be putting out there on the internet. That is especially the case for a company like Tesla, which isn't making and any money and is poised to let Wall Street down this week with its latest sales figures. 
The biggest risk to Tesla's survival at this point may not be getting cars produced, it may be the guy overseeing the entire operation. Tesla shares have shed about 21% over the last month. The stock is down about 6.4% on Monday.
We appreciate the shout out here from MarketWatch. 
Walmart May Have to Pay Up Big-Time for Humana
News broke Thursday evening that Walmart (WMT) - Get Walmart Inc. Report and Humana (HUM) - Get Humana Inc. (HUM) Report are in early talks about merging. At first, it looked as if Walmart would be buying all of Humana. But since the report, stories have surfaced that the two could just be looking at a partnership where Humana opens its health clinics inside Walmart stores. 
Bet on Walmart to ultimately buy Humama. Walmart CEO Doug McMillon doesn't do anything half baked. Here's how much Jefferies long-time retail analyst Dan Binder thinks it will cost Walmart to buy Humana:
Assuming a 30% premium to HUM's adjusted stock price and an all-cash deal, we estimate a $50 billion equity takeout with a total transaction value of about $54 billion net of debt and cash, or ~14.6x TTM EBITDA (25x FY18 PE). While cost out synergies might be nominal given the very different businesses, the biggest opportunity would be to drive incremental traffic and sales at WMT as it leverages data and incentivizes customers to fill prescriptions at WMT pharmacies. This should also result in add-on sales with each incremental trip it is not getting today. In our accretion estimate range of 5-9%, we assume 0-$500 million in cost out synergies or about 0.5% of combined SG&A at the high end. What is not in our synergy estimate is incremental sales, but we estimate that each percentage point gain in US Walmart sales would be accretive by about $0.14 per share or 3%. The resulting deal would leave WMT with adjusted debt/EBITDAR at about 4x, higher than historical levels at around 2x. However, with strong FCF, we think debt raised for a deal could get paid down within a few years.
Humana's stock is up about 6% on Monday.
Where the Markets Are
Stifel's chairman and CEO Ron Kruszewski tells TheStreet the market is entering a period where picking stocks will be in favor. So for those folks that have bought tech names such as Netflix and Action Alerts Plus holding Facebook (FB) - Get Facebook, Inc. Class A Report without doing proper analysis, better dust off those analytical skills. 
Watch part one of our interview below. 
Subscribe to our Youtube Channel for extended interviews, Cramer Replays, feature content, and more!