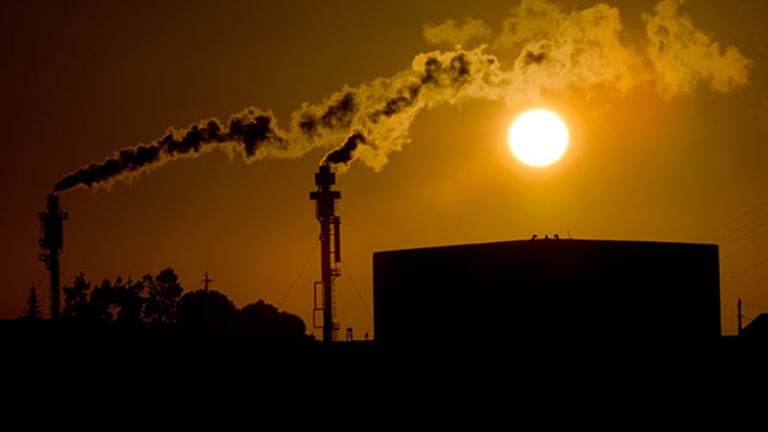 These U.S. Energy Stocks Might Get Trapped in Ukraine Conflict
U.S. sanctions can backfire against publicly traded energy companies with significant exposure to Russia, Putin warned.
NEW YORK (TheStreet) -- The Obama administration Wednesday announced its largest package yet of economic sanctions against Russia, hitting the country's biggest oil producer Rosneft (RNFTF) and other energy firms in a move that could also wind up hurting U.S. energy companies that operate in the region.
A Malaysian passenger jet carrying nearly 300 people on Thursday crashed in eastern Ukraine, where both sides in the civil conflict accused each other of having shot it down with a missile. The crash exacerbated diplomatic tensions, leaving investors even more wary of western companies with significant exposure in Russia, such as Exxon Mobil (XOM) - Get Exxon Mobil Corporation Report , BP (BP) - Get BP p.l.c. Sponsored ADR Report and Total (TOT) - Get Total SA Sponsored ADR Class B Report.
eBay Is Smartly Treating StubHub Like Uber
Biotech Stock Mailbag: AcelRx, Yellen Aftermath, Nymox
Washington has targeted Rosneft, Russia's leading oil producer; Novatek (NOVKY) , the country's largest independent gas producer; as well as two banks and eight defense companies, among others.
In its latest sanctions, the U.S. is limiting access to the U.S. financing markets to Russian companies for more than 90 days. But Washington did not freeze their assets or ban American companies from conducting business with them. This means that while Rosneft will still be able to sell its oil, and U.S.-listed oil majors can continue working with Rosneft, the sanctions could hurt Rosneft's financing of its operations.
If Russia fails to take meaningful steps to halt the Ukraine crisis, the U.S. might impose more bans. Russian President Vladimir Putin has said that the restrictions will hurt U.S. energy companies and put the U.S.-Russia relationship at a "dead end."
Exxon Mobil, which teamed up with Rosneft to exploit the country's enormous shale and conventional oil reserves, has considerable operations in Russia with more than two decades of experience.
Since Wednesday, its shares have been largely flat. BP and Total also hold significant interest in the Russian companies on Washington's black list. The American depositary receipts of Total and BP have fallen somewhat since Wednesday.
Exxon Mobil is the main operator of an oil project off Russia's Pacific Island of Sakhalin with a 30% stake, while Rosneft holds a minority interest. In 2013 Sakhalin's output reached 140,000 barrels of oil per day.
Partnership between Exxon Mobil, which is seeking ways to boost its production growth, and Russian companies keen on finding resources to exploit vast reserves in the Russian Arctic or in shale gas reserve, are questioned by the tensions over Ukraine's civil war.
Since 2011, Exxon and Rosneft signed several agreements for the exploration projects, including Chukchi, Laptev and Kara Seas, developing the Bazhenov oil field in Siberia. They also are studying a $15-billion liquefied natural gas, or LNG, plant  in the Russian Far East.
British oil and gas company BP has an even greater exposure to Russia, which is its second largest source of earnings and output. BP gets a million barrels of oil per day from Russia. It owns a 19.8% stake in Rosneft. Earlier in May, BP and Rosneft signed an agreement to explore central Russia for unconventional fuel. In June, BP entered into a $1.5 billion deal with Rosneft under which the Russian company agreed to supply up to 12 million tons of oil and oil products to BP on a prepaid basis for five years.
French oil major Total owns 17% of Novatek. In late-2011, Total and Novatek started developing the Termokarstovoye natural gas field. The project is slated to kick off in 2015 with production of 65,000 barrels of oil equivalents per day.
Total has also partnered with Novatek and Sinopec (SNP) - Get China Petroleum & Chemical Corporation Sponsored ADR Class H Report to develop the $27 billion Yamal LNG project in the Russian Arctic. In this project, Total, along with its partners, planned to drill more than 200 wells and construct three LNG liquefaction plants with a combined capacity of 16.5 million tons per year.
Yamal LNG, in which Novatek, Total and Sinopec hold 60%, 20% and 20% stakes, respectively, is expected to begin production from 2017.
At the time of publication, the author held no positions in any of the stocks mentioned.
This article represents the opinion of a contributor and not necessarily that of TheStreet or its editorial staff.