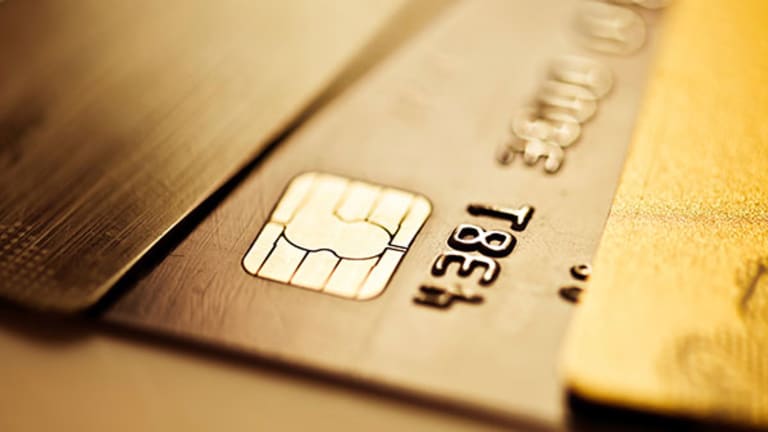 These Credit Cards Can Save You Big Hassles When Traveling in Europe
You can make your next trip to Europe a little smoother by getting a chip and PIN card before you go.

As you may have heard, U.S. credit cards are finally catching up with the rest of the world by placing a chip, known as an EMV -- for Europay, MasterCard, Visa -- on the plastic currency. The chips greatly improve security and are readable by new terminals that have been installed over the last few months at many big supermarkets, retailers, and restaurant chains.
Unfortunately for Americans traveling to Europe, most U.S. card issuers are utilizing a simpler, but less secure, system that just requires a chip and a signature, rather than a chip and a PIN number. With just a signature card, you may be stuck waiting in long lines at European airports and train stations to deal with an actual person, rather than just being able to use a kiosk. The cards may also not be accepted by restaurants or at toll booths.
For a time, the only chip and PIN cards Americas could get were issued by the State Department Federal Credit Union and the Andrews (Air Force Base) Federal Credit Union, which required you to join the American Consumer Council. The only bank card available used to be a BMO Harris Diners Club card, which for some reason the bank never seemed to advertise.
But Americans are starting to have more choices. The Barclaycard Arrival Plus World Elite MasterCard, launched in May, has a chip and PIN for an $89 annual fee, which is waived the first year.
Jonathan Roisman at NextAdvisor gave it a five-star ranking for its fees, rewards (40,000 miles if you spend $3,000 on it within the first 90 days), and no foreign transactions fees when traveling outside the U.S. And other chip and PIN cards now include Hawaiian Airlines World Elite MasterCard, Wells Fargo Propel World American Express Card, and all the cards from Diners Club, 
Kevin Yuann, director of credit cards at Nerd Wallet, says if your current credit card has a chip, you might even be able to add a PIN to it.
"A lot of credit card issuers offer chip and signature that go with the American payment customer but have a PIN capability on it," Yuann says. "So if you are traveling, you can ask them to assign a PIN to your card." You may need to ask for a supervisor at the call center, though; customers report widespread ignorance and misinformation at banks on the topic of chip and PIN cards. And Yuann expects that most American credit cards will eventually move to chip and PIN.
"In the rest of the world, they are already on chip and PIN, which is secure," Yuann said. "In the U.S. we are playing catch-up in chip technology."
This article is commentary by an independent contributor. At the time of publication, the author held no positions in the stocks mentioned.