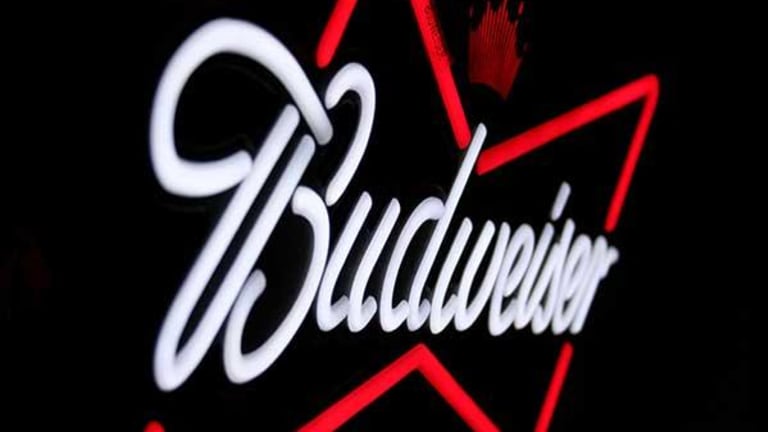 These 5 Stocks Could Be Toxic for Your Portfolio
It's time to unload these five toxic stocks from your portfolio.
Call it a tale of two markets, but July has been a month of high flyers and miserable failures.
Just in the last week, we've seen big earnings-induced moves, such as yesterday's 8.5% selloff in Ford (F) - Get Report  or Tuesday's nearly 7% pop in shares of Apple (AAPL) - Get Report . Month-to-date, there are literally dozens of examples of double-digit moves, just within the S&P 500 Index. To be sure, that stock market dichotomy is creating some exciting upside opportunities right now. In fact, we took a look at five blue-chip breakouts just yesterday.
But the other side to that coin is the fact that a big chunk of this market isn't working right now. And a pretty material number of those stocks could be downright "toxic" to your portfolio this summer.
To figure out which stocks to steer clear of, we're turning to the charts today for a technical look at five big stocks that could be toxic to own.
For the unfamiliar, technical analysis is a way for investors to quantify qualitative factors, such as investor psychology, based on a stock's price action and trends. Once the domain of cloistered trading teams on Wall Street, technicals can help top traders make consistently profitable trades and can aid fundamental investors in better entry and exit points.
Just so we're clear, the companies I'm talking about today are hardly junk. By that, I mean they're not next up in line at bankruptcy court -- and many of them have very strong businesses. But that's frankly irrelevant to what happens to their stocks; from a technical analysis standpoint, sellers are shoving around these toxic stocks right now. For that reason, fundamental investors need to decide how long they're willing to take the pain if they want to hold onto these firms in the weeks and months ahead. And for investors looking to buy one of these positions, it makes sense to wait for more favorable technical conditions (and a lower share price) before piling in.
So, without further ado, let's take a look at five toxic stocks to sell.
Twitter
If you've owned shares of Twitter (TWTR) - Get Report  in 2016, it's probably not hard to imagine this stock as "toxic." After all, this social media stock has shed almost 30% of its market value so far this year -- and its price tag has been more than cut in half in the last 12 months. The thing is, Twitter's selloff might not be over just yet. Shares are forming a textbook breakdown pattern in the long-term.
Twitter is currently forming a descending triangle pattern, a bearish continuation setup that's formed by horizontal support down below shares at $14, and downtrending resistance to the top-side. Basically, as Twitter has bounced in between those two technically important price levels, this stock has been getting squeezed closer and closer to a breakdown through its $14 price floor. If and when that happens, Twitter opens up a lot more downside risk.
The bearish price setup in Twitter is being confirmed by relative strength right now. Our relative strength line, down at the bottom of Twitter's price chart, measures this stock's performance versus the rest of the broad market. The fact that it's been in a downtrend since February -- and made lower highs since last fall - indicates that Twitter is still underperforming in the long-run. If $14 gets violated next, look out below.
Twitter is a holding in Jim Cramer's Action Alerts PLUS charitable portfolio. The portfolio rates the stocks a Three, meaning it would sell shares on strength. "We reiterate our Three rating on Twitter, and continue to advise members -- new and existing -- not to purchase shares, which represent less than 0.5% of our portfolio (we sold all but a sliver of our position over a year ago in the high $30s)," Cramer and Research Director Jack Mohr wrote on Tuesday following the company's earnings. "We believe the company is well on its way to spiraling out of control, and view its inability to engage users, monetize content or suppress executive turnover as reasons to avoid an investment in the name at all costs."
AmTrust Financial Services
Mid-cap insurance company AmTrust Financial Services (AFSI) - Get Report  might operate a wholly different business from Twitter, but you wouldn't know it from looking at the price chart. Like the social media stock we just looked at, AmTrust is forming a textbook descending triangle right now -- it triggers a sell if shares violate long-term support down at $24. Shares are a stone's throw from materially violating that price level this week.
What makes that $24 level so special? It all comes down to buyers and sellers. Price patterns, such as this descending triangle setup in AmTrust, are a good quick way to identify what's going on in the price action, but they're not the actual reason a stock is tradable. Instead, the "why" comes down to basic supply and demand for shares of the stock itself.
The $24 support level in AmTrust is a place where there has been an excess of demand for shares; in other words, it's a spot where buyers have been more eager to step in and buy shares than sellers have been to take gains. That's what makes a breakdown below $24 so significant - the move would mean that sellers are finally strong enough to absorb all of the excess demand at that price level.
Keep a close eye on how AFSI handles this test of $24.
Anheuser-Busch InBev
Shares of Anheuser-Busch InBev (BUD) - Get Report  got a shot in the arm yesterday, climbing just over 3% on news that major SABMiller shareholders are said to support a revised takeover offer from AB InBev. The news may be good for AB InBev shareholders, but the price action isn't looking any better heading into the end of this week - this $200 billion beer brewer still looks toxic.
AB InBev has actually posted some good price momentum lately, up almost 13% since shares bottomed back at the start of March. But the rally is beginning to show some cracks this summer. AB InBev is currently forming a rounding top, a bearish reversal setup that looks just like it sounds. The rounding top indicates a gradual shift in control of shares from buyers to sellers - the sell signal triggers when shares bust through the support level that's acted like a price floor for this stock. In AB InBev's case, that breakdown level is down at $121.50.
Like with any of the potentially toxic trades on this list, it's critical to be reactionary with Anheuser-Busch InBev. Technical analysis is a risk management tool, not a crystal ball, which means that increased downside risk in AB InBev doesn't actually trigger until our $121.50 price floor gets materially violated. Until then, this big brewing company is merely waving the caution flag.
Femsa Comerico
Anheuser-Busch InBev isn't the only big beverage company that's looking shaky this summer. Mexican convenience store chain Femsa Comercio (FMX) - Get Report  derives a huge chunk of its business from stakes in Coca-Cola's (KO) - Get Report  biggest bottler and beer company Heineken. But you don't need to know what Femsa does to figure out the price action; this price chart is about as simple as it gets.
Femsa has spent most of 2016 bouncing its way lower in a downtrending channel, a bearish price pattern formed by a pair of parallel trendlines that have been pointing down and to the right. That pair of trend lines has done a good job of corralling almost all of Femsa's price action this year. Each of the last four attempts at trend line resistance have swatted this stock lower. The most recent one happened just a few sessions ago. From here, it makes sense to sell this latest bounce lower.
Waiting for that bounce before clicking "sell" is a critical part of risk management for two big reasons: it's the spot where prices are the highest within the channel, and alternatively it's the spot where you'll get the first indication that the downtrend is ending. Remember, all trend lines do eventually break, but by actually waiting for the bounce to happen first, you've confirmed that sellers are still in control before you unload shares of Femsa.
Royal Bank of Canada
Last up on our list of potentially toxic trades is Royal Bank of Canada (RY) - Get Report , the $118 billion financial services giant. Frankly, it's been a great year to own this stock so far. Since the calendar flipped to January, Royal Bank of Canada has climbed 16.7% higher on a total returns basis, leaving the broad market averages in its dust. But it might be time for RBC shareholders to start thinking about taking some of those gains -- this big stock is starting to look "toppy."
RBC is forming a head and shoulders top, a bearish reversal setup that signals exhaustion among buyers. The head and shoulders top is formed by two swing highs that top out at approximately the same level (the shoulders), separated by a higher high (the head). The sell signal comes on a breakdown through Royal Bank of Canada's neckline, which is down at $57.50. In short, if this stock fails to catch a bid at that $57.50 level on its next test, it's time to unload shares.
This is another situation where momentum is sending some extra evidence for a downside move. Our momentum gauge, 14-day RSI, has been making lower highs on each of the three peaks in the head and shoulders pattern. That's a bearish divergence from price that signals buyers have been quietly fading in this stock. If $57.50 gets violated here, it's time to sell.
Disclosure: This article is commentary by an independent contributor. At the time of publication, the author was long AAPL.