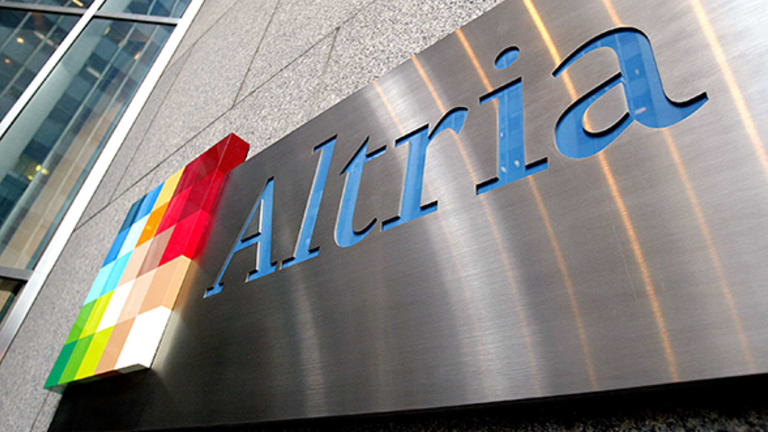 Publish date:
These 5 Dividend Stocks Want to Pay You More Money
These five big stocks could be about to increase their dividend payments in the coming months
These five big stocks could be about to increase their dividend payments in the coming months
]The Brexit selloff is serving as an unpleasant reminder to investors in 2016: Dividends still matter a lot right now.
Year-to-date, dividend payouts have meant the difference between being breakeven in the S&P 500 or sitting in the red. For the Dow Jones Industrial Average , dividend payouts actually pull the big index into positive territory since the calendar flipped to January. But 2016's performance numbers are only a tiny part of the story. That's because the impact of dividends only really start to show themselves in the longer term.
In fact, just over the last 10 years, dividends have accounted for almost half of the S&P 500's performance, handing investors the difference between 57.5% gains and 95.9% gains when reinvested dividends are factored in. But to find the biggest benefit from dividends, it's not enough to simply buy names with big payouts today -- you've got to think about which names are going to be paying more tomorrow too.
So instead of chasing yield, we'll try to step in front of the next round of stock payout hikes.
For our purposes, that "crystal ball" is composed of a few factors: namely a solid balance sheet, low payout ratio, and a history of dividend hikes. While those items don't guarantee dividend announcements in the next month or three, they do dramatically increase the odds that management will hike their cash payouts to shareholders. And they've helped us grab onto dividend hikes with a high success rate in the past.
Without further ado, here's a look at five big stocks that could be about to increase their dividend payments in the coming months Think of it as your dividend preview.
Microsoft
Leading off our list of potential dividend hikers is tech giant Microsoft (MSFT) - Get Microsoft Corporation (MSFT) Report . Microsoft has been making progress in the last 12 months, up 12% on a total returns basis over that stretch, vs. a 1% decline in the S&P. And this stock could be about to up the stakes with a dividend boost. In the meantime, Microsoft pays out a 36-cent quarterly dividend check that adds up to a 2.9% yield at current price levels.
Microsoft doesn't need much in the way of an introduction. It's one of the biggest technology companies in the world, selling everything from software tools to mobile devices to gaming consoles. Despite that broad product lineup, Microsoft's Windows operating system and Office productivity suite still provide the lion's share of the firm's profits today. The decision to move more resources behind "the cloud" should be an important growth driver in the quarters ahead -- it's already become the number-two public cloud vendor since launching its Azure platform.
Financially, Microsoft is in excellent shape, with more than $70 billion in net cash and investments on its balance sheet. That big cash cushion pays for about 19% of Microsoft's market capitalization at current price levels, providing a big safety net for Microsoft investors as well as this stock's dividend payout. After four straight quarters of a 36-cent dividend check, investors are likely to get a raise in the months ahead.
Altria Group
Dividends and tobacco companies go hand in hand -- that's a big driver behind the consistent history of dividend hikes from cigarette giant Altria Group (MO) - Get Altria Group Inc Report . Altria currently pays out a 56.5-cent per-share dividend check each quarter, a payout that adds up to a 3.33% yield at current levels. Now investors look likely to get a raise later this summer.
Altria is a cigarette company first and foremost. The firm's Marlboro brand is the largest cigarette label in the country, and it throws off considerable cash. Despite that advantage, the cigarette industry is a declining business here in the U.S., and because Altria spun off its international operations back in 2008, growth isn't something investors should expect to see in this stock. Despite that long-term downtrend in sales, the existing business still throws off substantial cash, making this stock purpose-built to pay big dividends for investors.
But while cigarettes are still Altria's main business, the firm is unique among tobacco stocks in that it has invested in other traditional "sin stock" businesses, buying up Ste. Michelle Wine Estates as well as a 27% stake in beer brewer SABMiller. Following SABMiller's pending merger with Anheuser Busch InBev (BUD) - Get Anheuser-Busch InBev SA/NV Sponsored ADR Report , Altria will own 10.5% in the world's largest brewing company.
Altria has paid out the same dividend for the last four quarters. If history is any indication, investors are likely to get a raise in August.
Lockheed Martin
Defense giant Lockheed Martin (LMT) - Get Lockheed Martin Corporation (LMT) Report  is another blue-chip stock that's looking primed for a dividend hike this year. Lockheed tips the scales as the biggest defense contractor in the world, providing Uncle Sam and allies with everything from aircraft to missiles to IT services. And as the geopolitical environment continues to look volatile this summer, Lockheed's mission critical contracts mean that it should continue to collect a meaningful chunk of the nation's defense budget.
Lockheed Martin has been a company in transition in the last year. First it acquired helicopter manufacturer Sikorsky in November, doubling down on its aerospace exposure to the tune of $9 billion. And later this year, it will complete a spinoff of its information systems business, combining it with Leidos Holdings (LDOS) - Get Leidos Holdings, Inc. Report  in a deal designed to unlock more value for shareholders.
Once the IT business breaks apart from Lockheed, aviation will add up to approximately 40% of revenues, with mission systems taking 30%, and missiles and fire control and space systems filling the remaining 30% of sales. While the IT services spinoff will obfuscate Lockheed's dividend, it's likely we'll see a boost to Lockheed's actual yield through a dividend hike once the deal is closed and dust is settled.
Typically, Lockheed's rate hike announcements come early in the third quarter. Stay tuned.
Lockheed Martin is a holding in Jim Cramer's Action Alerts PLUS charitable portfolio. Cramer and Research Director Jack Mohr wrote on Frida:
Unsurprisingly, LMT significantly outperformed the market on the Friday selloff. LMT sits in an industry benefiting from serious secular growth (increases in defense spending), and on a stock-specific level, the company is known for its consistency in increasing dividend payouts. As we've noted time and again, stability and income generation will win out in this uncertain market and LMT fits the bill.
Cintas
Business services stock Cintas (CTAS) - Get Cintas Corporation Report  has been holding its head above water despite the volatility in 2016. Year-to-date, Cintas' price returns have come in at 2.5%, vs. a 0.39% decline in the broad market. But the numbers begin to look more impressive
Cintas is the largest uniform services company in the country, providing the uniforms that employees at more than one million businesses wear every day. From fast food restaurant and hotel employees to factory workers, millions of people go to work each day wearing Cintas' uniform products. And that deep relationship with commercial customers also gives Cintas the opportunity to sell high-margin add-on products such as cleaning supplies and fire equipment to the customers on its 8,000 delivery routes.
As the economy goes, so goes Cintas. The firm benefits significantly from better jobs numbers, and while the Brexit shake-up has clearly had a negative impact on the macro picture for the economy, the trend towards better employment numbers is still alive here at home.
Historically, Cintas has paid out an annual dividend with a long track record of dividend hikes. Investors are likely to get another raise later this year.
Republic Services
Dividends and trash collection go together like two peas in a pod -- at least they have historically. The trash business tends to throw off consistent cash, and that's one reason why trash collection companies like Republic Services (RSG) - Get Republic Services, Inc. Report  have typically been associated with steady upward dividend payouts. Right now, Republic cuts investors a 30-cent dividend check each quarter, but shareholders could soon see a raise.
Republic Services is the second-biggest waste management company in the country, with 340 individual collection companies and nearly 200 landfills in its network. Republic's size provides the company with an important advantage. Because it's one of the largest players in the extremely fragmented waste collection business, it's able to court larger customers with contracts on a nationwide basis. As Americans produce more trash volume, Republic Services stands to benefit over the long term.
Republic Services also has a long track record of returning capital to shareholders in the form of dividends. Right now, the firm's payout represents a 2.4% yield, and that dividend check has grown an average of 7% annually since 2010 -- the firm's price appreciation has masked some of that dividend growth. Investors should pay attention for another potential raise later this summer.
Disclosure: This article is commentary by an independent contributor. At the time of publication, the author held no positions in the stocks mentioned.