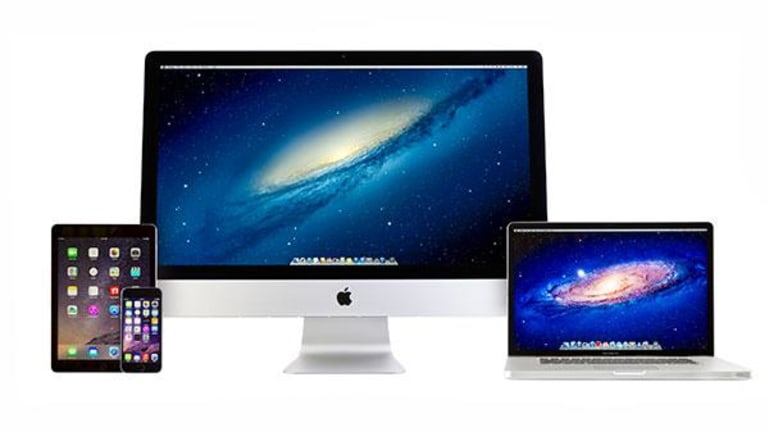 These 5 Big Stocks Are Breaking Out This Summer
Earnings season is off to a good start. Here are five more stocks that could shoot higher this summer.
A strong start to earnings season is driving the S&P 500 to new highs again this week.
Earnings season, which kicked off at the start of last week, has been overwhelmingly positive so far. Of the 80 S&P components that have already released their quarterly numbers to Wall Street, 63 have beaten analyst expectations. That's the highest level of earnings surprise for stocks in more than two years -- and it's playing out in the price action.
The S&P 500 made new all-time highs on Wednesday, and it's managed to push year-to-date total returns to 7.6%. If that pace continues for the rest of the year, it puts 2016 on track to be the best-performance for the big stock market index since 2013's 29% rally.
Of course, not all stocks are benefitting equally from the upward trend in the broad market. To find the big stocks that make sense to buy this summer, we're turning to the charts for a technical look at five large-cap names that are on the verge of breakout territory.
First, a quick note on the technical toolbox we're using here: Technical analysis is a study of the market itself. Since the market is ultimately the only mechanism that determines a stock's price, technical analysis is a valuable tool even in the roughest of trading conditions. Technical charts are used every day by proprietary trading floors, Wall Street's biggest financial firms, and individual investors to get an edge on the market. And research shows that skilled technical traders can bank gains as much as 90% of the time.
Every week, I take an in-depth look at big names that are telling important technical stories. Here's this week's look at five big stocks to trade.
Cnooc 
Up first is Cnooc (CEO) - Get CNOOC Ltd. Report , China's national oil company. So far, CNOOC is having a solid year in 2016 - this $57 billion energy stock has rallied almost 23% since the calendar flipped to January. But don't worry if you've missed the upside move in Cnooc; shares look ready to kick off a second leg higher this summer. Here's how to trade it…
Cnooc is currently forming a textbook ascending triangle pattern, a bullish continuation setup that indicates the likelihood for more upside ahead. The ascending triangle is formed by a horizontal resistance level up above shares (at $128 in Cnooc's case), and uptrending support to the downside. Basically, as Cnooc pinballs in between those two technically important price levels, this stock has been getting squeezed closer and closer to a breakout through its $128 price ceiling. Shares closed slightly above that $128 level in yesterday's session, but the key word there is "slightly" -- the move through $128 isn't material enough to call it a breakout at this point. But shares are close enough that investors should be keeping a close eye on things this week.
Cnooc has some added upside evidence coming from its relative strength line down at the bottom of the chart. Relative strength measures this stock's performance versus the rest of the broad market, and the fact that it's holding onto its uptrend from the start of January means that Cnooc is still beating the averages on a long-term basis right now. If this stock holds above $128 this afternoon, consider it buyable.
Walgreens Boots Alliance
We're seeing the same setup in shares of Walgreens Boots Alliance (WBA) - Get Walgreens Boots Alliance Inc Report . Even though WBA hasn't exactly been trending higher so far this year, shares have been forming a textbook ascending triangle since mid-May. For WBA, the key breakout level to watch is long-term resistance up at $86.
What's so special about the $86 level? It all comes down to buyers and sellers. Price patterns, such as this ascending triangle setup in Walgreens, are a good quick way to identify what's going on in the price action, but they're not the actual reason that makes the stock tradable. Instead, the "why" comes down to basic supply and demand for WBA's shares themselves.
The $86 resistance level is a price where there has been an excess of supply of shares; in other words, it's a spot where sellers have been more eager to step in and take gains than buyers have been to buy. That's what makes a breakout above $86 so significant -- the move means that buyers are finally strong enough to absorb all of the excess supply above that price level. Once Walgreens manages to definitively move above $86, we've got a new clear-cut buy signal in this stock.
From a fundamental perspective, Walgreens is a holding in Jim Cramer's Action Alerts PLUS charitable portfolio. Cramer and Research Director Jack Mohr wrote last week regarding reports that the FTC intended to approve Walgreens' merger with Rite Aid (RAD) - Get Rite Aid Corporation Report  that "we are constructive on Walgreens with or without the Rite Aid deal."
"While the merger would bolster the combined entity's supply chain economics (in particular its generic drug-purchasing power) and provide solid earnings accretion, we do not think it is the only route to share appreciation," they continued. "We are impressed by the company's consistent operational performance, strong underlying fundamentals, and significant low- hanging fruit (on both the cost and revenue sides, as the company optimizes productivity and implements cost savings initiatives that target the front end of its domestic stores), all of which should drive roughly 15% annual earnings growth, long term. We also are fans of management's consistent execution, along with its proclivity to under-promise and over-deliver."
Apple
After correcting in the second half of last year, Apple (AAPL) - Get Apple Inc. Report  has done a whole lot of nothing in 2016. As I write, shares are down about 4% when dividends are factored in. But that could be about to change. After grinding sideways for months, Apple is finally starting to look "bottomy" in the long term.
Apple is currently forming a double bottom, a bullish reversal setup that looks just like it sounds. The double bottom is formed by a pair of swing lows that bottom out at approximately the same price level - the buy comes on a push through the peak that separates that pair of troughs. For Apple, the breakout level to watch from here is resistance up at $100, a price tag that this stock spent the final hours of yesterday's session flirting with. Put simply, if Apple can crack that $100 round-number resistance level, then shares are likely to at least re-test prior highs at $112.50.
While earnings are likely to play a role here -- Apple's third quarter numbers come out on July 26 -- resistance at $100 is going to get resolved long before then, likely in the next session or two. That's good reason to keep a close eye on this $550 billion tech stock in the final stretch of July.
Apple is another holding in Jim Cramer's Action Alerts PLUS charitable portfolio. Cramer and Research Director Jack Mohr wrote on Friday:
The company reports results on July 25 for a fiscal third quarter that is expected to represent the bottom for both sales and earnings. Supply-chain channel data suggest lagging iPhone 6/6 Plus sales have been partially offset by a near-term spike in demand for the lower-priced SE. Although this may help buttress total units sold, the lower price point supports per- unit profitability. Our constructive long-term thesis is predicated not on a major turnaround in iPhone sales -- though we expect the September launch of the iPhone 7 to provide a much-needed inflection point -- but rather the burgeoning services business, which not only is higher-growth, higher-margin but offers a recurring revenue stream that helps combat the cyclicality and seasonality inherent to iPhone sales. We expect services to grow from 15% of profits currently to one-third by 2020. 
Merck
2016 has been a great year for big pharma firm Merck (MRK) - Get Merck & Co., Inc. Report  -- and it doesn't take an expert trader to figure out why. In fact, the price action on Merck's chart is about as simple to decipher as it gets. Simply put, Merck is a "buy-the-dips stock" right now, and shares are moving back toward their buy range this summer.
Merck has spent most of 2016 forming a well-defined uptrending channel. The uptrend in Merck is formed by a pair of parallel trendlines that have wrangled the vast majority of this stock's price action all the way back to February's lows. So far, every test of the bottom of Merck's price channel has provided investors with a low-risk, high-reward opportunity to build a position in this stock. And shares are backing down towards trend line support for a fourth time in July. From here, the buy signal comes on the next bounce off of support.
Actually waiting for this latest bounce is important for two key reasons: It's the spot where shares have the most room to move up before they hit resistance, and it's the spot where the risk is the least (because shares have the least room to move lower before the channel breaks, invalidating the upside trade). Remember, all trend lines do eventually break, but by actually waiting for a bounce to happen first, you're ensuring Merck can actually still catch a bid along that line before you put your money on shares.
Las Vegas Sands 
Last up on our list of potential breakout moves is $37 billion casino stock Las Vegas Sands (LVS) - Get Las Vegas Sands Corp. Report . After peaking back in March, Sands has given back about 14% of its market value at the same time the rest of the broad market was climbing 7% higher. That's a big performance gap that's been frustrating investors for much of this year. But after that long stretch of poor performance, Sands finally looks like it's ready for a reversal. Here's how to trade it:
Sands has spent the last six weeks forming an inverse head and shoulders pattern, a bullish reversal setup that indicates exhaustion among sellers. You can spot the pattern by looking for two swing lows that bottom out around the same level (the shoulders), separated by a bigger trough called the head; the buy signal comes on the breakout above the pattern's "neckline." For Las Vegas Sands, that's up at the $47 price level.
Momentum is the side indicator to watch in Sands. This stock's momentum gauge managed to make higher lows on each of the price swings in the inverse head and shoulders pattern. That's our signal that buying pressure is building in this stock, even if it hasn't been obvious from the price action. Once $47 gets taken out, the 50-day moving average becomes a logical place to park your protective stop.
Disclosure: This article is commentary by an independent contributor. At the time of publication, the author held no positions in the stocks mentioned.