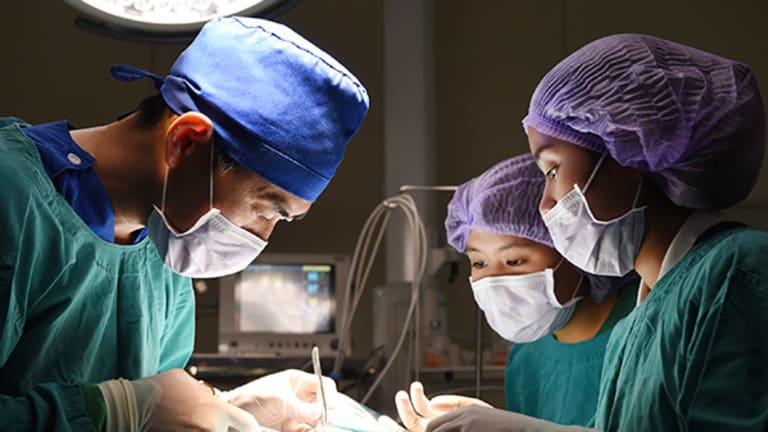 These 4 Medical Technology Stocks Really Stand Out
Medical technology companies are hot, says Rich Newitter, managing director at Leerink.
Medical technology companies are hot ,and not even climbing price-to-earnings multiples will slow down Hologic (HOLX) - Get Hologic, Inc. Report , Zimmer Biomet (ZBH) - Get Zimmer Biomet Holdings, Inc. Report , Zeltiq (ZLTQ) and NuVasive (NUVA) - Get NuVasive, Inc. Report , said Rich Newitter, managing director at Leerink.
"We think the sector can sustain its multiple premium given solid cash flow generation potential, strong balance sheets and cash flexibility," said Newitter. "It will continue to be a destination for fund rotation."
Shares of Hologic are barely positive year to date, but surged last week after the diagnostics specialist reported earnings and revenue that beat analysts' estimates for the 2016 fiscal third quarter. The Marlborough, Mass.-based medical device company reported adjusted earnings of 51 cents per share, higher than analysts' expectations of 48 cents per share. Revenue increased 3.4% to $717.4 million year over year and was above analysts' projections of $704.3 million.
"The underappreciated aspect of Hologic, and this came out in the quarter, is that the company has more growth drivers across all its other business and there are the beginnings of an international turnaround starting to take form and that has legs into the future," said Newitter.
Zimmer Biomet got off to a much faster start in 2016, with its stock rising 28% to date. The knee, hip and spine-care supplier has also made M&A waves, acquiring LDR Holding in a $1 billion deal earlier this summer. Newitter said the company will continue to be acquisitive, especially in the sports trauma arena.
Zeltiq Aesthetics, up 19% year to date, is trading at 74 times its forward estimated earnings, but that is not deterring Newitter. He said the fat-reduction device-maker will see its earnings grow as its products see deeper penetration and gain greater acceptance in the market.
Finally, Newitter is a fan of NuVasive, up 15% this year, even though it also trades at an elevated price-to-earnings ratio of 30 times 2017 estimated earnings. "They have an innovative product portfolio and they continue to do bolt-on acquisitions," said Newitter, adding that it "found religion on driving profit margins."