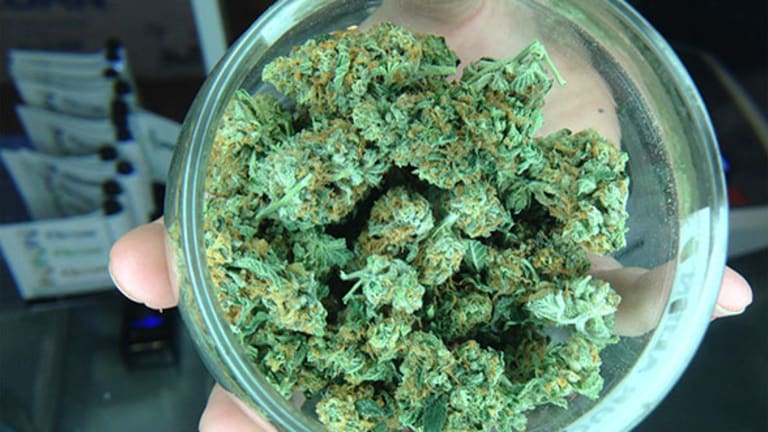 Publish date:
These 3 Marijuana-Related Stocks Are Poised for Strong Growth
The medical marijuana business should rack up smoking gains. We've pinpointed the three stocks that will benefit the most.
The medical marijuana business should rack up smoking gains. We've pinpointed the three stocks that will benefit the most.
The year 2016 might just be the comeback year for stocks in the cannabis and marijuana sector. Retail sales of marijuana are on the rise, and the number of U.S. states (now four) that allow recreational use of marijuana may increase. Many other states already allow medical use of the drug.
But set aside for now the companies engaged in retail production and related businesses. Companies that are using cannabis to develop new medicines and therapies present a lucrative opportunity for investors. Late last year, analysts at Bank of America lent some street cred -- Wall Street credibility, that is -- to investing in the marijuana industry, when they issued a research report titled "Medical Cannabis has high POTential: A joint biotech and tools Primer." It's obvious from the title that the analysts focused on pot's medical uses.
We've selected the three best stocks in medical marijuana below. They're poised to be among the year's growth stock winners.
1. GW Pharmaceuticals (GWPH) - Get Report
U.K.-based biotech company GW Pharmaceuticals is licensed to grow marijuana plants by the U.K. government.
The stock more than doubled in March following the company's announcement that studies of its cannabis-based epilepsy drug Epidiolex has appeared to significantly reduce seizures in patients with Dravet syndrome, a severe form of childhood epilepsy. 
Analysts are extremely bullish on earnings growth potential of the company. Over the next five years, GW Pharma is expected to clock in earning growth of 33.3% annually, more than double 16.9% expected for the industry and well ahead of the 5.3% expected for the S&P 500.
Also driving the stock higher is the expectation that the treatment will replace addictive painkillers, according toThe Street's Jim Cramer. If you're looking for biotech bargains poised to confer market-beating gains, GW Pharmaceuticals fits the bill.
2. Insys Therapeutics (INSY)
Insys Therapeutics, best known for its cancer pain management drug Subsys, is also developing a cannabis-based drug for the treatment of epilepsy in adults and children. The trial of its pharmaceutical cannabidiol (CBD) oral solutions is already underway at multiple centers across the U.S.
The small-cap specialty pharma player may be behind GW when it comes to clinical trials for the treatment of Dravet syndrome, but both firms will seek "orphan" designation (given to drugs treating rare medical conditions) for their drugs. If that comes through, their products will receive seven years of exclusivity.
The company currently markets two drugs: Subsys, which is sublingual Fentanyl spray for cancer pain, and Syndros, a generic version of Dronabinol (THC) capsules used to treat nausea and vomiting caused by chemotherapy. Apart from the pharmaceutical CBD, Insys is also developing a pipeline of sublingual sprays.
Fourth-quarter 2015 sales of Subsys rose 38% year over year to $91.1 million. The company recently warned, however, that first-quarter 2016 sales of the drug would hit a maximum of $62 million, trailing earlier Street estimates of $86 million. This is one area where investors do need to be cautious on this stock. Insys said that recent public attention on the U.S. opioid epidemic likely had made doctors reluctant to prescribe opioids, including Subsys. Insys is also the subject of multiple investigations into sales and marketing of Subsys.
Despite the lowered expectation for the first quarter, analysts are confident about the stock's performance over the next 12 months. The average 12-month price target is $23, suggesting upside of 61% from recent levels near $14.25.
All eyes will now be on July 1, the FDA's new decision date for Syndros.
3. Cara Therapeutics (CARA) - Get Report
Another company that, like GW and Insys, develops chemical substances to treat various degrees of pain is Shelton, Conn.-based Cara Therapeutics.
Cara is a clinical-stage biopharmaceutical company that develops and commercializes new drugs that alleviate pain by selectively targeting kappa opioid receptors, a human protein.
While GW Pharma primarily treats pain through purified cannabis extracts that bind primarily to cannabinoid receptors in the brain (CB1), Cara boasts a more diverse and bigger portfolio of compounds focused on targeting immune cells (CB2) and unique opioid analgesics.
Looking ahead, cannabis-based pain alleviating substances development is quite likely to move toward CB2 receptors. And with Cara having an early advantage in that segment at the moment, it may very well trump its competitors in the future.
Best biotechnology stock under $10: We've found a small-cap biotech "rocket stock" that's about to take off. UCLA researchers are stunned by a Nobel Prize-winning cancer breakthrough that's proven in clinical trials to eliminate lethal forms of cancer with a single dose. One small company owns the patent to this life-saving treatment. Now trading at about $5 a share, the stock of this innovative company is projected to surge 2,700% on an imminent FDA announcement. To download the full report, click here.
This article is commentary by an independent contributor. At the time of publication, the author held no positions in the stocks mentioned.