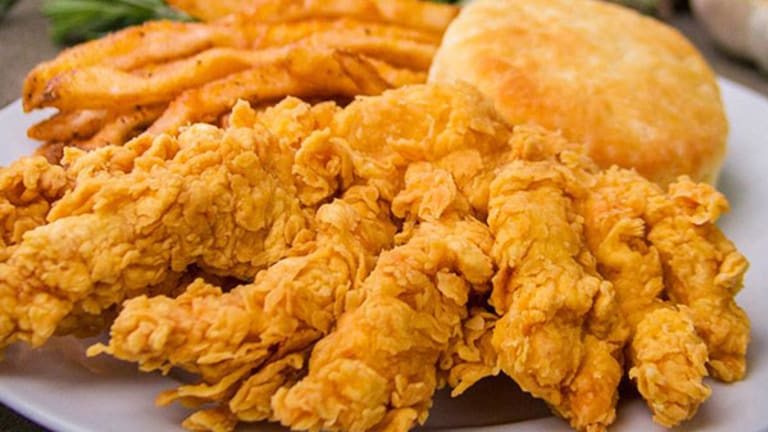 Publish date:
13 Fast Food Chicken Dishes Could Feed a Price Explosion in 2015
Fast food companies have become obsessed with adding chicken to the menu. Brian Sozzi explores the hot chicken items of 2014 and what it all means for prices in 2015.
Fast food companies have become obsessed with adding chicken to the menu. Brian Sozzi explores the hot chicken items of 2014 and what it all means for prices in 2015.
Updated to include comments from Buffalo Wild Wings CEO Sally Smith.
NEW YORK (TheStreet) -- The nation's major fast food and casual dining chains have fallen in love with every farmer's best friend -- the chicken.
Such a love affair with the bird, which is keeping inventories tight, could trigger an unsavory price shock next year on the menus of Chipotle (CMG) - Get Chipotle Mexican Grill, Inc. Report and Yum Brands (YUM) - Get Yum! Brands, Inc. (YUM) Report , and at the rotisserie chicken section at Costco (COST) - Get Costco Wholesale Corporation Report .
The unwelcome impact to consumer wallets from chicken price inflation is already surfacing. Buffalo Wild Wings (BWLD)  announced this week an average 3% menu price increase that goes in effect in November to offset higher wing costs. In an interview with TheStreet, Buffalo Wild Wings CEO Sally Smith said, "We typically see a rise in prices in the fall, and it then continues into the first quarter. We think it's going to be a little bit more sustained this year."
Propelled by tight supplies, prices for USDA Georgia Dock Ready to Cook Wings have surged 35% this year, according to Bloomberg data. Whole bird prices have risen about 10%. Meanwhile, the USDA noted in late October that chicken inventories declined by 9.3% in September from a year earlier. Leg quarters, wings, and a category called "other" were highlighted as being in particular short supply.
And although chicken breast inventories advanced 27.1% year-over-year, overall chicken inventories remain at their lowest levels in the past five years, said the USDA.
The fuel behind the poultry supply constraint is twofold. To tap into the nation's growing demand for healthier fast food, which has led to the success of Chipotle, the likes of Yum Brands and Dunkin Donuts (DNKN) - Get Dunkin' Brands Group, Inc. Report  have introduced new offerings with chicken serving as the protein star in the salad bowl, sandwich, or wrap.
Casual dining chains are also jumping in, such as, DineEquity's (DIN) - Get Dine Brands Global, Inc. Report   Applebee's chain and close competitor Darden's (DRI) - Get Darden Restaurants, Inc. Report  Olive Garden. Both chains have sought to market more chicken-based entrees in 2014. Starbucks (SBUX) - Get Starbucks Corporation Report , which introduced its evening menu in 2012, only offers parmesan chicken skewers and a flatbread sandwich with chicken sausage. But it could seek to expand its chicken offerings in 2015 to join the craze.
Furthermore, there has been heightened promotional activity among  Burger King (BKW)  and McDonald's (MCD) - Get McDonald's Corporation (MCD) Report  in the chicken nugget category. Burger King is currently offering a 10-piece chicken nugget order for $1.49 compared to its usual $2.99. McDonald's sells its 10-piece chicken nuggets at $4.29.
Here is a look at the major chicken product releases from the industry in 2014.
2. Dunkin' Donuts Snack N' Go Wrap
The Snack N' Go Chicken Wrap is made with breaded chicken and ranch sauce, and could be had for $1.99. Dunkin' Donuts also began selling this year a grilled chicken flatbread sandwich on multi-grain bread.

3. Sonic Cheesy Pub Chicken
A limited-time promotion offered at $4.50, the Sonic (SONC) sandwich, with either breaded or grilled chicken, is smothered with cheddar cheese sauce, sliced white cheddar, and caramelized onion sauce on a ciabatta bun.
4. Sonic Breaded Boneless Chicken Wings
These breaded boneless chicken wings, currently being displayed via national television spots, are available through the end of November in three different sauces -- buffalo, Asian-sweet chile, and good-old fashioned barbeque. Cost per order is $3.99.
7. Burger King Chicken Fries
After close to a two-year hiatus from the menu, Burger King reintroduced its chicken fries. Nine large fries come to a carton for $2.89.

8. General Mills Chicken Helper
Even packaged goods companies are feeding the robust demand for chicken. As part of a major new product rollout, General Mills (GIS) - Get General Mills, Inc. (GIS) Report introduced Chicken Helper. It was an attempt to leverage the Hamburger Helper name into a healthier alternative for families.
9. Cheesecake Factory Portofino Chicken Pizza
Grilled chicken, spicy peppers, mozzarella cheese, and tomato sauce comprise the Cheesecake Factory's (CAKE) - Get Cheesecake Factory Incorporated Report new Portofino pizza. It gives the company an item that could be quickly produced in the kitchen and possibly at a strong profit margin.
10. Applebee's Chicken Freshcado 
Donning something called avocado relish and placed on a bed of white rice, the fire-grilled chicken takes a back seat in this Asia meets Mexico entree at Applebee's.


11. Chili's Fresh Mex Bowl 
The Brinker International (EAT) - Get Brinker International, Inc. Report owned Chili's has unveiled a host of new chicken options this year, such as the fresh Mex bowl, green chili chicken enchiladas, sour cream chicken enchiladas, and crispy chicken tacos.


12. Olive Garden Spicy Calabrian Wings
The beleaguered Olive Garden, owned by Darden, debuted its Spicy Calabrian Wings earlier this year. But Buffalo Wild Wings (BWLD)  still has a wide advantage in the chicken wings space -- the company offers 15 different sauce flavors and five different seasonings to hungry sporting event watchers.
13. Taco Bell Chicken Cantina Power Bowl
In an attempt to nab some of Chipotle's success in selling burrito bowls, Taco Bell introduced its Chicken Cantina Power Bowl. But don't expect Chipotle to be too concerned by Taco Bell's new lean protein initiative. When reached for comment last week on why Chipotle's fast food is healthier than traditional fast food, a company spokesperson responded, "We have always used real, whole foods, not the cheap, heavily processed foods you see in typical fast food."