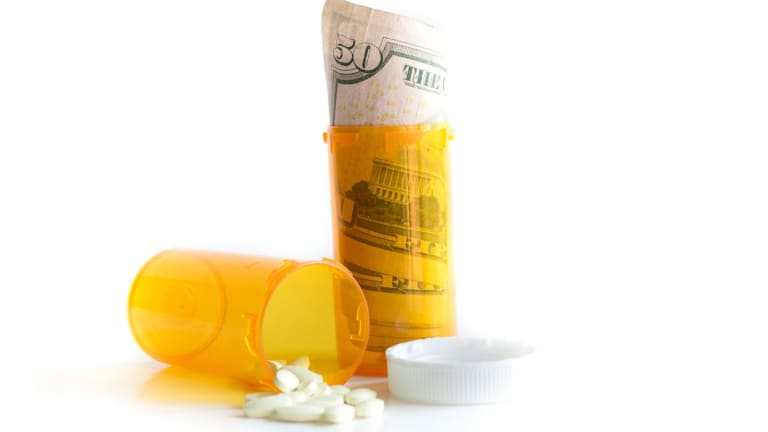 There Are Reasons for Acadia Investors to Be Optimistic About Nuplazid and the Company
The FDA advisory committee is meeting on March 29 to discuss the future of Nuplazid, a drug for the potential treatment of Parkinson Disease Psychosis. There's reason to be optimistic.
Share of Acadia Pharmaceuticals (ACAD) have come under an incredible amount of pressure since the beginning of 2016, plunging from $35.65 on December 31 to $19.35 as of March 9, a near 45% decline.
Since I first wrote about the company back in October, there have been a couple of key developments. The FDA accepted the company's New Drug Application (NDA) for Nuplazid and granted the drug fast-track approval for the indication of Parkinson Disease Psychosis (PDP). The approval date for it is set for May 1, 2016. However, on March 29 the focus will be on the FDA Advisory Committee. This is where a panel of doctors will review Acadia's data and discuss the drug's efficacy and safety.
There seem to be concerns weighing on the stock: cash burn; black box warnings (the strictest warning the FDA will place on a prescription drug); QT interval issues (a very dangerous potential side-effect), flaws in the design of the trial; and if there were enough trials conducted. Of course a major concern is what the result of the committee meeting will be.
It is important to understand that Nuplazid is a completely new way to treat psychosis, especially in PDP. Nuplazid is a Selective Serotonin Inverse Agonist (SSIA) that specifically targets the 5HT2A receptor. An SSIA blocks the activity of Serotonin, in this case specifically at the 5HT2A receptor site, which allows patients to function more normally. 
Currently, off label use of atypical anti-psychotics are used to treat PDP. These are a group anti-psychotics drugs used to treat indication such as schizophrenia and bipolar disorders. Think of an atypical as more of shot gun approach, essentially targeting multiple receptors in the brain. As a result, many of these drugs come with significant side effects, such as weight gain, high sugar levels, high cholesterol, to name a few. Certainly, data from Nuplazid's -020 trial in November 2012 showed efficacy versus a placebo and that the most adverse side effects were urinary tract infections (13%) and falls (11%).
Cash burn became a major concern after the company completed a secondary offering in January of 2016. The company priced approximately 10 million shares at $29 and raised approximately $280 million. This increased its balance sheet from about $220 million to nearly $500 million. When I first saw this news I viewed it as extremely positive. It was a sign the company was preparing for the launch of Nuplazid. After all, the company, needs to hire a sales force, manufacture the drug, and educate doctors. This would ensure it has the cash to get through a successful launch. Also what was very interesting was the Baker brothers a Fund that focuses healthcare companies, owns approximately 20% of Acadia, participated on this deal buying nearly 25% of the $280 million.
As for the trial design and the actual trial, we need to go back to when the company ran the -012 trial in 2009. Back then, the company used a 10 milligram and 40 milligram doses versus a placebo. The trial showed a high placebo response.
At the time, the company used what is called the "scale for positive assessment of symptoms" or SAPS 20. This is a scale that is designed for the use of patients mainly with schizophrenia. After the company went through all the data, it was determined a 10 milligram dose was not efficacious. It was decided to the run the next trial (020) with only the 40 milligram dose and placebo. Additionally, the redesigned -020 trial was to use a new scale measuring nine (SAPS 9) symptoms instead of 20. This scale focused mainly on delusion and hallucinations. Acadia submitted this new scale to the FDA and it was accepted to be used as the primary endpoint.
After the trial was successfully completed, the company met with the FDA to review the results. In April of 2013, the FDA granted Acadia an expedited review process. This meant the company was able to submit an NDA with the one phase III trial and supportive data from previous trails.
Black box warnings are not uncommon in the psychiatric space at all. In fact, there have been many highly successful drugs in this space that have come with black box warnings. For example, most atypical anti-psychotics come with one regarding elderly dementia patients. Even some commonly prescribed anti-depressants come with warnings of increased risk of suicide. QT Interval elongation has been a topic of discussion as well. Acadia has noted Nuplazid has increased QT signals of about 7.5 milliseconds. Other commonly used similar drugs have similar issues.
It's likely that some investors felt that Nuplazid could get around having an FDA advisory committee. But that's highly unlikely. PDP is a new indication, which has no approved drugs, and Nuplazid is a new chemical entity. All new indications and new chemical entities go in front of a panel. The idea that a panel could be avoided seemed highly unlikely from the start.
Finally, some have had concerns about why it took so long for Acadia to actually submit the NDA to the FDA. The company's main challenge in submitting the NDA was due to the completion of manufacturing quality systems. ACAD solved this problem in 2015 when ACAD agreed to have BASF manufacture Nuplazid. Two weeks later, it was announced that ACAD submitted the NDA.
Obviously, there are risks until it is known for certain what the outcome of the FDA panel will be. Background materials will be made public at least two days prior to the AdCom. If the AdCom has a negative ruling or request more trials, which is certainly a possibility, it would seriously jeopardizes Acadia likelihood of an approval for Nuplazid.
I am, as well as the clients of the investment firm I work at, Mott Capital Management, are long shares of Acadia Pharmaceuticals. It is my belief that Nuplazid can be a real game changer in the psychiatric space. It offers a unique and novel way to help those that suffer PDP. Additionally, it is my belief it could potentially offer hope in other indications as well. 
The author and the clients of Mott Capital Management, LLC are long shares of Acadia Pharmaceuticals
Mott Capital Management, LLC is a registered investment adviser. Information presented is for educational purposes only and does not intend to make an offer or solicitation for the sale or purchase of any specific securities, investments, or investment strategies. Investments involve risk and unless otherwise stated, are not guaranteed. Be sure to first consult with a qualified financial adviser and/or tax professional before implementing any strategy discussed herein. Upon request the advisor will provide a list of all recommendation made during the past twelve months. Past performance is not indicative of future performance.