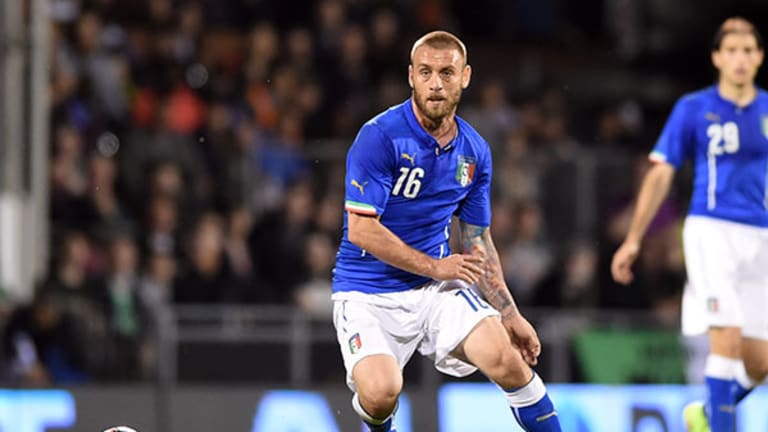 The World Cup Built a Better ESPN
World Cup coverage forced ESPN to expand streaming options and build its mobile presence. It not only made a better sports ecosystem, but it inspired Fox Sports to create its own version of the Worldwide Sports Leader.
PORTLAND, Ore. (TheStreet) -- The FIFA World Cup, ESPN's and ABC's prized super event, helped turn Disney's (DIS) broadcast holdings into a more efficient sports powerhouse.
Too bad the Worldwide Sports Leader will only get one chance to show off its new toys . . . just before its shows Fox (FOXA) , the potential new ESPN, how to use them.
Back in 2005, Disney and Univision paid a combined $425 million for the rights to broadcast the FIFA World Cup in 2010 and 2014. With ABC and ESPN's English-language rights coming out to roughly $100 million, Disney used the opportunity to push coverage of the 2010 World Cup onto ESPN2 secondary channel and, to great effect, its ESPN3 broadband streaming service. On those channels alone, ESPN increased World Cup ratings roughly 50% over 2006.
ESPN3 was the big star among all of them, however. Live World Cup streams drew an average 7.4 million unique viewers tuned in for matches. ESPN3 showed 942 million minutes of programming averaging more than two hours per unique viewer. All 64 live matches it showed were seen by roughly114,000 persons per minute, with the semi-final between Spain and Germany reaching by 355,000 people per minute for ESPN3's largest average audience ever.
Here's how long ago those four years were: Most of those streams were confined to laptops or desktops. Though the earliest version of the WatchESPN app debuted in 2010 as ESPN Networks, the multi-platform app as we know it now didn't debut until after the world cup in 2011. That's the same year that Roku debuted its second-generation set-top box that could utilize multiple apps and when Apple (AAPL) released the first high-definition iPad in the form of the iPad 2. Netflix (NFLX) divided its streaming and DVD services that same year and streaming found its footing.
The importance of 2011 to streaming and its role in sports coverage only became more apparent when NBC signed its latest Olympic broadcast deal for $4.3 billion. That agreement runs through 2020 and included $775 million for the rights to this year's Sochi Winter Games alone. NBC was just getting the hang of streaming at the time, but couldn't quite make it work. At the 2006 Winter Games in Turin, Italy, it streamed a scant 2 hours of coverage. By 2008, it was up to 2,200 hours that were more than confused potential advertisers knew what to do with. The Olympic Committee had its own YouTube Channel and streaming was generally a mess. At the 2010 Winter Games in Vancouver in 2010, it lost $223 million, mostly because it couldn't figure out how to monetize online and mobile content.
By the time the 2012 Summer Games in London came around, NBC cleared $88 million thanks to digital and mobile ad sales and a programming strategy that ran pre-recorded events in prime time despite the fact that fans could stream those events live and had the results hours earlier. This year, when NBC launched its mobile app for the Sochi Games, it required users to authenticate their cable subscriptions before letting them get a glimpse of events aired on MSNBC, CNBC, USA and NBC Sports.

That's just one of the models ESPN had the option of following as this year's World Cup drew closer. Back in 2010, the NCAA reached a 14-year, $10.8 billion television agreement with CBS and Time Warner's Turner Broadcasting to show every game live on CBS, TBS, TNT and TruTV. Not only were all games broadcast but, as of 2012, the broadcasters' March Madness Live app streamed every game of the tournament over mobile devices. Advertising for the tournament alone brought in $6 billion for its network partners within the last decade.
ESPN seems to be blending all of that together for its last year of World Cup coverage. Of the 64 World Cup matches, 43 will be on ESPN itself, 12 will be on ESPN2 and 10 will be on ABC. About 43 of those matches will be on during the afternoon, which means ESPN and ABC will be making streaming coverage available on ESPN3, its WatchESPN app and its WatchABC app. That coverage just made the jump to Google's Chromecast, but is also available through numerous set-top and mobile devices, as well as through cable and satellite providers. Apart from the ABC broadcasts, it all requires a cable provider (or just the right Internet service provider), but it's the blanket coverage ESPN was hoping for when it first tested ESPN3 at the World Cup four years ago.
With any luck, Fox is taking notes. When it came time to bid for the 2018 and 2022 World Cup in 2011, Fox won out with a $400 million offer that nearly beat the 2005 total for the entire U.S. market combined. That's less than half of what networks pay per event for the Olympics and NCAA Men's Basketball Tournament, but four times the former price.
However, Fox has spent the last three years building the infrastructure to make its 2018 World Cup coverage something to behold. Apart from its main network and affiliates, Fox took a sledgehammer to its sports operations last year and came out looking a whole lot like ESPN. Fox Sports Network was replaced with Fox Sports 1. FuelTV turned into Fox Sports 2. Fox Soccer disappeared completely, with its programming shifted over to Fox Sports 1 and 2, but the Fox Soccer Plus channel remained.
The one thing Fox will have that ESPN didn't heading into this World Cup is a whole lot of U.S. soccer fans already in its pocket. Fox is wresting away Major League Soccer and U.S. Men's National Team coverage from NBC Sports in 2015 with a $70 million-a-year deal it made with ESPN.
What about streaming, you ask? Fox Sports already streams events including NASCAR's Daytona 500 using its Fox Sports Go app and now has a lovely little array of sports-specific channels to match it -- which may prevent Fox from having to shift World Cup events onto FX, FXX, Fox News or other channels where the games would be a less-than-comfortable fit.
To take over ESPN's biggest event, Fox Sports had to basically become ESPN and all of the satellite entities it entails. Though none of its networks can yet demand the $5.54 a month that research firm SNL Kagan says ESPN charges cable and satellite subscribers -- Fox Sports 1 is having a hard time getting to 80 cents -- leveraging the World Cup and other high-profile events may one day get it ESPN-style ad dollars, if not ESPN-style brand ubiquity.
-- Written by Jason Notte in Portland, Ore.
>To contact the writer of this article, click here: Jason Notte.
>To follow the writer on Twitter, go to http://twitter.com/notteham.
>To submit a news tip, send an email to: tips@thestreet.com.
RELATED STORIES:
>>How O.J. Simpson Created A Wider World Of Sports
>>Cutting Landon Donovan Lost Sponsors For The World Cup
>>5 Beautiful MLB Ballparks With Terrible Teams
Jason Notte is a reporter for TheStreet. His writing has appeared in The New York Times, The Huffington Post, Esquire.com, Time Out New York, the Boston Herald, the Boston Phoenix, the Metro newspaper and the Colorado Springs Independent. He previously served as the political and global affairs editor for Metro U.S., layout editor for Boston Now, assistant news editor for the Herald News of West Paterson, N.J., editor of Go Out! Magazine in Hoboken, N.J., and copy editor and lifestyle editor at the Jersey Journal in Jersey City, N.J.