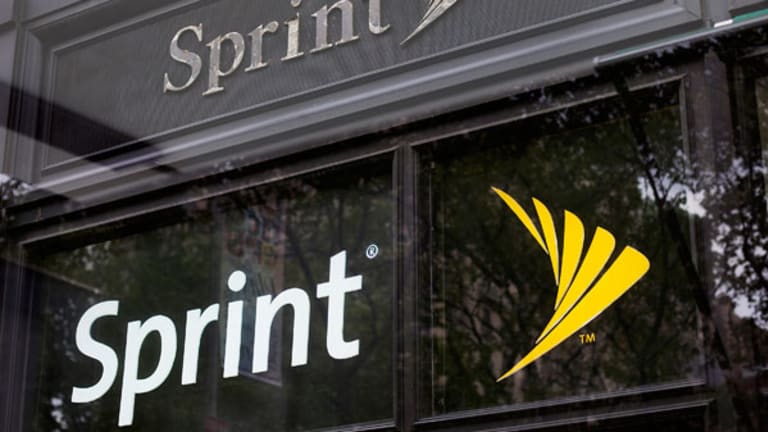 Wireless Goes Wild as Consumer Is Given Shakedown
The U.S. wireless consumer has taken a backseat to narrow self interest in industry consolidation.
NEW YORK (
) -- The consolidation of the U.S. wireless industry into four competitive nationwide players may be the most important consumer story of this decade. Too bad the process appears to be veering into a game of shakedowns and back-alley poker.
The brinksmanship exhibited by
Dish Network
(DISH) - Get DISH Network Corporation Class A Report
in trying to block
Sprint's
(S) - Get SentinelOne, Inc. Class A Report
acquisition of
Clearwire
(CLWR)
and the carrier's planned takeover and recapitalization by
SoftBank
, in addition to a venomous hedge fund battle over the
T-Mobile
(TMUS) - Get T-Mobile US, Inc. Report
and
MetroPCS
merger, indicates the narrow interests of a few key players could govern whether or not the average American will see falling wireless bills and rising service, in coming years.
Wireless consolidation is a daily news item mostly because so many hedge funds, telecom conglomerates, card-playing CEO's and lobbyists have an economic interest in the eventual outcome. But in this Wall Street horse race, the ordinary consumer is poised to bear the risks taken by speculators who have nearly overrun the process.
Simply put, it is the Wild West in the wireless industry.
While there is time left to salvage the best outcome for the nation's 326 million wireless subscribers, it appears the handful of parties with a say have an incentive to promote a
to consolidation, which may leave the industry worse off.
Hedge funds seem ready to squeeze every penny out of the successor companies to a scattershot wireless industry, after building large positions in consolidators such as Sprint, Clearwire, MetroPCS and
Leap Wireless
(LEAP)
when they were priced for failure.
An increasing price paid by the acquirers of Sprint and Clearwire is likely to wind up the expense of consumers by way of higher wireless fees or patchy service, given the amount of money needed to put both companies in a sustainable financial position.
Meanwhile, Dish Network, a late entrant to the wireless industry, is trying to derail a
of Sprint, SoftBank and Clearwire, in an effort to maximize the value of wireless spectrum it scavenged from bankruptcy courts.
Dish and its chairman Charlie Ergen are currently using a
for Clearwire shares to delay Sprint's takeover of the internet provider and its spectrum.
Dish has also resorted to not-so-coy xenophobia in a lobbying effort to thwart SoftBank's takeover of Sprint on
, claiming the Japan-based telecom has ties to Chinese cyber-attack artists.
Even after Sprint and SoftBank agreed to concessions on the usage of Chinese wireless equipment and passed a
, Dish pressed its
.
Dish has an alternative proposal for Sprint.
Instead of recapitalizing the money-losing telecom to debt levels in line with financially stable dividend payers like AT&T and Verizon, Dish wants to bundle its satellite TV service and its spectrum assets into a national broadband, wireless and TV player to challenge existing triple-play offerings.
Dish's Debt-Laden Moonshot
Dish's bid to enter the wireless market with Sprint
, because of debt needed to fund a deal, the expectation of upwards of $10 billion in cost synergies and the company's untested melange of spectrum and service offerings.
Were Dish to win Sprint, the combined company would also be the most highly leveraged among large telecoms, leaving little-to-no room for error.
Ergen's motives to enter the wireless market may be sincere; however, many industry analysts and investors have interpreted Dish's proposals for Clearwire and Sprint as a financially savvy way to broker a network sharing agreement with SoftBank.
Even after winning its tender, Dish would only hold a minority stake in Clearwire shares that would simply be used frustrate Sprint and SoftBank's efforts to utilize Clearwire's assets, according to industry analysts.
While such a strategy almost uses Clearwire as a form of extortion against SoftBank's takeover of Sprint, few on Wall Street appear alarmed by the tactics.
The Hedge Fund Shakedown
Predictably, hedge fund investors who speculated in Clearwire's shares at levels around $1 are cheering Dish's efforts to bolster the price of the cash strapped company. Dish's newest tender for Clearwire is $4.40 a share, or a total enterprise value of over $10 billion.
Crest Financial said earlier this week
minority shareholders should support Dish's superior offer
.
Mount Kellet Management
, another large minority Clearwire shareholder, also opposes Sprint's proposed $3.40 buyout of the company's remaining shares.
In fact, investors like Crest have lobbied for the Federal Communications Commission to deny SoftBank and Sprint's merger so minority Clearwire shareholders can get a better deal.
Crest reported a near 8% stake in Clearwire shares in June 2012 when shares were about $1, meaning the fund would likely triple its money in Sprint's offer. It also has a history with Cleawire that stretches back to 2004, when the company was privately-held.
Mount Kellett, similarly, has been a buyer of Clearwire's stock at bargain basement prices and has already more than doubled its money on the company's shares. Neither Crest or Mount Kellett appear to be Sprint shareholders
Championing the interests of investors like Crest and Mount Kellett, appeased by Dish's efforts to boost Clearwire's price, could come at a big cost to the ordinary U.S. wireless user.
At worst, Dish's agitation of Clearwire could cause SoftBank to abandon its merger efforts with Sprint, which would pump over $8 billion in new capital to the company and help it complete a multi-year 4G service rollout called Network Vision.
Similar dynamics played out when hedge fund
Paulson & Co.
opposed MetroPCS's merger with T-Mobile on grounds that the deals shortchanged investors.
While Paulson & Co.'s objections put the merger at significant risk of collapsing and spurred a
between it and T-Mobile CEO John Legere, the fund was able to negotiate a better deal for shareholders that
lowered overall leverage levels
and interest costs of the merged entity.
Paulson & Co. and other hedge fund investors could play a positive role in the takeover of Sprint. Currently, Paulson and
Omega Advisors
are significant Sprint shareholders and have both said on dollars and cents terms Dish's proposal
is superior to SoftBank's offer
. However, they are yet to fully support a deal.
Both funds may end up using Dish's entrance into the Sprint takeover fray to negotiate a better deal from SoftBank.
As with Crest Financial and Mount Kellett's stakes in Clearwire, both Paulson & Co. and Omega Advisors have been particularly canny in investing in Sprint shares at bargain basement prices. Driving ever higher share prices on consolidation efforts, though, would likely lead to more leverage and less cash for the handset subsidies, network spending and data pricing discounts needed to win back subscribers.
Dropping the Wireless Consumer's Call
U.S. consumers already have experience with highly levered, capital scare wireless industry competitors to AT&T and Verizon.
No matter the discounts offered by Sprint, T-Mobile and MetroPCS as independent wireless providers, consumers have regularly fled the networks when adopting smartphones, favoring higher priced but better data service offered by AT&T and Verizon.
Ultimately, SoftBank's deal for Sprint and Sprint's deal for Clearwire give consumers the best chance at price competitive nationwide smartphone service.
T-Mobile's acquisition of MetroPCS and its aggressive pricing plans also indicate a resurgence of competition in the industry, after many feared an eventual duopoly of AT&T and Verizon.
As Dish's chairman Charlie Ergen tries to thwart consolidation efforts to utilize the spectrum he's acquired in bankruptcy auctions and hedge funds push for rising takeover prices, risks have fallen onto the U.S. wireless consumer.
Charlie Ergen deserves every opportunity to put the billions he's spent on wireless spectrum to use and hedge fund investors deserve value for their well-timed investments, however, the incentive structure of Wall Street has turned wireless consolidation decidedly against the ordinary consumer in recent weeks.
-- Written by Antoine Gara in New York