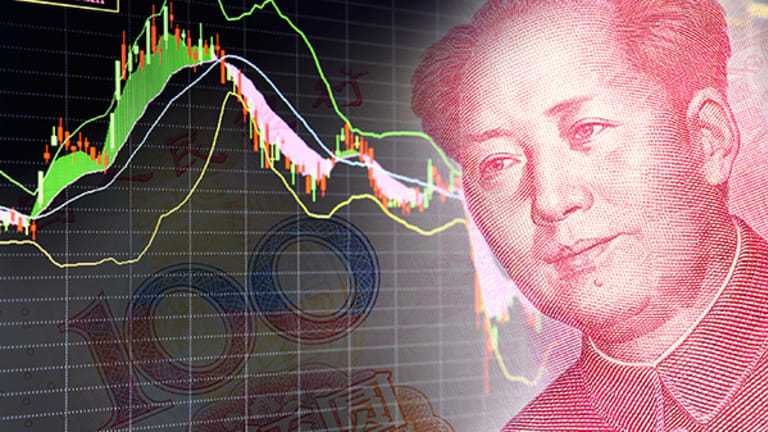 The Weight of the World Is Bringing Down U.S. Equities: Here's How to Play It
Both foreign and domestic risks are leading to heightened volatility, but there are ways to profit in the current environment.
U.S. equities are crumbling under the weight of both global and domestic concerns, driving up volatility, and leading to fears of further decline. SPDR S&P 500 (SPY) - Get SPDR S&P 500 ETF Trust Report is down over 2% the last few days amid spiking volatility. But there are profitable ways to play the turmoil. 
Below is a chart of VelocityShares Daily Inverse VIX ST ETN (XIV) , a good proxy for overall equity market volatility. The index trades inverse to the VIX, and therefore declines when investor sentiment is souring.
Similar to the S&P 500, the VelocityShares Daily Inverse VIX has fallen by close to 25% in the last few days. The spike in volatility comes amid growing concerns of strife both abroad, as well as with domestic policy issues. 
The two most prominent foreign economic concerns recently have been the U.K's possible exit from the European Union, as well as weak economic data out of both Japan and China. June 23 marks the day of reckoning for voters in the U.K., deciding whether they want to stay within the confines of the European Union, or become separate.
There are large economic and social concerns if the U.K. does choose to exit the EU, which is leading to uncertainty, and selling of European assets. European banks have been especially vulnerable to potential contagion effects.
Additionally, economic and trade data out of China and Japan recently have underperformed expectations, signaling further stimulus is needed to aid in a significant recovery. As two of the largest economies continue show slowing economic activity, there are negative spillover effects to emerging markets economies. This, in turn, also is also driving up volatility as investors flee for safe-haven assets.
The chart below is of the Chinese renminbi/ Japanese yen currency pair. The pair shows a strong correlation to global market sentiment. For example, the renminbi traded higher following the financial crisis in 2009, but as soon as concerns over China's economic health began to emerge, the yen began to assume leadership. With the pair continuing to trend in the yen's direction, it signals market sentiment is still wavering.
Chart provided by Tradingview.com
Moreover, economic concerns in the U.S. are also weighing on equity markets. Just when investors were beginning to accept a summer rate increase by the Federal Reserve, a weak employment report diminished such hopes. This led investors to price in both lower economic growth, as well as a move further out for the next monetary tightening.
The chart below is of iShares Barclays 3-7 Year Treasury Bond (IEI) - Get iShares 3-7 Year Treasury Bond ETF Report over iShares Barclays 20+ Year Treasury Bond (TLT) - Get iShares 20+ Year Treasury Bond ETF Report . The indicator is a proxy for the Treasury yield curve, when it falls, it signals diminishing hope for Fed tightening. As investors have become more concerned about the U.S. economy, the yield curve indicator has broken out to the downside.
Fundamental Chart data by YCharts
The confluence of negative factors in recent weeks has led to not only weakness in U.S. equities now, but also fear that there could be additional weakness in coming months. I have positioned my portfolio in various tactical ways in order to provide absolute returns in the current environment.
The cliché, but profitable trade has been owning precious metals miners. Although precious metals have been flat the past few months, companies like Barrick Gold (ABX) and McEwen Mining (MUX) - Get McEwen Mining Inc. Report continue to outperform. Also look for silver producers to turn higher in coming weeks.
Additionally, outright shorting the market has been profitable. I currently have shorts on Home Depot (HD) - Get Home Depot, Inc. Report , Weyerhaeuser (WY) - Get Weyerhaeuser Company Report , JetBlue Airways (JBLU) - Get JetBlue Airways Corporation Report , Foot Locker (FL) - Get Foot Locker, Inc. Report , and GameStop (GME) - Get GameStop Corp. Class A Report . All of those companies are vulnerable when the market turns lower, alongside rising energy prices.
And lastly, I have hedged long positions, turning naked positions into pair trades by shorting Guggenheim S&P 500 Equal Weight (RSP) - Get Invesco S&P 500 Equal Weight ETF Report . I like the equal weight nature of the index because it is not unduly influenced by any one sector.
I continue to hold positions in energy, healthcare, as well as dividend-bearing stocks, creating a market-neutral position in order to reduce volatility. These positions should outperform regardless of market direction in coming months. The market looks to be coming under stress after a long pullback higher, and although it can be concerning, the right tactical approach should yield profits.
I am long: MUX, ABX
I am short: HD, WY, JBLU, FL, GME, RSP
This article is commentary by an independent contributor. At the time of publication, the author was long MUX and ABX. The author was also short HD, WY, JBLU, FL, GME and RSP.