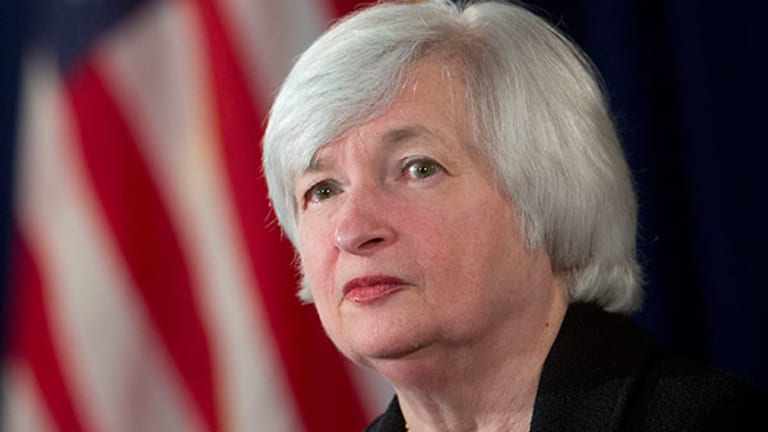 As cable TV's trained seals flap their mitts and bark about the Federal Reserve, it becomes apparent that the Fed is more than just an instrument of monetary policy. The nation's central bank also provides a litmus test for where one stands on the political spectrum.
Partisans on the left say it would be a mistake for the Fed to raise rates this week because the economic recovery is still too fragile. Those on the right habitually bash the Fed for stoking future inflation by "printing money."
Smart investors will tune out the media carnival and instead keep an eye this week on financials such as M&T Bank (MTB) - Get M&T Bank Corporation (MTB) Report , Citigroup (C) - Get Citigroup Inc. Report , JPMorgan Chase (JPM) - Get JPMorgan Chase & Co. (JPM) Report , Wells Fargo (WFC) - Get Wells Fargo & Company Report , Bank of America (BAC) - Get Bank of America Corp Report , U.S. Bancorp (USB) - Get U.S. Bancorp Report , and Bank of New York Mellon (BK) - Get Bank of New York Mellon Corporation Report . These banks are licking their chops about the Fed's all-but-inevitable rate hike, because it would enhance their earnings.
MTB, WFC, BAC, USB, and BK are Berkshire Hathaway (BRK.A) - Get BRK.A Report holdings. They belong to a group of well-managed bank stocks that super-investor Warren Buffett is now buying.
If you're looking for banking sector plays that are alternatives to individual banks, consider the SPDR S&P Bank ETF (KBE) - Get SPDR S&P Bank ETF Report or the SPDR S&P Regional Banking ETF (KRE) - Get SPDR S&P Regional Banking ETF Report . The latter is poised to profit on the increasing likelihood of mergers and acquisitions among smaller banks in 2016.
Perhaps the truth about the Fed lies somewhere in the middle: the bank's decisive lowering of rates helped prevent a full-blown depression in 2008, and over the last seven years it has steered a "Goldilocks" middle ground that's not too tight and not too loose.
Now, with economic data strengthening, the bank probably risks fueling inflation if it doesn't seize its chance to raise rates when it meets on Tuesday and Wednesday.
Other salient events on the calendar this week include the Housing Market Index report on Tuesday, which will affect housing sector bellwethers Home Depot (HD) - Get Home Depot, Inc. (HD) Report and Lowe'sCompanies (LOW) - Get Lowe's Companies, Inc. (LOW) Report , the two leading home improvement retailers. Both have gotten a lift so far this year from the housing sector's recovery -- year to date, Home Depot's stock is up 24.26% and Lowe's is up 9.03%.
Also of note will be the Baker-Hughes rig count on Friday, as the pummeled energy sector seeks encouraging news wherever it can find it. This past week has been especially unkind to major energy stocks such as Chevron (CVX) - Get Chevron Corporation Report , Exxon Mobil (XOM) - Get Exxon Mobil Corporation Report and ConocoPhillips (COP) - Get ConocoPhillips Report , which over the last five days have declined 2.37%, 5.90% and 5.15%, respectively. With oil prices now below $40 a barrel and hovering at 11-year lows, energy investors will be looking for any sign that oil and gas stocks have bottomed.

The deepening oil glut promises to make Friday's rig count another grim statistic for the energy patch. That said, refiners such as Phillips 66 (PSX) - Get Phillips 66 Report are enjoying healthier operating margins because of the falling cost of U.S. crude oil inputs, which helps explain why Warren Buffett has made a big bet on PSX. It usually pays to follow Buffett's cue.
In addition to the Federal Open Market Committee's meeting Dec. 15 and 16, other days worth flagging on the economic calendar include:
Tuesday, Dec. 15
Consumer Price Index
Housing Market Index
Wednesday, Dec. 16
Housing Starts
Industrial Production
PMI Manufacturing Index Flash
EIA Petroleum Status Report
Thursday, Dec. 17
Jobless Claims
Leading Indicators
Friday, Dec. 18
Baker-Hughes Rig Count
In the economic context described above, which stocks should you buy or sell? We suggest you follow the most recent investing decisions of the greatest investor of all time, Warren Buffett. To learn what Buffett is buying and selling for 2016, download a copy of our free report.
John Persinos is editorial manager and investment analyst at Investing Daily. At the time of publication, the author held no positions in the stocks mentioned.