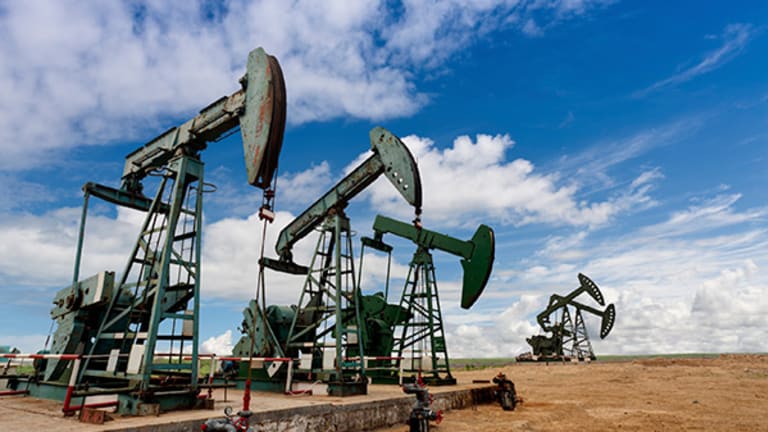 The Week Ahead: Can Energy Rally Subdue the Bear?
Here are the events and stocks to watch in coming days, to gauge whether the energy rally has sufficient momentum to quell fears of a bear market and recession.
Bear market? What bear market? After a terrible start to 2016, the markets have regained momentum in tandem with rising oil prices. Stocks plunged during the first six weeks of the year, but by mid-February the S&P 500 (SPY) - Get SPDR S&P 500 ETF Trust Report started to rally and is now up 0.25%. Instead of running for the hills, newly confident investors are now scouring the markets for growth stock opportunities.
That's quite a reversal from February, when the perma-bears were warning of a U.S. recession and prolonged market slump for 2016. Their bill of particulars included a slowing Chinese economy, a deeply indebted global banking sector, and plummeting energy and commodity prices.
Those risks still loom, but the latest indicators in March suggest slower growth, not a recession, largely thanks to a considerably improving energy picture. Do energy prices have enough momentum to forestall the much-dreaded recession and bear market? For answers, keep your eye on the following indicators and stocks.
To be sure, China is slowing but not at a calamitous pace. Industrial output and retail sales in January and February were up 5.4% and 10.2% year over year, respectively. Fixed-asset investment in the country exceeded analysts' estimates with a 10.2% increase. At the same time, Chinese authorities have loosened monetary policy to stimulate growth. The upshot: China still faces problems, but it's not the basket case that pessimists claim.
In America, employment numbers remain firm and gross domestic product growth (GDP) is on track in the first quarter to reach an annualized increase of 1.9%. This rate of GDP growth is hardly gangbusters but it's also no cause for great concern. Meanwhile in Europe, the European Central Bank launched a stimulus package for the European Union that includes an interest rate cut and incentives for banks to lend money.
Oiling the wheels of recovery has been the rally in energy prices, which have surged by more than 50% from 12-year lows hit in December. It will take a turnaround in energy prices, combined with negative economic signs, for investors to start worrying about a bear market and outright recession. Indeed, opportunities for growth still abound, even in this volatile and risky market.
A key sector to watch in the week ahead is banking. Many banks remain overexposed to the still-troubled energy sector, but they're now making moves to strengthen their balance sheets and reward investors.
The recent rally in energy prices has not only helped energy bellwethers such as Exxon Mobil (XOM) - Get Exxon Mobil Corporation Report and Chevron (CVX) - Get Chevron Corporation Report (up 8.02% and 8.59%, respectively) but also major banks with hefty energy loans on their books, such as JPMorgan Chase (JPM) - Get JPMorgan Chase & Co. (JPM) Report and Bank of America (BAC) - Get Bank of America Corp Report .
JPM and BAC are down for the year but they spiked higher on Friday (2.94% and 2.91%, respectively) on news that each had not only expanded reserves against potential energy loan defaults but also launched ambitious stock buyback programs. With their shares beaten down for the year but now showing life, a sustained rally in energy prices might make them attractive value plays.
You should also watch the latest corporate operating results, due on Friday. First-quarter profits of S&P 500 compares are expected to be nearly 4% lower on a year-over-year basis, not encouraging but to be expected considering the energy sector's plummeting earnings. Notably, energy giant Petróleo Brasileiro - Petrobras (PBR) - Get Petroleo Brasileiro SA Sponsored ADR Report is scheduled to release earnings on Monday after the market close, and the numbers should be ugly.
Then there's political risk. According a report last week from the Economist magazine's widely followed "Intelligence Unit," Donald Trump winning the White House represents one of the top ten threats to the global economy, on a par with the rising menace of "jihadi terrorism." The chaotic presidential campaign will continue to make investors skittish, especially as the race for Republican delegates gets nastier.
But good news in the form of housing data could soon emerge. Purchases of new U.S. single-family homes probably registered a year-over-year increase in February for the fourth time in the last five months; we'll know for sure on Monday. Stocks to consider ahead of the news are housing bellwethers Home Depot (HD) - Get Home Depot, Inc. (HD) Report and Lowe's Companies (LOW) - Get Lowe's Companies, Inc. (LOW) Report , both of which have risen over the last month (7.94% and 9.35%, respectively) on housing sector tailwinds.
Indicators to watch in the week ahead:
Monday: Existing Home Sales. Tuesday: FHFA House Price Index; PMI Manufacturing Index Flash. Wednesday: MBA Mortgage Applications; New Home Sales; EIA Petroleum Status Report. Thursday: Jobless Claims; PMI Services Flash; Bloomberg Consumer Comfort Index; EIA Natural Gas Report. Friday: GDP; Corporate Profits; Baker-Hughes Rig Count.
Don't Buy Apple; Buy This Tech Stock InsteadThere's a battle raging in the fast-moving world of Silicon Valley. Just as VHS tapes snuffed out Betamax and CDs killed cassettes, the winner of a new "gold standard" for data is about to be crowned. We've discovered a small company that figured out a way to corner this new $10 billion market, no matter who comes out the winner. Click here to learn more.
John Persinos is editorial manager and investment analyst at Investing Daily. At the time of publication, the author held no positions in the stocks mentioned.