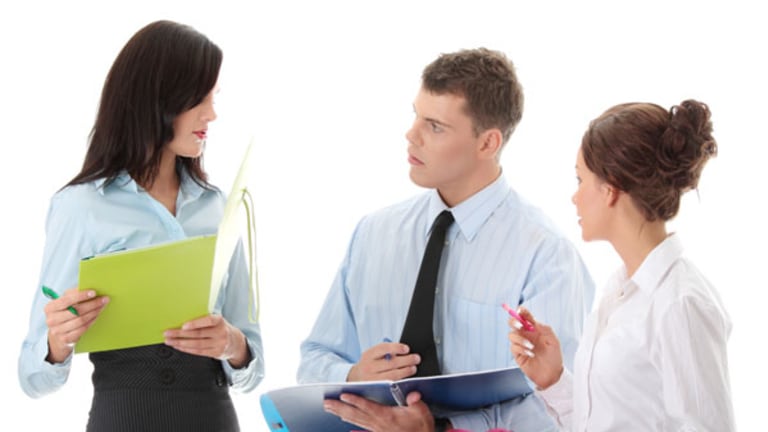 The Warren Buffetts Next Door: Book Excerpt
Read an excerpt from <I>The Warren Buffetts Next Door: The World's Greatest Investors You've Never Heard of and What You Can Learn from Them </I> by Matthew Schifrin.
Excerpted with permission of the publisher John Wiley & Sons, Inc.( www.wiley.com ) from The Warren Buffetts Next Door: The World's Greatest Investors You've Never Heard of and What You Can Learn from Them by Matthew Schifrin. Copyright (c) 2011 by Forbes LLC and Matthew Schifrin.
By Matthew Schifrin
Thou Shalt Covet Thy Neighbor's Portfolio
In February 2000, at the peak of the bubble in dot-com stocks, I wrote a story in a special edition of Forbes magazine that had a provocative blurb on the cover posing the question: "Will the Web Produce the Next Warren Buffett?"
The article chronicled several amateur investors who were riding high during that raging bull market. One of them was a 47-year-old housewife who lived on a cattle ranch in Nebraska. After seeing her family nest egg languish in the high fee mutual funds that her broker had sold her, she went online to a site called ClearStation.com and taught herself about price-earnings multiples and moving averages. Another success story was a schoolteacher from Wisconsin, and yet another was a Vietnamese immigrant who worked for the phone company by day but trolled sites like Yahoo and Briefing.com for stock ideas at night.
A little more than a month later, the dot-com bubble burst and most of the tech stocks these amateurs had big profits in came crashing down. The party was over for these bull market heroes.
Or was it? There were five million online investors when I wrote that article. Today there are an estimated 50 million in the United States alone. I now think of the amateur online investors I profiled in February 2000 as merely an early wave in the gathering troops of self - directed investors. Today's online investors are equipped with great technology and a seemingly endless armament of information, tools, and online resources.
Some have made grand predictions of how the onslaught of self-taught investors will break down the walls protecting the mighty financial institutions that have dominated the financial landscape for a century. That investors are on a mission to free themselves from the yoke of high commissions and fees and middling advice. Could be, but I think individual investor goals are a lot less ambitious.
Self-directed investors are merely looking to improve their lot in life, to be able to afford to take a family vacation each year, to buy that lakefront house, or to send their kids to a good college. They want to ensure that they will have enough income to last them through retirement. Investors are beginning to realize that devoting time toward making your money work for you is a lot smarter than working for your money. After all, the tax code, which favors long-term capital gains and dividend income, encourages this behavior.
What is clearly changing is the notion--ingrained in our psyche for generations--that only qualified financial professionals are capable of directing our investments prudently--you know, the ones with diplomas from Wharton and Harvard who illustrate their investment strategies with polished PowerPoint presentations. "Better leave it to the professionals," is the common refrain. Unfortunately that didn't work out so well in 2008.
This book is living proof that regular people have the ability to become outstanding investors in their own right. Sitting at home with a Web-connected computer, you can now produce the kinds of investment returns most believe are only attainable at the most sophisticated and exclusive hedge funds. The 10 "Warren Buffetts Next Door" profiled in this book can pick stocks better than the vast majority of all professional financial advisors and money managers employed by firms like Merrill Lynch and Fidelity.
On February 26, 2010, the most famous investor in the world, billionaire Warren Buffett, released Berkshire Hathaway's 2009 results in his much-anticipated Chairman's letter. In the year following one of the worst stock market declines in history, mighty Berkshire's book value increased by 19.8 percent. The results were pretty good, but what really counts for shareholders is the performance of Berkshire Hathaway's New York Stock Exchange listed A-shares. In 2009,Warren only delivered a 3 percent gain on his shareholders money, and no dividends. The S & P 500 gained 27 percent.
I am not using this example to challenge the notion that Warren Buffett is the greatest investor of all time. His 45-year record and his personal net worth are proof enough for me. But I am saying that the investing intelligence that he and others like him have perfected is spreading.
About 1,350 miles away from Buffett's Omaha headquarters in the suburbs of Sacramento, California, Mike Koza, a 51 -year-old civil engineer for the county department of waste management applies many of the same Graham & Dodd value principles in selectingstocks for his personal portfolio.
Since February 2001, he has been able to achieve an average annual return of 34 percent per year. 1 An investment in Berkshire's stock would have gotten you 6 percent per year. An investment in a well-run index fund like Vanguard Total Stock Market? Less than 2 percent on average per year.
Koza is not alone. Another Warren Buffett wannabe profiled in Chapter 1 named Chris Rees practices concentrated deep value investing from his ocean-view home on the balmy north coast of the Dominican Republic. His verifiable average annual return since he began being tracked online in October 2000 is 25 percent.
Jack Weyland, 33, of Reno, Nevada, has developed an expertise in health care and biotech stocks. He has had an average annual return of 36 percent since July 2002. Neither he nor Rees ever completed college, and Jack Weyland has spent much of his time picking stocks while on the road driving a tractor-trailer.
But investing success is not just about returns versus an index; it is about affording a lifestyle and attaining your goals. Alan T. Hill, profiled in Chapter 5, was able to secure a golden retirement with a single smart stock pick that created a windfall allowing him to build an adobe-style dream home in Placitas, New Mexico. Alan is no flash in the pan either. Since he retired as president of an educational technology foundation in 2005, Hill, 71, is making more money investing than he ever did during his career.
All of the people profiled in this book are risk takers. But they are also supersensitive to losing their own hard-earned capital, so the investment risks they take are carefully calculated. The Warren Buffetts Next Door profiled in this book come from all walks of life, but every single one of them is smart about using the Web as both a resource for investor education and as a tool in sourcing and fleshing out stock ideas. The Web, along with rock-bottom commission schedules at e-brokers, has truly been transformative.
Online investing and all that it entails is eliminating the need to have some special advantage in life as a prerequisite for investment success. In the late 1960s it took a lucky golf caddying assignment to get Peter Lynch in the door as an intern at Fidelity Investments. Then it took Lynch nearly a decade more to acquire the skills necessary to become the portfolio manager of the Fidelity Magellan Fund.
Thousands have attended elite schools like Buffett's alma mater Columbia Business School, and others have toiled for hours in pursuit of Chartered Financial Analysts designations trying to learn to become great investors. But imagine how quickly Benjamin Graham's lessons on securities analysis would have spread in the world of Google, Twitter, and YouTube?
The excellent, but relatively unknown investors profiled in this book are just 10 of thousands more armchair investors out there taking control of their own portfolio decisions. For the purposes of finding my candidates for
The Warren Buffetts Next Door
, I relied on Web-based sources for verifiable track records. Marketocracy.com, a site created in the summer of 2000 with rigorous standards for monitoring investment performance, was my number one source because its data is deepest and goes back the farthest. I consider Marketocracy.com to be an incubator of legendary investors, and you can find out more about them in Chapter 11.
I also used another Web community called ValueForum.com to find candidates for this book. I have spent hundreds of hours reviewing web sites as investing editor of
Forbes
and before that as editor of
Forbes Best of the Web
. It would be difficult for me to name a smarter, more collaborative community of self-directed investors than this small subscription web site. In fact, ValueForum has held community stock-picking contests since January 2004, and as a group its members are up 88 percent versus 16 percent for the S & P 500. The men I selected from ValueForum.com are all highly rated in the online community and have proven to be outstanding long-term investors. Each is living an enviable lifestyle as a result.
Some may argue that a few of the investors profiled in this book are paper tigers because it is their virtual portfolios that are being used to judge their investment success. This is a fair point because virtual money and real money are not the same thing. Still, the virtual portfolios I cite in this book are being held to rigorous standards--in some ways more stringent than returns touted for hedge funds and other professional money managers.
For example, Marketocracy won't let its money managers execute a trade for more than 10 percent of the average daily volume of any stock. This keeps them from stuffing their portfolio with illiquid penny stocks over a short period of time (it also limits the size of any one holding to 25 percent). Marketocracy managers' performance figures are also reported after deducting commissions of $0.05 per share and management fees of 1.95 percent.
After interviewing candidates for this book, I found that in cases where the virtual managers had sufficient investment capital, they were mirroring their real-life portfolios in their virtual funds. And if Marketocracy fulfills its pledge, these paper tigers may one day brandish some real teeth. Marketocracy's asset management affiliate is currently putting real capital to work in the stocks of its best-performing virtual money managers.
When reading about each of the Warren Buffetts Next Door in this book, it is a good idea to pay attention not only to the strategy lessons, investing rules and case studies in each chapter but also the biographical information. Mike Koza, for example would not have discovered his amazing talent for picking winning stocks if not for his wife Maria, whom he met at age 40. I firmly believe that personal histories and life situations are as important to investment success as are say, clear thinking and an affinity for mathematics.
To be sure, some of the great armchair investors profiled in this book may flame out in the coming years. I will do my best to keep you updated on their investing successes and failures on Forbes.com.
However, even if some of these successful Warren-wannabes crash and burn, there will be dozens more outstanding self-taught investors to take their place. In a world where the vast majority of professional money managers fail to even perform as well as a stock market index fund, it's worth it for all of us to consider that you don't necessarily need someone else's advice to improve your financial well-being. You can learn to be a great investor, a Warren Buffett Next Door, and you don't need a lot of money or fancy equipment to do so.
Ever since the government encouraged corporate America to abolish defined benefit pension plans in favor of defined contribution or 401(k) plans, most of us have unwittingly been handed the keys to our financial future. The devastating stock market collapse of 2008 has woken us up to the fact that parking what's left of your nest egg in an index fund, or handing it over to an
expert
, may not be the best solution.
Among professional money managers, mediocrity reigns. As for financial advisors or brokers, most are much more attuned to gaining your confidence and gathering your assets than they are to choosing investments that will make your money grow.
My hope is that you will read about my 10 Warren Buffetts Next Door and realize that the only real prerequisite to becoming a good investor is committing the time to do so. In other words, invest in yourself. You
can
achieve great investment returns, meet your financial goals, and beat the professional investors you would otherwise entrust your capital to. For many of us it's not a choice, but a necessity.