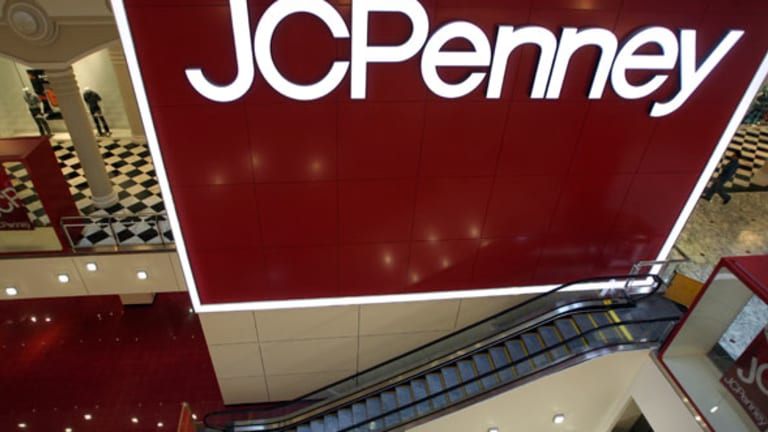 The War Over J.C. Penney
If CEO Mike Ullman can just make J.C. Penney boring again, today's share buyers will make huge profits. But first he has to fight a lot of alligators.
NEW YORK (TheStreet) -- When the late, great James Cash Penney founded a store under his own name in 1902, in Kemmerer, Wyoming, he doubtless never imagined that over 110 years later people all over Wall Street would be fighting over his legacy.
Penney himself was broken by the 1929 stock market crash,
according to his Wikipedia biography
, but he remained active after losing control of the company, reportedly even teaching a young trainee named Sam Walton on how to wrap packages with a minimum amount of ribbon in Des Moines, Iowa, in 1946.
Instead of pushing that image of frugality, Ron Johnson, the man chosen for the CEO's chair by hedge fund manager Bill Ackman at the end of 2011, tried to re-make it as a high-end, high tech "experience." He wanted to end sales, to turn the stores into a series of branded shops, and to have cashiers walk around the stores carrying iPads for instant check-out.
He broke the company instead. Sales fell by nearly one-third, year over year, and $1 in every 10 went to losses.
Today,
J.C. Penney
(JCP) - Get J. C. Penney Company, Inc. Report
is a classic battleground stock. Reports that CIT had stopped funding product shipments collapsed the shares, which fell from $16 to $14.60 in the last hour of trading on July 31. Those reports were subsequently denied, and Experian Marketing Services put out a report that Penney was doing great in back-to-school sales, at least online. The shares were expected to open at $15.50.
That Experian story may have been something of a head fake. It was talking only about online sales, not in-store sales. But you have to also wonder about the origins of the CIT report, which seemed aimed at tanking the stock. To an extent, this is also about Ackman of Pershing Square Capital Management, who is fighting a rear-guard action on behalf of his
Herbalife
(HLF) - Get Herbalife Nutrition Ltd. Report
short. Crush Penney and he may surrender on Herbalife, the thinking goes.
Somewhat lost amid all this is Mike Ullman, the former JCPenney CEO who was rehired in April to try and clean up the mess Johnson left behind. Ullman quickly brought back the old Penney mainstays, like sales and coupons, and went right to work on the financing problem.
But there's a lot to clean up. To top off Ullman's morning, closing arguments are now taking place in a New York trial over Johnson's effort to poach Martha Stewart from
Macy's
. That case could cost Penney cash as well as sales, not to mention another hit to its reputation.
By any conventional measure, Penney stock should be a bargain. Even under Johnson, Penney managed sales of almost $13 billion for the year ended on Groundhog's Day, but it carries a market cap of just $3.2 billion. A stable retailer will usually be worth half its annual sales, Penney had $17 billion in sales just a year ago, and so if Ullman can just make the company what it was before Johnson showed up, the stock price should easily double.
There also remains a lot of goodwill for Penney. The failure of a Penney's store can mean the death of an entire shopping mall, as readers of the
Salisbury, North Carolina Post
are finding out this week
as a Penney's store closes there.
The fate of Penney's, then, is tied up in a lot of issues. The hedge fund era, the collapse of the suburban shopping mall and the great American department store, the role of technology in retailing, and there are a host of personal stories in play as well.
How much easier it would be if results depended upon saving pennies in the wrapping of packages.Ullman's goal is to return Penney to those kinds of questions, to make it boring again. Boring would be nice. At this point, boring would also be very profitable for those who hold J.C. Penney stock.
At the time of publication, the author had no investments in companies mentioned here.
At the time of publication the author had no position in any of the stocks mentioned.
This article is commentary by an independent contributor, separate from TheStreet's regular news coverage.
Dana Blankenhorn has been a business journalist since 1978, and a tech reporter since 1982. His specialty has been getting to the future ahead of the crowd, then leaving before success arrived. That meant covering the Internet in 1985, e-commerce in 1994, the Internet of Things in 2005, open source in 2005 and, since 2010, renewable energy. He has written for every medium from newspapers and magazines to Web sites, from books to blogs. He still seeks tomorrow from his Craftsman home in Atlanta.