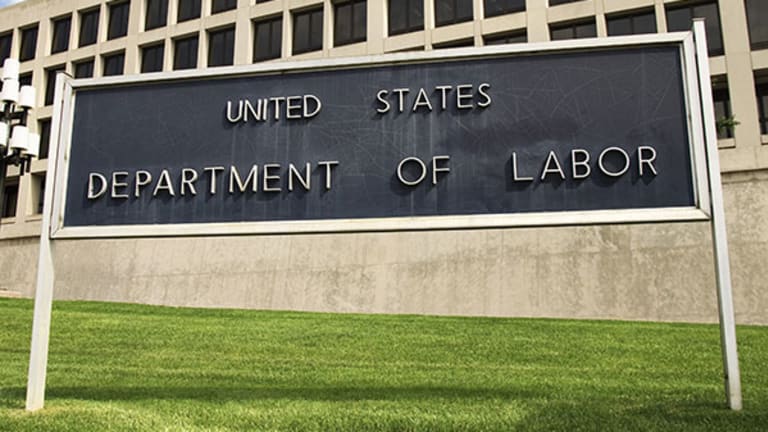 The U.S. Labor Market's Chicken-and-Egg Dilemma: Wages, Participation and Inflation
Without stronger wages, labor-force participation and inflation will remain depressed.
WEST CHESTER, PA (TheStreet) -- Despite a positive December employment report, the job market still has a problem.
The December employment report was terrific, save for the wage and labor force details. With measures of labor market slack improving, the lack of wage growth could turn heads at the Federal Reserve, as it suggests the job market still has a cyclical problem.
The biggest disappointment is the 0.2% decline in average hourly earnings for private workers, and the revisions were unkind; November's gain was revised down from 0.4% to 0.2%. The U.S. labor income proxy for private workers, the product of earnings and hours worked, was unchanged in December following November's 0.8% and was well shy of its average gain of 0.4% in 2014.
Perhaps ironically, weak wage growth isn't a horrible thing now. Low wage growth is both a result of and evidence of labor market slack. Fast wage growth now would suggest the labor market was in fact tight, which would in turn imply the millions of workers who are underemployed or out of the labor force are unlikely to return to the labor market and that more of the problems thought to be cyclical are actually structural. Therefore, slow wage growth suggests that cyclical labor slack remains and monetary policy can play a role.
While both fast wage growth and declining labor market slack are desirable, the order in which they occur is important. If the fast wage growth shows up before labor slack starts falling, the Fed is likely to conclude that labor markets are tight and raise interest rates. Even if fast wage growth would eventually lure workers back into the labor force, it's unclear whether the Fed would be patient enough to wait and see. As a result, the best-case scenario for the economy is that wider labor slack declines first, and then fast wage growth comes.
Stronger wage growth should also boost labor force participation. Since the mid-1960s, changes in labor income have had a strong relationship with labor force growth. This also makes sense in theory: Workers normally have a sense of the minimum they will accept-also known as a reservation wage-to take a job. That reservation wage can be affected by a variety of factors, such as family and home ownership status, available jobless benefits or household wealth.
The Moody's Analytics forecast calls for wages to grow faster soon. Measures of labor market utilization are improving: The unemployment rate has been below 6% for four months, the U-6 measure of unemployment has fallen 1.9 percentage points over the past year, and the number of people working part time for economic reasons is trending lower. Moreover, the rate at which workers are voluntarily leaving jobs rose in 2014. A tight relationship exists between the quits rate and growth in the employment cost index for wages.
Read Ryan on Moody's Analytics Dismal Scientist.
Businesses are also planning to raise wages, according to the National Federation of Independent Business survey. This measure has historically led changes in wages, including the employment cost index for private wages, by a couple of quarters. If the relationship holds, year-over-year private wage growth should approach 3% this quarter.
Stronger wage growth is needed to boost inflation. The U.S. is experiencing disinflation, the slowing in the rate of increase in aggregate prices. This commonly occurs during a recession, but it's currently attributable to plummeting energy prices and an appreciating dollar. Unlike in the euro zone, it's not an aggregate demand issue so the risk of deflation in the U.S. is low.
Price deflation occurs when aggregate prices decline for an extended period. A deflationary cycle is debilitating because it feeds on itself. The U.S. has experienced only two periods of deflation in the past century. One was a brief and relatively painless episode in 1949. The other was during the Great Depression. From 1929 to 1933, prices in the U.S. fell 23%, discouraging spending and investment.
Our preliminary estimate is for the CPI to have fallen 0.3% from November to December, leaving it up 0.7% on a year-ago basis. Prices will likely fall again in January. If we pencil in another 0.3% decline, which could be conservative, year-over-year growth will be barely above 0% and the worst since the Great Recession. Outside of that recession, the last time inflation was this low was in the 1950s.
It may appear that December employment report gives the Fed the green light to raise rates midyear but stronger wage growth should be a prerequisite for higher rates. The Fed is unlikely going to be overly confident that inflation will move toward its target of 2% if wage growth shows little sign of improving.
Inflation is going in the wrong direction, and this will create a communication issue for the Fed. Growth in consumer prices will slow abruptly, and we aren't ruling out a temporary year-over-year decline in the top-line measures. Further declines in oil prices will be the primary catalyst for year-over-year growth in the CPI going from 1.3% in November to near 0% in the first quarter. This has mixed implications, as it will boost household purchasing power while raising real interest rates. What happens to inflation expectations, however, will matter most.
All told, stronger wage growth is coming, but it will take time. Normally wage growth accelerates once the unemployment falls below 6%. However, it can take 12 to 18 months for a meaningful acceleration in wages to occur. The Fed will have to be patient.
Read Ryan on Moody's Analytics Dismal Scientist.
This article is commentary by an independent contributor. At the time of publication, the author held no positions in the stocks mentioned.