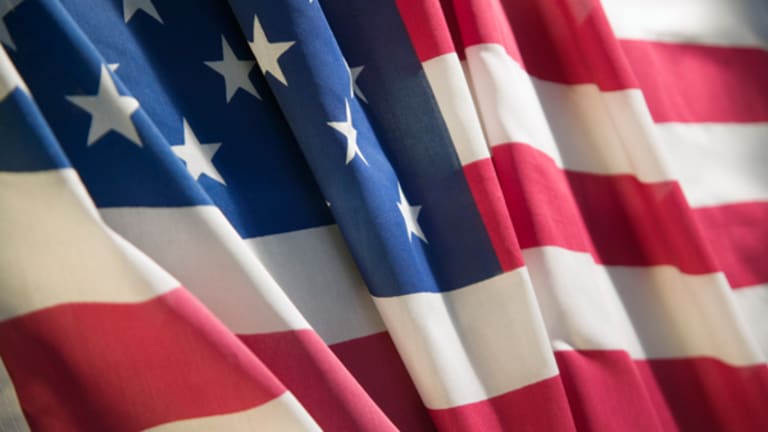 The United Playlist of America
Can a nation of individuals accept a single national anthem? 'The Star-Spangled Banner' is a reminder of just how tricky a business anthem writing can be.
NEW YORK (TheStreet) -- With neither music nor much of anything else able to bring together the modern United States, it's a small miracle that "The Star-Spangled Banner" survives as our National Anthem.
Written by Francis Scott Key nearly 1,999 years ago after he'd witnessed the attack on Fort McHenry just outside Baltimore during the War of 1812, everything about it is a reminder of just how tricky a business anthem writing can be. The words themselves have proven stumbling blocks for even
some of the nation's best singers
. Its supporting music was cribbed from "The Anacreontic Song," the official song of 18th century London men's club The Anacreontic Society, whose original lyrics included the following: "And, besides, I'll instruct you like me, to intwine, the Myrtle of Venus with Bacchus's Vine."
Even with roots as an English drinking song, "The Star-Spangled Banner" had a tough time taking root here. In the late-1880s it served only as a Navy anthem. President Woodrow Wilson started using it for formal functions in 1916, but it wasn't declared the nation's official National Anthem until President Herbert Hoover signed legislation making it so in 1931.
Eighty-two years later, the thought of one song casting a wide enough shadow to cover everyone in the United States is the antithesis of the modern music industry.
The listening experience first confined to
Sony's
Walkman in the 1980s was relegated to earbuds a decade ago by
Apple's
(AAPL) - Get Apple Inc. Report
iPod. The Genius function on Apple's iTunes recommends music based only on what a user is already listening to.
Amazon's
(AMZN) - Get Amazon.com, Inc. Report
music shop makes suggestions based on what a customer has already bought.
Pandora's
(P)
entire music streaming service is based on listener data from its Music Genome Project.
Music hasn't just been reduced to the individual, but to that individual's DNA. To what we've already experienced, processed and stored away. As my editor Carlton Wilkinson so keenly observed a few weeks back, the music industry has just about killed
the communal, tribal experience that built it
.
This isn't an argument for "The Star-Spangled Banner" to be removed or replaced. It may just require people to explain why, like the tattered flag that inspired it, it's still there. Foremost, there's far too much blood and loss attached to it to get rid of it now. It debuted just before World War II and just about every veteran since attaches significance to its words that others just don't. It's what they went through, the people who helped them through it and the people who didn't make it.
Like every other national symbol, however, it's open to interpretation. What do those lyrics mean to members of the Civil Rights movement who saw friends and leaders die to help secure their personal freedoms, only to see the affirmative action and voting rights programs they fought for stripped away? What did those words mean to Texas State Senator Wendy Davis on Hour 10 of her filibuster? Or to same-sex couples after the U.S. Supreme Court struck down the Defense Of Marriage Act? What do they mean to the people on the other side of each of those arguments, who honestly believe their own liberties in that anthem's "land of the free" are under assault?
The Tea Party and Occupy Wall Street share the same anthem and have splintered interpretations of it. There's the anthem that's written in the sheet music, and there's the one we all choose to read and hear.
For the reasons already stated, "The Star Spangled Banner" isn't going anywhere. For those same reasons, the real anthem for these United States is more likely a playlist -- myriad tunes and narratives melded into one greater vision.
This country's songwriters have done little to rebuke that argument. The outsized patriotism of Irving Berlin's "God Bless America" was almost immediately countered by Woody Guthrie's more modest and personal "This Land Is Your Land." Lee Greenwood's soaring pride in 1984's "God Bless The U.S.A." was counterbalanced by Bruce Springsteen's soul-crushing -- and, thanks to Ronald Reagan, misinterpreted -- realism in "Born In The U.S.A." later that year. Toby Keith's "Courtesy Of The Red, White and Blue (Angry American)" gets The Dixie Chicks' "Travelin' Soldier" on the other side of the aisle.
With so many pieces to the American puzzle, how does any one statement stand on its own? When Neil Diamond writes "America" from the perspective of a man who came from a family of immigrants and sees an incredible upside to the immigrant experience, can he ever reach a listener who wants the borders closed and newcomers reduced to a slow trickle? Do the malaise and working-class disappointment of Springsteen's "My Hometown" and Paul Simon's surprisingly prescient, 40-year-old "American Tune" seem dissonant to fans of Montgomery Gentry's far more optimistic "My Town?"
That's just the issue. The America of Stevie Wonder's "Livin' For The City," Grandmaster Flash and The Furious Five's "The Message" and even John Rich's "Shuttin' Detroit Down" (or Kid Rock's "Times Like These," come to that) is the same America of Miley Cyrus' "Party In The U.S.A.," Estelle and Kanye West's "American Boy" and Brad Paisley's "American Saturday Night."
The best both Americans and their music purveyors can hope for is that their view and tastes overlap someone else's just enough to form a Venn diagram. It's why the
keeps expanding even as
individual concert ticket sales slump
.
Coachella, Bonnaroo, Sasquatch! and just about every other multi-day, mud-strewn music event have begun pulling in as many indie rock, hip-hop, electronic dance, country, folk, world music and comedy acts as they can pack onto their bill just to draw as much of the music spectrum onto the grounds as possible. By addressing everyone's individual tastes and preferences, they not only insure each individual something they like, but provide some of the few venues where fans can hear what other people are listening to, discover new music and people, exchange ideas and come away richer -- if messier and sleepier -- for the experience.
They aren't the kind of places that lend themselves to all-purpose anthems, but they're places where anthems like Jay-Z's "Hizzo" and The White Stripes' "Seven Nation Army" break out of their prescribed niches and find broad new followings. They're where American playlists are borne and where a disparate United States, like the banner in its National Anthem, remains surprisingly intact.
-- Written by Jason Notte in Portland, Ore.
>To contact the writer of this article, click here:
Jason Notte
.
>To follow the writer on Twitter, go to
.
>To submit a news tip, send an email to:
.
RELATED STORIES:
>>Song Hordes: Return Of The Indie
>>Reunion Acts: Second Verse, Same As The First
>>How To Be The Old Guy At The Music Festival
Jason Notte is a reporter for TheStreet. His writing has appeared in The New York Times, The Huffington Post, Esquire.com, Time Out New York, the Boston Herald, the Boston Phoenix, the Metro newspaper and the Colorado Springs Independent. He previously served as the political and global affairs editor for Metro U.S., layout editor for Boston Now, assistant news editor for the Herald News of West Paterson, N.J., editor of Go Out! Magazine in Hoboken, N.J., and copy editor and lifestyle editor at the Jersey Journal in Jersey City, N.J.