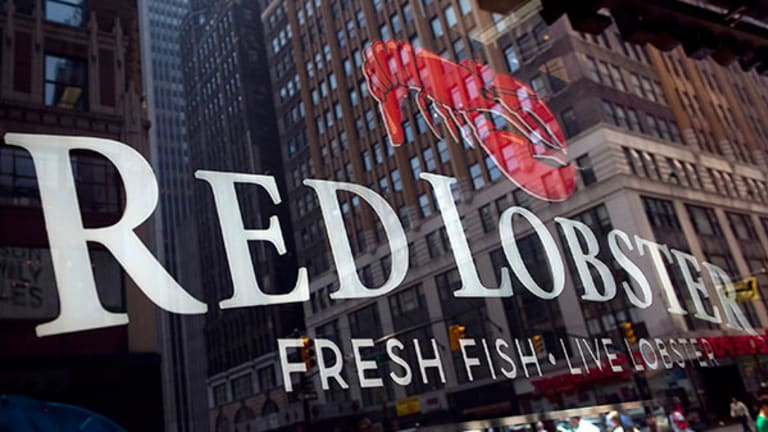 The Ultimate Lobster Sale
Darden gives up on Red Lobster too easily.
NEW YORK (TheStreet) -- Darden Restaurants (DRI) - Get Darden Restaurants, Inc. Report finally got what it wanted Friday with the announcement that it will shed its Red Lobster brand for $2.1 billion.
The buyer, Golden Gate Capital, is getting a great deal, despite Red Lobster's recent struggles.
This marks the end of an era for Darden, which had also been considering spinning off Red Lobster. The company has been also been facing pressure from activist investors, such as Barrington Capital, which was urging Darden to spin off its vast real estate holdings -- primarily company-owned Red Lobster and Olive Garden locations -- into a publicly traded real estate investment trust. The sale of Red Lobster ends that possibility, which Barrington had believed was the best way to maximize the value of Darden real estate.
In fact, Darden owns more than 1,000 restaurant locations (land and building) and an additional 800 buildings on leased land. That's a potentially formidable portfolio of real estate, especially given the typical high-profile locations of Darden's restaurants.
The $2.1 billion deal values each of the 705 Red Lobster locations at just under $3 million. That seems like a small price to pay, considering that it includes the land and buildings for many of those locations.
Country dining chain Cracker Barrel (CBRL) - Get Cracker Barrel Old Country Store, Inc. Report can be used to help put the Red Lobster deal in perspective. Cracker Barrel is comparable to Red Lobster in terms of size (624 restaurants), ownership of real estate (412 locations) and annual revenue (both at about $2.6 billion).
Yet the market values Cracker Barrel at $2.65 billion on an enterprise value basis (market cap plus debt minus cash), a figure that would likely be higher if that company was put up for sale.
Granted, Red Lobster is not as profitable as Cracker Barrel, and profitability was also in decline. However, Golden Gate Capital is taking advantage of Darden's haste to rid itself of Red Lobster, which has been anchor for Darden's performance in recent years.
Darden has ultimately decided that Red Lobster is either not worth fixing or can't be fixed. That's a shame, because despite its troubles, Red Lobster is still a well-known, formidable brand.
The market did not take too kindly to the sale announcement on Friday, as Darden shares fell more than 4%. Evidently, Barrington's proposals or the notion of a Red Lobster spin-off may have been growing on investors who were evidently not excited by Darden's plan to use of the after-tax sale proceeds ($1.6 billion) to pay down debt ($1 billion) and buy back stock.
data by
>>Read More: Major League Soccer Gets Kick From TV Deal
>>Read More: Deadhead Tips; 10-Year Yields: Best of Kass
>>Read More: Once Wall Street Bankers, Now Consultants
At the time of publication, the author held no positions in any of the stocks mentioned.
This article represents the opinion of a contributor and not necessarily that of TheStreet or its editorial staff.