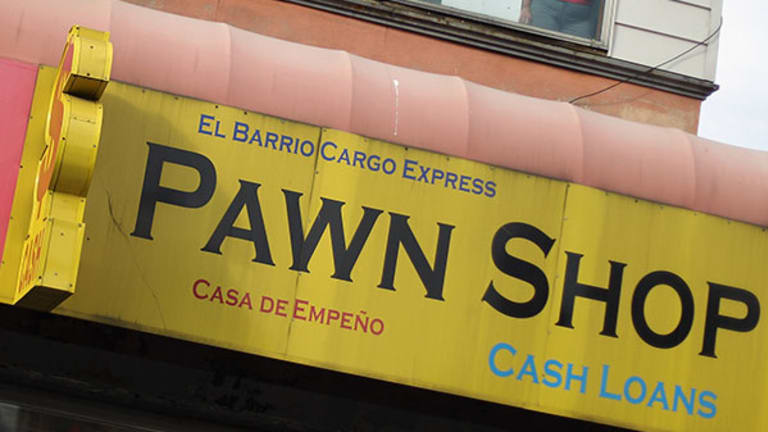 The Trouble With Payday Lenders
When times are hard, Cash America, World Acceptance and First Cash made money. But regulators are now watching.
NEW YORK (TheStreet) -- In the last several years of economic uncertainty and tightened availability of consumer credit, payday lenders including Cash America (CSH) , World Acceptance (WRLD) - Get World Acceptance Corporation Report and First Cash (FCFS) - Get FirstCash, Inc. Report have posted impressive growth.
As traditional lenders tightened underwriting standards, an unsaturated market for short-term, high-risk loans emerged, and payday lenders filled the gaps with great success. As the largest players grew and consolidated smaller pawnshop operations, investors shared in the bounty.
But there is trouble on the horizon from multiple directions.
A recent $19 million settlement between Cash America and the Consumer Financial Protection Bureau has exposed serious potential legal and regulatory risks inherent in the business model.
To understand how fragile the regulatory situation is, it's helpful to examine the $570 case that precipitated the federal investigations and subsequent $19 million settlement.
In May 2009 one of Cash America's subsidiaries filed a collections suit in Ohio against one Rodney Scott for an amount of $570.16, the balance due under his payday loan. The court ruled the loan, which the subsidiary offered under the Ohio Mortgage Loan Act ("OMLA"), was not authorized under OMLA, and should instead have been offered under a different statute (one that allows for significantly lower effective interest and fees).
As it turned out, Scott's case was not the extent of the company's paperwork troubles in Ohio. Shortly after the district court's decision, Cash America's Ohio division announced that it would forgive all debt collections dating back to the beginning of 2008, and reimburse some 14,000 Ohio customers. This decision, a spokesperson said, was due to "technical errors" that the company "discovered in [its] own due diligence."
As a result of the scrutiny surrounding the Ohio case, the CFPB began looking into the company at a federal level. It, in turn, uncovered evidence of illegal robo-signing practices and violations of a law limiting the interest charged on loans to military service members. The CFPB also alleged that the company instructed employees to erase relevant files and phone calls, and coached them in preparation for speaking to examiners.
It seems unlikely that this is the end of CFPB's interest in the industry as a whole. Regulators are keen on cracking down on lenders that charge very high rates, and it is likely that more state and federal laws and regulations will emerge to tighten around the industry in the future.

While regulatory scrutiny and consumer protection measures are par for the course for any financial institution, payday lenders are particularly vulnerable because of the nature of the business. Legislative and regulatory hostility is not a nuisance or an extra legal expense; the CFPB settlement demonstrates that it is an existential threat, and one that the market doesn't appear to have fully priced in.
Regulatory risk exposures aren't payday lenders' only problem. Innovative competition from lean online microlenders and peer-to-peer lending platforms are emerging, threatening to cut into the more established players' bottom lines in the long term.
But for some payday lenders, there is a silver lining. While the consumer lending segment of the industry is suffering, the pawn lending side of the business continues to thrive. Pawn shops issue collateralized loans, and so face lower losses and collections expenses.
In addition, this portion of the business is not as tightly regulated or legislated against, and is generally not seen as predatory by consumers because the high effective rates are somewhat obscured by the fee structure.
Strategy Overview
The difference in the prospects of these two sides of the business is apparent in the performance of Cash America's stock versus that of First Cash.
Traditionally, the investment community considers both companies to be a part of the same industry. But upon examination, it's apparent that their recent strategies are very different.
While Cash America made a bet on expanding its e-commerce division, its fastest-growing segment, First Cash concentrated on the core pawn operation responsible for 93% of its revenue steam.
In other words Cash America is walking right into head-to-head competition against the emerging industry of mobile micro lending startups and peer-to-peer lending platforms, facing potential margin contraction and international regulatory scrutiny with no end in sight.
First Cash, on the other hand, is steadily expanding and solidifying its pawn lending operations in the U.S. and Latin American markets, its core business.
Important Factors
While the commentary of some analysts has stoked fears that falling gold prices will hurt pawn operators, we feel those fears are unfounded for several reasons:
1. Many pawn operators don't have a large portion of their merchandise tied up in precious metals. FCFS' Mexican shops, for example, hold 88% of their pawn merchandise value in electronics and other merchandise.
2. Most pawn merchandise isn't held for more than two months and about 75% is redeemed, which limits gold price risk exposure. In addition, a 5 to 20% service charge provides extra padding against gold price volatility.
3. The portion of the value that jewelry derives from the precious metal of which it's composed is relatively small, so the delta on the price of jewelry relative to gold is much less than 1 to begin with.
Conclusions
Our research shows that regulatory headwinds and emerging competition are the biggest problems for the payday lending business, while pawn shop operations provide predictable and steady growth. We recommend choosing investing positions accordingly.
At the time of publication the authors had no position in any of the stocks mentioned.
This article was written by an independent contributor, separate from TheStreet's regular news coverage.