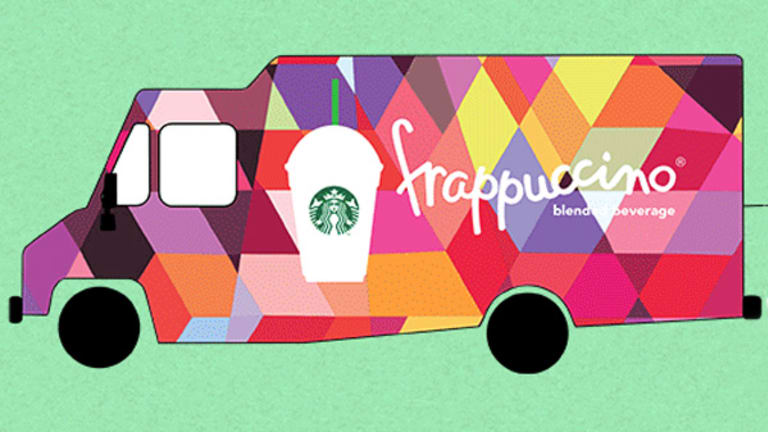 The Top Secret Starbucks Frap Truck Is on the Move
The word on the street is that a Starbucks food truck is making the rounds in California. Can this be real? If so, is it good for Starbucks? Brian Sozzi, CEO of Belus Capital Advisors, gets to the bottom of this tasty development.
NEW YORK (TheStreet) -- At first, I thought social media whispers on something called the Starbucks (SBUX) - Get Report Frap Truck were akin to spotting a flying puppy -- a vicious rumor meant to invoke intense excitement. However, upon further investigation, the Starbucks Frap Truck is a real-life thing, which my contact at the company kindly confirmed on the weekend as the social account set up to track the truck's whereabouts (@frappuccino) didn't seem affiliated with Starbucks.
Hey, I mean, look at this truck, it's kind of clunky (though in classic food truck form) and sports bright coloring (to make it stick out in the urban areas it's being mobile to), completely opposite to the rising sophisticated feel of Starbucks' remodeled stores and menu.
Starbucks Frap Truck, the Tasty Deets
First stop was in San Diego from May 15 to May 24. During that period, the truck made eight stops for an average stay of about seven hours, including high-profile stints at Qualcomm Stadium and Petco Park.
Current residency is in Los Angeles from May 26 to June 15.
Key attributes: (1) offers Starbucks classics and limited-time drinks; (2) jenga and croquet are a few of the truck's experiences for patrons, along with a digital jukebox.
Why the Starbucks Frap Truck Is a Grande Idea
It could set up shop near food trucks and scout emerging food trends that are then tested at Starbucks stores.
It allows Starbucks to have a mobile laboratory, testing customer responses to new drinks in densely populated areas before nationwide rollouts.
Highest margin products are being served from an old truck, much more economical than opening up a new store!
Creates social media buzz at the local level that could go viral (look at me writing this piece from the East Coast, which does not yet have a Starbucks Frap Truck).
This truck could park out front of a rival coffeehouse (ahem Dunkin Donuts (DNKN) - Get Report and McDonald's (MCD) - Get Report) and reinforce why Starbucks is the only place people should be visiting daily for their caffeine.
Special acknowledgement: Thank you to my buddy and fellow master tweeter @liahaberman for bringing the existence of the Starbucks Frap Truck to my attention.
-- By Brian Sozzi CEO of Belus Capital Advisors, analyst to TheStreet. This article represents the opinion of a contributor and not necessarily that of TheStreet or its editorial staff. At the time of publication, Sozzi was long XXX, although positions may change at any time.
At the time of publication, Sozzi held no position in the stocks mentioned.
Brian Sozzi is the CEO and Chief Equities Strategist of
. He is responsible for developing and managing an equities portfolio of mid- and large-cap positions, in addition to leading the firm's digital content initiatives. He is also a personal finance columnist for
Men's Health
magazine.