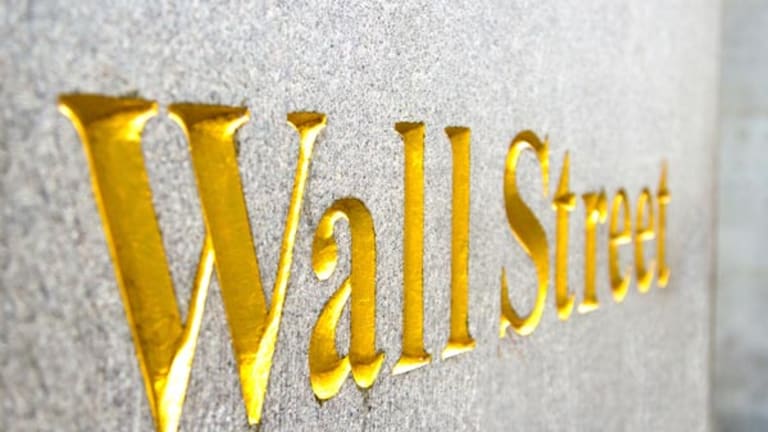 Publish date:
10 Dumbest Things on Wall Street in 2009 (Part 2)
Michael & Me; Amazon.com re-Kindles Orwell; Inept insider trading; So long, CIT; and Goldman's divine inspiration.
Michael & Me; Amazon.com re-Kindles Orwell; Inept insider trading; So long, CIT; and Goldman's divine inspiration.
NEW YORK (TheStreet) -- Every year on New Year's Eve they count down the seconds before dropping the ball in New York City's Times Square. Down here at the Five Dumbest Lab, we have a year-ending celebration of our own: We count down the 10 biggest moments on Wall Street where a CEO or company dropped the ball.
Last week, we offered you
numbers 10 through 6 of our favorite flubs from 2009. Now, here is the moment you've all been waiting for, the Five Dumbest Things on Wall Street in 2009. Happy New Year everybody!
5. Michael & Me
(Originally published 6/4/09)
Michael Moore is enjoying the last laugh over
GM's
bankruptcy. But we are having the best laugh over his plan to turn the Motor City into Grand Central Station.
Filmmaker and provocateur Michael Moore danced on GM's grave Monday, posting a letter to readers where he expressed "joy" over GM's demise. Writing from his hometown of Flint, Michigan, surrounded by "friends and family who are filled with anxiety about what will happen to them and to the town," Moore cranked the schadenfreude up to 10, reveling in the fact that his once powerful nemesis -- well, his first nemesis since he has now amassed quite a collection -- is now gone.
One might think that Moore would cut the company a little slack considering it played such an instrumental role in launching his career. Twenty years ago, Moore shot to fame producing and starring in "Roger & Me," a documentary in which he illustrated the negative impacts of then-GM CEO Roger Smith's decisions to shut several auto plants in Flint.
Clearly there would be no Moore had there been no Roger, and the world would never have discovered the director's talents for raking muck at
Wal-Mart
(WMT) - Get Report
and trespassing on Charlton Heston's property without getting shot.
Nevertheless, Moore's ungracious attitude toward his late co-star is not the bone we are picking with the director today. No, the reason we single out his missive as worthy of our dumbest list is his misguided plan for Detroit to manufacture cabooses instead of cars.
In his letter, Moore advises President Obama to act like President Roosevelt did after the attack on Pearl Harbor and "tell the nation that we are at war and we must immediately convert our auto factories to factories that build mass transit vehicles and alternative energy devices."
"Let's hire the unemployed to build the new high speed lines all over the country. Chicago to Detroit in less than two hours. Miami to DC in under 7 hours. Denver to Dallas in five and a half. This can be done and done now," Moore urges.
Whether the Denver/Dallas corridor is a hot market for travelers, we don't know. And Moore does not provide statistics on the matter, so we can only assume he doesn't have a clue either. We are also not sure if he has ever heard of a government-owned railway called Amtrak which is expected to lose $476 million in 2009.
As to whether Moore has the slightest awareness that railway bankruptcies due to overbuilding have been the rule rather than the exception in America from the Civil War through Conrail, well, you'll have to jump on a train to Michigan to ask him.
Better yet, take a flight, it's faster and most likely cheaper.
Five Dumbest Final Thoughts -- Hey Mike, even toymaker Lionel Trains went bankrupt in 2004.
4. Amazon.com Re-Kindles Orwell
(Originally published 7/24/09)
Somebody call the Thought Police!
Amazon
(AMZN) - Get Report
stole my Kindle copy of 1984.
The online bookseller enraged customers last Friday when it remotely deleted electronic editions of certain books already purchased by readers for their Kindle devices. Ironically, and quite hilariously, one of those books wiped out by Amazon was the George Orwell dystopian classic set in a nightmarish world in which speech is repressed by a dark, omnipresent overlord called Jeff Bezos ... oops, we mean Big Brother. Our bad.
Amazon sends its digital books to Kindle owners over a wireless network. Amazon can also use that network to synchronize electronic books between devices and remove books entirely.
In an email message to customers, Amazon tried to explain away the mix-up, saying the books were added to the Kindle store by a company that did not own the rights to them.
"When we were notified of this by the rights holder, we removed the illegal copies from our systems and from customers' devices, and refunded customers," said Drew Herdener, Amazon's Minister of Truth.
Darn! We meant the director of communications. Sorry again.
"We are changing our systems so that in the future we will not remove books from customers' devices in these circumstances," said Herdener.
An authorized digital edition of 1984 from its American publisher, Houghton Mifflin Harcourt, is still available on the Kindle. The U.S. copyright on 1984 does not expire until 2044, but it has already expired in other countries, including Canada, Australia and Russia where readers can download digital copies of the book without fear of committing a thoughtcrime.
Wait! Not a thoughtcrime, we mean breaking the law. ... Hey, what are you Amazon guys doing here? ... Get your hands off us! ... Where are you taking us? ... What do you mean re-education?...
Five Dumbest Final Thoughts -- All hail Jeff Bezos. All hail Jeff Bezos.
3. Inept Insider Trading
(Originally published 10/23/09)
For such a wealthy, smart guy, Raj Rajaratnam looks like one poor, dumb criminal.
Rajaratnam, the billionaire founder of the Galleon hedge fund, is alleged to have conspired with six other people to make illegal trades based on insider information that brought in $20 million in profits, according to a pair of criminal complaints filed in U.S. District Court in Manhattan last Friday. Some of those sketchy transactions involved shares of
Google
(GOOG) - Get Report
and
IBM
(IBM) - Get Report
. Another score for Raj and his merry band of tipsters was Internet infrastructure provider
Akamai Technologies
(AKAM) - Get Report
, which they successfully shorted after receiving non-public earnings information from an unidentified person at the company.
Too bad he allegedly blew it all -- and more -- on a failed attempt to game shares of chipmaker
Advanced Micro Devices
(AMD) - Get Report
.
According to
The New York Times
, Galleon Group bought $85 million to $90 million worth of AMD stock from August 2008 to October 2008. The purchases were made after Raj and alleged co-conspirator Danielle Chiesi clandestinely learned from an IBM executive in that the government of Abu Dhabi would invest billions of dollars in AMD. Chiesi worked at New Castle Funds, a hedge fund closely associated with Galleon, which also took part in the trade.
Alas, the best laid plans of rats and men often go astray. The market tanked in September and October of last year, taking AMD along with it. By Oct. 6, Galleon's AMD investment was worth only about $68 million, a loss of roughly 25%. And on Oct. 7, when AMD finally announced its deal with Abu Dhabi -- no surprise to Raj and his crew, of course -- its stock closed about 8% percent higher that day, but still well below Galleon's purchase price.
Galleon held on to nearly all its AMD stock after the deal was announced, says the
Times
, only to see it resume its plunge during the rest of October. In total, Galleon lost about $30 million on AMD, more than wiping out his gains from his other allegedly unlawful trades. The hedge fund manager is now out on $100 million bail and proclaiming his innocence, despite wiretaps and extensive evidence pointing to the contrary.
Then again, we'd also be loath to admit we knew the next pitch but whiffed anyway.
Five Dumbest Final Thoughts -- Say it ain't so, Raj.
2. So Long, CIT
(Originally published 11/6/09)
Move over
Lehman Brothers
,
WorldCom
,
Washington Mutual
and
General Motors
. You've got company.
And U.S. taxpayers are picking up the tab.
Small business lender
CIT Group
(CIT) - Get Report
filed for Chapter 11 protection on Sunday, one of the five-largest bankruptcies in U.S. history. The company ultimately could not trim down its $10 billion of debt load following a failed debt exchange offer. According to its bankruptcy petition, CIT had $71 billion of assets and $64.9 billion of liabilities on June 30.
The reorganization plan calls for unsecured debt holders to receive 70 cents on the dollar of new notes plus new common stock. As for the old shares of CIT -- for all you smiling shorts looking to close out positions -- those worthless scraps can now be found trading on the Pink Sheets for about 20 cents.
So what about "our" preferred shares, by which we mean the $2.33 billion in taxpayer money the U.S. government invested in CIT through the Troubled Asset Relief Program last December? Are we going to see any recovery? Maybe a few pennies on the dollar?
Don't count on it. Treasury Department spokesman Andrew Williams said that "recovery to preferred and common equityholders will be minimal." If that's the case, it would make CIT the first realized loss for the $700 billion TARP program, a dubious distinction if there ever was one.
Then again, it was a truly dubious investment from the very beginning, one which still leaves us scratching our heads. Last December, CIT was anointed a bank holding company worthy of saving with taxpayer billions. Ten months later, the government is writing off the loss with little more than a shrug.
Could somebody please tell us what we got for our money?
Didn't think so.
Five Dumbest Final Thoughts -- CIT has already re-emerged from bankruptcy and is up and trading again. But taxpayers are down and out on this stinker.
1. Goldman's Divine Inspiration
(Originally published 11/13/09)
Wall Street may be a fertile ground for stupidity, but there are still times when we here at the Five Dumbest Lab struggle to find stories worthy of our list. If only we had a batphone to God like
Goldman Sachs
(GS) - Get Report
CEO Lloyd Blankfein, it sure would make our lives much easier.
The CEO of the gold-standard investment bank discussed his divine partnership in an interview with London's
Sunday Times
newspaper, saying his flock of bankers and traders are doing "God's work."
"We help companies to grow by helping them to raise capital. Companies that grow create wealth. This, in turn, allows people to have jobs that create more growth and more wealth. We have a social purpose," sayeth Blankfein unto the
Times
.
Oh, so that's why the Apostle Paulson -- praised be Hank -- saved his former firm from going under last year instead of those unbelievers at Lehman Brothers. It's because Goldman helps other companies be fruitful and multiply.
And while we were looking for a burning bush to show us the way, Blankfein opened our eyes to the real sign that the world economy was recovering. He said that bountiful bank profits and bonuses, like Goldman's $3 billion third-quarter earnings and $20 billion bonus pool, are the real indicators of heavenly times ahead.
"Others made no money and still paid large bonuses. Some are not around anymore. I wonder why?" asketh Blankfein.
We don't know, Lloyd. Why don't you call your boss? Surely He knows.
Five Dumbest Final Thoughts -- Brother Lloyd needs to take a vow of silence.
Before joining TheStreet.com, Gregg Greenberg was a writer and segment producer for CNBC's Closing Bell. He previously worked at FleetBoston and Lehman Brothers in their Private Client Services divisions, covering high net-worth individuals and midsize hedge funds. Greenberg attended New York University's School of Business and Economic Reporting. He also has an M.B.A. from Cornell University's Johnson School of Business, and a B.A. in history from Amherst College.