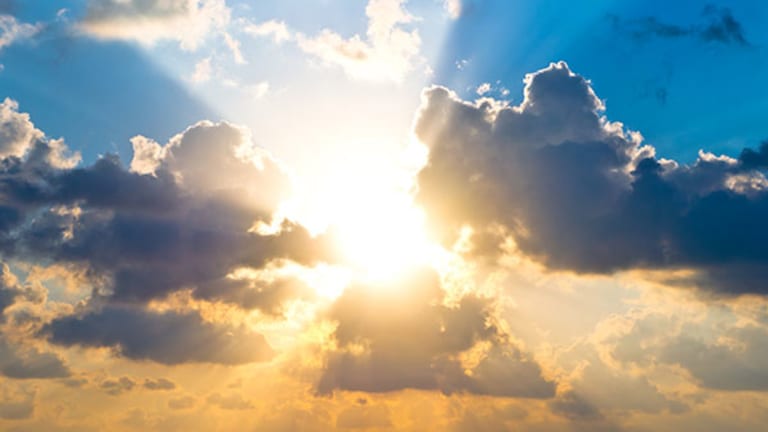 The Sun Isn't Setting on SunEdison
SunEdison shares are basking in the market's warm glow thanks to a recent upgrade and a strong line of chips and solar panels.
NEW YORK (TheStreet) -- SunEdison (SUNE) is basking in the market's warm glow.
The Missouri company, whose shares are up 44% for the year to date and currently trade around $19, is a major player in semiconductor and solar technology industry, its chips business a path breaker in the design and development of silicon wafer technologies for over half a century.
With operations in the U.S., Europe, and Asia, the solar business of the company formerly known as formerly MEMC Electronic Materials produces, finances, installs and operates distributed power plants for commercial, government and utility customers.
We at The Focused Stock Trader first recommended SunEdison on June 24, 2013, at a purchase price of $8.72. Since then the company's shares have risen 113%.
Despite the stellar run in the stock, we think there is significant upside in SunEdison, as do Goldman Sachs, Deutsche Bank, Credit Suisse and Needham. All these analysts raised their target prices on the company Wednesday.

According to IHS and GTM, the solar photovoltaic (PV) market will increase its annual installations from 39 GW in 2013 to 118 GW in 2020, a 17% compound annual growth rate. SunEdison is the third-largest player in the market with 2013 solar installations at 542 MW and 2013 revenue of $2.5 billion.
SunEdison's focus on both technology, via its semiconductor business and downstream business makes it the largest player with a flexible business model able to offer multiple solutions rather than just focusing on the utility segment. Its strengths will see SunEdison's global completions double in 2014, from 542 MW in 2013 to between 900 to 1,150 MW in 2014. This growth should continue for the foreseeable future, SunEdison has a strong backlog of 3.4 GW and expects global completions to increase to over 1,500 MW in 2015 and over 2,000 MW in 2016.
SunEdison also has a large opportunity in providing electricity to rural areas. According to a recent report, the market for providing electricity to rural areas globally is around $40 billion annually. In addition, there is a $200 billion market for solar pumps for irrigating in emerging countries. There are thousands of such rural areas where efficient players in the solar space will benefit from this need. SunEdison secured the first project in India in 2010 and now operates in eight Indian states besides expanding into Thailand and Malaysia.
SunEdison has a very strong management team. In addition, with financing so important in the solar industry, the company created its own financing firm, SunEdison Capital, which created the first sale-leaseback fund and many more innovative financing solutions. 
Of the top 10 Solar PV companies, six companies are publicly traded. The average market capitalization to 2013 energy installed is almost $15 billion per GW installed. Assuming the market places half the average valuation on SunEdison, SunEdison's market cap will be $15 billion at the end of 2014. With current shares outstanding of 263 million, the target price at the end of 2014 is $31.77.  
The company is undervalued relative to peers. Regardless, assuming no multiple expansion, the stock could double over the next year.
At the time of publication the author had no position in any of the stocks mentioned. 
This article represents the opinion of a contributor and not necessarily that of TheStreet or its editorial staff.
Harris Shapiro is the founder of TFST Publishing LLC, the publisher of The Focused Stock Trader (http://www.thefocusedstocktrader.com) and is a contributor to TheStreet.