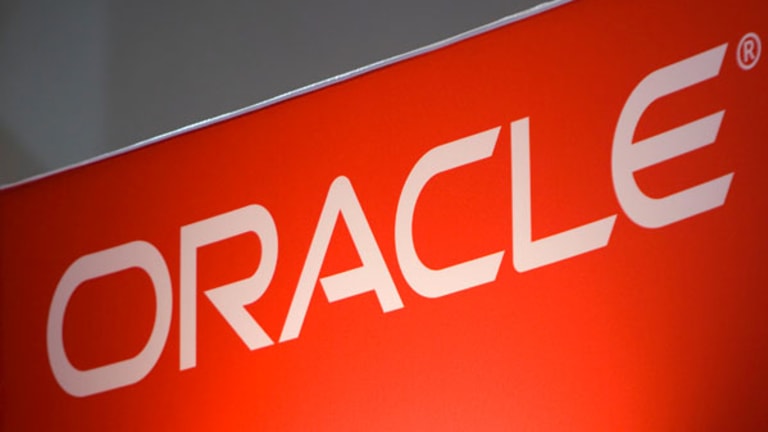 NEW YORK (TheStreet) -- I don't believe anyone has ever mistaken Oracle (ORCL) - Get Oracle Corporation Report for a growth company -- at least not in the last 10 years.
While Oracle has certainly taken what I believe were prudent and necessary strides to grow into areas like SaaS, or software-as-a-service, and Big Data, the company's recent performance, including its first-quarter earnings results, confirmed what the Street has long assumed to be true -- Oracle
the shadows of
including
Salesforce.com
(CRM) - Get salesforce.com, inc. Report
and
Workday
(WDAY) - Get Workday, Inc. (WDAY) Report
. But it doesn't have to.
As dominant as the database giant has been over the years, the times are indeed changing. Much as I respect the database giant, I can't continue to blame Oracle's less-than-stellar revenue results on the economy and poor enterprise spending when rivals like
Tibco
(TIBX)
about the number of deals they've won. The fact of the matter is, the competition has grown fierce. There's no other way to spin it. While Oracle's certainly producing impressive profits, it's time to rethink from where the long-term value is going to come.
The thing is, after Oracle offered weaker-than-expected second-quarter guidance, the stock is destined to remain "rangebound" for the foreseeable future. Oracle is a good stock but it is better for the long-term investor, especially those who value a strong balance sheet and a decent yield. For everyone else, it's time to grab a Snickers bar.
I'm not going to blow this quarter out of proportion and tell you that it was terrible. When all things are considered, I believe the results, which arrived pretty much on-target with management's prior guidance, were actually decent. As has been the case for several quarters, Oracle again exceeded non-GAAP earnings-per-share expectations, earning 59 cents per share, or 6 cents more than consensus estimates.
Revenue, meanwhile, continues to disappoint. Non-GAAP total revenue was up 2% year over year to $8.4 billion. Granted, 2% revenue growth is not on the same level of Salesforce.com's 31% growth, but it's nonetheless encouraging that Oracle more than doubled its growth output for the June quarter.
I'm also willing to give the company the benefit of the doubt for growing new software licenses and cloud software subscription revenue by 5%. In my earnings preview, I had modeled for only 3.5% to 4% growth. In that regard, while the overall revenue performance combined with second-quarter guidance failed to inspire much confidence, investors shouldn't discount the implications of Oracle's sequential improvement.
What's more, while it does seem as if Salesforce and the like are running "growth laps" around Oracle, they have never been able to match Oracle's strong profitability, including an 8% year-over-year growth in GAAP net income. Not to mention, a GAAP operating cash flow that has now advanced to close to $15 billion during the trailing 12 months.
By contrast, while the Street continues to reward Salesforce's stock with higher valuations on the heels of its 31% revenue growth, Salesforce continues to show weaker leverage, including 2% year-over-year decline in non-GAAP operating margin, while gross margin contracted by roughly 50 basis points. In that regard, I believe it's pointless to continue to assess Oracle's performances relative to Salesforce.com or even Workday.
I've said this before and it's certainly worth repeating here, Oracle is a "bottom-line performer." What I mean by this is, nobody should be buying Oracle's stock today for growth -- that's not what the company is anymore. Yes, the growth has slowed. But it's not a situation where Oracle is falling behind in the cloud and/or succumbing to pressure. It's time that investors adjust their expectations.
It's not as if management doesn't understand the company's total addressable market, which also includes software, hardware and services, is changing. As with
Cisco
(CSCO) - Get Cisco Systems, Inc. Report
, Oracle has been working to diversify its business. This is why Oracle's recent deals, including the company's
of
Acme Packet
( APKT) and shortly thereafter buying network vendor
Tekelec
, deserves more time.
At around $34 per share, I believe this is still one of the best companies on the market. The company's strong cash position, which includes roughly $40 billion on the books, will continue to present management with plenty of options and opportunities to grow its market.
Oracle is a stock for the long-term investor. To the extent that management can synergize its recent transactions without disrupting Oracle's core business, this stock should reach $40 per share in the next 12 months.
At the time of publication, the author held no position in any of the stocks mentioned
.
Follow @saintssense
This article was written by an independent contributor, separate from TheStreet's regular news coverage.
Richard Saintvilus is a co-founder of
where he serves as CEO and editor-in-chief. After 20 years in the IT industry, including 5 years as a high school computer teacher, Saintvilus decided his second act would be as a stock analyst - bringing logic from an investor's point of view. His goal is to remove the complicated aspect of investing and present it to readers in a way that makes sense.
His background in engineering has provided him with strong analytical skills. That, along with 15 years of trading and investing, has given him the tools needed to assess equities and appraise value. Richard is a Warren Buffett disciple who bases investment decisions on the quality of a company's management, growth aspects, return on equity, and price-to-earnings ratio.
His work has been featured on CNBC, Yahoo! Finance, MSN Money, Forbes, Motley Fool and numerous other outlets.
Follow @saintssense