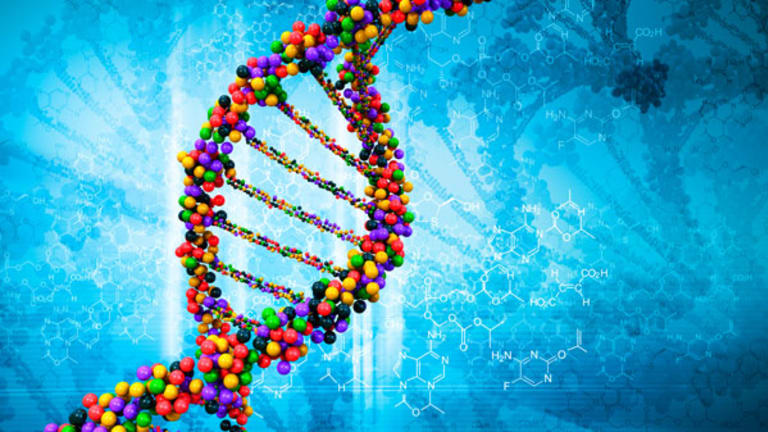 The Street Can't Help but Love Amgen
The company was never as bad as it was once perceived to be.
NEW YORK (TheStreet) - With so many well-managed biotech names out there like Medtronic (MDT) - Get Medtronic Plc Report and Stryker (SYK) - Get Stryker Corporation Report, making a strong argument for shares of Amgen (AMGN) - Get Amgen Inc. Report has always been difficult, given the uncertainties that surround the company's pipeline.
Although Amgen's cancer drug Neulasta has been a huge success, analysts have done nothing but complain that Teva Pharmaceuticals (TEVA) - Get Teva Pharmaceutical Industries Ltd. Report, which is working on a rival product will eventually eat up 25% of Amgen's quarterly revenue. And to say nothing about the threat that exists from biosimilars like Roche (RHHBY) and AbbVie (ABBV) - Get AbbVie, Inc. Report, which deal in Amgen's territory of generic biologic compounds.
But here's the thing; these and other concerns have been around for the past 12 to 18 months. Yet, during that span, shares of Amgen, which have climbed almost 90%, have soared on the wave of excitement generated by these same Pharma and biotech rivals that have worried the Street with potential attacks.
Essentially, these worries about Amgen's lack of competitive position have had the opposite effect. And following Amgen's $125-per-share acquisition of Onyx Pharmaceuticals (ONXX) , which should help Amgen narrow its growth gap over the next three years, the Street has no choice but to value Amgen closer to its peers, given the advantage that it now has in its sales and manufacturing infrastructure.
In that regard, given the company's better-than-expected third-quarter earnings results, which sent shares soaring to a record high, the sky's now the limit for this company. Revenue was up 10% year over year to $4.75 billion, which beat analyst expectations of $4.58 billion. While it's true that a government order worth $155 million was a key contributor in the quarter, I was nonetheless impressed by the balance shown in Amgen's portfolio of products.
Both Neupogen and Xgeva, which posted revenue growth of 50% and 41%, respectively, were by far the outperformers in the quarter with combined sales of almost $1 billion. Not to be outdone, although Prolia generated revenue of less than $180 million, it still represented year-over-year growth of 61%. All of which helped to offset the 10% decline in Aranesp, which came in at $497 million in total revenue.
While it's clear that management remains focused on growth, Amgen also demonstrated effective cost controls, including 20-basis-point decline in expenses. From an operational perspective, this level of fiscal awareness led to a 13% increase in adjusted net income, which led to a 27% year-over-year increase in earnings per share.
So while it might not appear as if Amgen's management is eager to return cash to shareholders in the form of buybacks and dividend increases, with key acquisitions like Onyx, it is clear that the company has figured out the right formula for share-price appreciation. As optimistic as I may be, I'm not suggesting that Amgen has solved its entire problem, especially from the biosimilars perspective.
In that regard, I do see both AbbVie and Teva as worthwhile threats, particularly from Teva's strong marketing and manufacturing capabilities. But again, we've been citing these issues for almost two years and Amgen's management has shown no signs of deteriorating sales. While concerns about the pipeline remain, the company's track record of revenue growth suggests that these fears have been overblown.
Now with the stock having achieved its record high, I can see why some investors would be gun-shy about taking a position here. And I won't have a problem with that. But let's call it what it is. With management having raised full-year revenue and earnings guidance, the Street owes this company an apology.
The fact is, Amgen was never as bad as the company was once believed to be. And the Street has finally owned up to its mistake. The stock may not be a strong buy at the moment, given its recent gains, but with the chance of positive clinical data in 2014, Amgen shares can still do well for investors looking for exposure in the biotech space.
At the time of publication, the author held no position in any of the stocks mentioned.
Follow @saintssense
This article was written by an independent contributor, separate from TheStreet's regular news coverage.