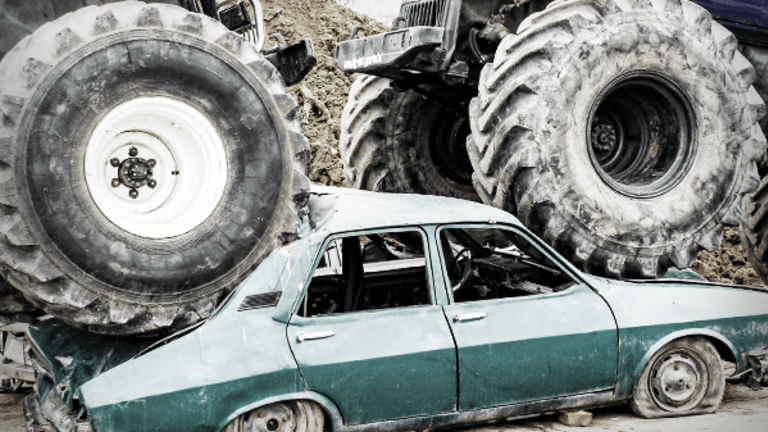 The Stock That Crashed 25% Overnight Has a Lesson to Teach Us: Market Recon
Down goes Frazier, and down went Applied Optoelectronics.
"It is during our darkest moments that we must focus to see the light." -- Aristotle
The Cradle Will Rock
Ever hear of a small-cap firm known as Applied Optoelectronics (AAOI) ? Day traders sure have. Many others have as well. If you haven't ... well, sit down. You are about to. Applied Optoelectronics reported quarterly earnings last night. For the second quarter, the firm earned $1.54 a share, beating expectations by $0.22 cents. Revenue was reported at $117.4 million, another beat, and up 112% year over year. Wow! The stock had rallied over the last few minutes of the trading session to close at $97.99, leaving the name up 4.8% on the day, and up an incredible 318% for the year. That's precisely when the music stopped. Applied Optoelectronics is a manufacturer of, wait for it ... optical equipment. Its best customer is Amazon (AMZN) , accounting for more than half of the firm's entire business. Other significant clients are Action Alerts PLUS charity portfolio holding is Facebook (FB) , and Microsoft (MSFT) . After the bell, and after the numbers had been released, AAOI announced that the firm had seen softer demand than had been expected for their 40 gig solutions from one of their large customers. Speculation immediately centered on Amazon, though the company was not identified. Speaking of speculation, there has been plenty that Amazon, among other large tech firms (MSFT?) would start creating some of their own optical equipment, rather that purchase it from an external source.
Down goes Frazier, and down went Applied Optoelectronics. In the dark of night, the shares were trading around $72. That was more than a 26% discount from Thursday's closing price. It was not just AAOI, either. Competitor Infinera (INFN) was running at a 10% discount this morning as well, after reporting a light revenue number after last night's closing bell. Another name to watch in the space will be Macom Technology Solutions (MTSI) . This firm makes the chips used in this type of equipment. It missed on EPS and revenue earlier in the week, and have now warned of reduced demand for their products from Chinese clients. Bet you thought I would lead with Jobs Day today, didn't you? I go wherever the folks will be fighting over the money, gang.
Spooked
Another firm dancing with the "Ugly Stick" overnight is Viacom (VIAB) . For those uninitiated, these guys own Nickelodeon and MTV. They came in light on revenue last night as well. If you listened to the call, you found out that the firm had not received an expected payment back in June from Huahua, a studio in China, with whom Viacom though it had landed a $1.0 billion deal earlier in the year. While revenues at Paramount showed growth and the international business grew, domestic advertising sales fell by 2%, and subscribers fell by 3.5% over the firm's fiscal third quarter. Oh, boy ... where have we seen this story before? The firm did reduce its debt load. At least, that's a positive.
Indeed, there is some good news in this release. No matter. That all becomes overshadowed as we steam toward today's opening bell by two things. The concerns over Huahua, and subscribers. Oh yeah -- the firm expects subscriptions to drop by another 3% in the current quarter. No way to sugarcoat that.
Get Your Programs Here
I am sure that if you play this sport, you noticed the attack of widespread sell programs that hit the equity markets across all indices and sectors around 3:30 p.m. ET yesterday. This came as news broke that Special Counsel Robert Mueller had impaneled a grand jury related to his investigation of Russian interference in the 2016 U.S. presidential election. You may have also noticed the market's rapid recovery. Though still down on the day, the broader indices did recover to the levels that they were at just prior to the breaking of that news. Just what gives? On one hand, traders believe that one might not open a grand jury unless they had evidence that a crime had occurred. On the other hand, we are told that this is a routine step in any large, complex investigation, and that this in no way means that criminal charges will ultimately be filed. I have political views, but they are mine. In this space, I only care about how to profit from, or protect myself from what develops as either a catalyst, or a threat to my portfolio.
Dunkin' Donuts May Drop the 'Donuts' From Its Name -- This Isn't a Joke
Introducing One of the Only Executives That Appear Wildly Bullish on Snap's Prospects
Grand juries are initially impaneled for terms of 18 months, gang. This investigation will likely last at least a year. One, Mueller has a lot to look at. He also does not want to make mistakes that put his own impartiality under the microscope. In other words, we will not likely see meaningful news in this space for quite some time, and it made sense for him to open a new grand jury with a year and a half term than to start using one already created if he feels that he may run close to needing all of that time. The bottom line as far as your money is concerned is this: If there were to be charges filed soon, it would likely either end or push much further out any hopes for tax reform, and any budget that allows for greatly increased military spending, as well as an infrastructure build. This step made public yesterday is just not that kind of news. Carry on.
Macro
08:30 - Employment Situation (July)
Non-Farm Payrolls: Expecting 180,000, June 222,000.
Average Hourly Wages: Expecting 2.5%, June 2.5% y/y.
Average Workweek: Expecting 34.5, June 34.5 hours.
Participation Rate: Expecting 62.8%, June 62.8%.
Unemployment Rate: Expecting 4.3%, June 4.4%.
Underemployment Rate: June 8.6%.
As we head into what the media will bill as the macro event of the day, or even the month, what we look for within the report from the BLS has changed dramatically. For years now, all that mattered was job creation. Don't get me wrong, job creation still matters, at least to those of us slugging it out in the real economy. Anyone venturing across the moat understands that there is still plenty of slack in the labor market, even among the already employed. We must now try to get inside the heads of those who sit on the FOMC, and as traders allow for the possibility that they just do not understand exactly what they are dealing with. I have said it before. Somebody organizing pickles on a shelf who once held down a job providing annual compensation of $65,000 or more does not feel fully employed. Oh, the fact that this individual took a job makes the Fed feel better. It allows those who've never moved dirt, or pulled back to back 19 hour shifts in order to meet a deadline, to label the economy as "fully employed". It also easily explains why the simplistic Phillips Curve no longer works the way it reads in economic textbooks.
The probability of another increase for the fed funds rate this year, as priced in by the futures markets, has dropped to 44%. That is why job quality becomes an issue starting right now. Wage growth and average workweek become the two most important items in today's data. The participation rate matters more as a measure of sentiment than a measure of economic success to this Fed, so for our purposes, it does not exist. The unemployment rate is a farce. Everybody knows it. Politicians choose to make it important when it suits them. The underemployment rate still matters, as this more accurately portrays the trajectory of the labor market than maybe anything else. Employers are more likely to add hours than either new employees or higher wages at the first sign of their own increased demand for labor. We actually have seen this, and I expect although this rate took a step backward in June, we see a resumption of the overall trend today.
The bottom line is this: Energy prices were considerably higher in July than they were in June. That will push up on headline level consumer inflation. July CPI is due one week from today. If, in one week, the Fed can claim a minor victory on inflation coming off a year-over-year print for wage growth that beats 2.5%, then the pressure will temporarily be off, and the talk, as well as those futures markets will turn more hawkish in nature. I have five Fed speakers on my radar for next week.
The Company That Makes Your Favorite Cereal Has a Stock You Must Also Eat Up Immediately
08:30 - Trade Balance (June):Expecting $-44.4 billion, May $-46.5 billion. The June trade balance for goods printed better than expectations, and showed an improvement of $2.4 billion from May. Hence the expectation in this broader release that also includes the service sector where the U.S. actually carries a trade surplus. This data will impact GDP expectations, so you can keep your eyes peeled for news from Atlanta. If you recall, the Atlanta Fed pretty much nailed the first look at second quarter GDP with their expectations of a 2.6% q/q annualized print. If you did not notice, Atlanta is currently projecting third quarter GDP of a whopping 4%.
13:00 - Baker Hughes Rig Count (Weekly):Last Week.. Total 958+8, Oil 766+2, Permian 379+5. It was indeed interesting to see a pop in operational, oil-producing rigs in the Permian Basin last week. It will be even more interesting, and perhaps negatively impact the market price for crude, should we see this develop as a trend now that oil prices though off a bit this week, are a good deal higher than they were a few weeks ago.
Sarge's Trading Levels
These are my levels to watch today for where I think that the S&P 500, and the Russell 2000 might either pause or turn.
SPX: 2492, 2483, 2477, 2468, 2459, 2449
RUT: 1421, 1415, 1408, 1400, 1391, 1384
Today's Earnings Highlights (Consensus EPS Expectations)
Before the Open: (AON) ($1.44), (GOOS) (-$0.19), (CI) ($2.48), (CTB) ($0.74), (NWL) ($0.87)
After the Close: (KRO) ($0.39), (MTX) ($1.23)
Get Morning Recon delivered directly to your inbox each market day. Click here to sign up for e-mail delivery of Stephen "Sarge" Guilfoyle's Morning Recon, Jim Cramer's Daily Booyah! or other great free newsletters from TheStreet.
Don't miss these top stories on TheStreet:
Tesla CEO Elon Musk's Grand Model 3 Goals Could Be Ruined by These 5 Rival Cars
At the time of publication, Stephen Guilfoyle had no positions in the stocks mentioned.