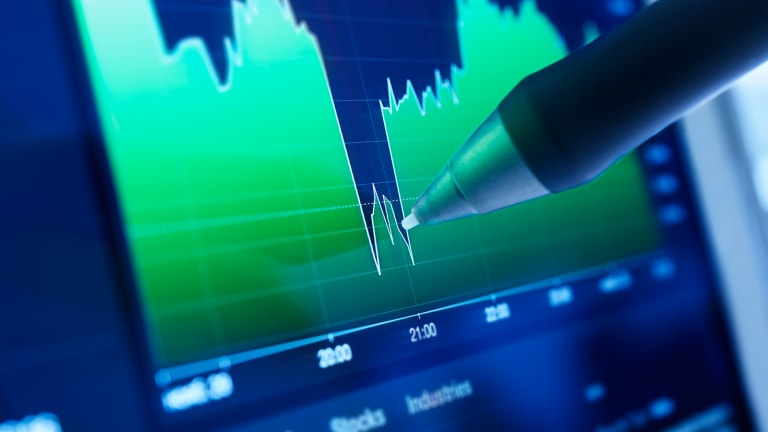 The Stock Market Will Be in a Holding Pattern Until Thursday
Dr. Draghi and Fed Chair Janet Yellen both speak on Thursday as the euro looks to lose value once again.
The stock indexes closed lower on Monday as the DJIA lost 78 points to close at 17,720 and the S&P 500 was lower by 9.7 to close at 2,080.  The Nasdaq lost nearly 19 points to finish at 5,109 and the Russell 2000 lost 4.26 points to close at 1,198. The S&P 500 Trust Series ETF (SPY) - Get Free Report volume traded nearly 110 million shares on Monday.
The big news on Monday was that the International Monetary Fund approved adding the Chinese yuan in the Special Drawing Rights basket of reserve currencies. This was not unexpected and the effective date is October 1, 2016. The IMF has made such moves three times in the past 50 years and it always happens in conjunction with a crisis of confidence in the U.S. dollar. Having the Chinese yuan added to the basket is a big deal because when the next financial crisis occurs, the IMF will issue a massive amount of capital, with the yuan included.
In the meantime, the U.S. dollar continue to trade higher in anticipation of the Federal Reserve raising interest rates on December 16. Below you will find the weekly chart of the DB US Dollar Index Bullish Fund (UUP) - Get Free Report . The UUP is extremely overbought on the weekly timeframe as the markets head into the interest rate announcement in two weeks. We may see a "buy the rumor, sell the fact" response to that announcement.
In addition, the Chicago Purchasing Managers Index tumbled in November, coming in at 48.7 from 56.2 in October. Those are recessionary numbers. On Friday, we have the huge jobs report for November. This will be the final report before the Fed interest rate decision on December 16.
In sum, expect the markets to trade in a narrow range as we head into Thursday when the volatility should pick up.
This article is commentary by an independent contributor. At the time of publication, the author held no positions in the stocks mentioned.