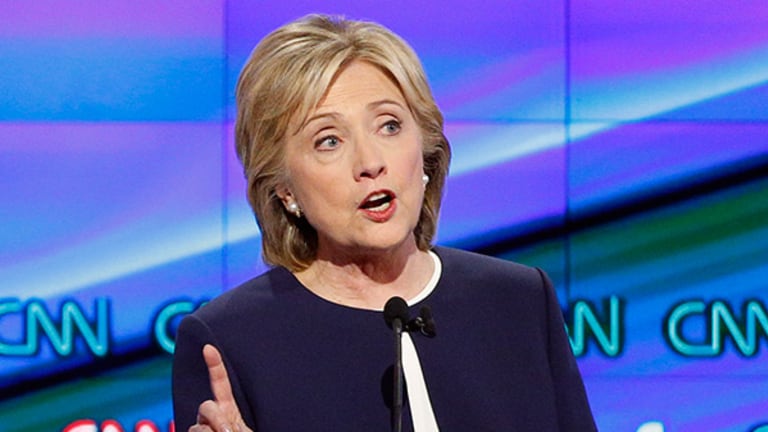 The Stock Market Thinks Hillary Clinton Will Be the Next President of the United States
Much like Kim Kardashian can 'break the internet' with a picture, it appears that Hillary Clinton can break the stock market with a tweet.
Much like Kim Kardashian can 'break the internet' with a picture, it appears that Hillary Clinton can break the stock market with a tweet.
Much like Kim Kardashian can "break the internet" with a picture, it appears that Hillary Clinton can break the stock market with a tweet. And while all bets are off as to whether Kardashian's husband Kanye West will be successful in his 2020 presidential bid, it looks like Wall Street already thinks Clinton will take the White House in 2016. Because when she speaks, the market listens -- and reacts.
A string of tweets sent out from the Clinton's Twitter account on reforming the U.S. criminal justice system caught investors' attention on Friday, and one specific message caused a handful of private prison stocks to plummet.
"We need to end private prisons. Protecting public safety ... should never be outsourced or left to unaccountable corporations," the former Secretary of State said in a tweet.
Moments later, private prison stocks took a dive. Bloomberg points out that Corrections Corp. of America plummeted over 6% and Geo Group fell more than 4%. Both have rebounded since.
This isn't the first time Clinton's social media activity has triggered a severe reaction from the markets and wiped millions of dollars off of company values in minutes. A tweet she sent out pledging to take on "outrageous" price gouging in the specialty drug market sent biotech stocks into a tailspin in September.
No other candidate in the current presidential race -- including boisterous Republican contender Donald Trump -- has produced such a response from the markets. But President Barack Obama has fueled such tumbles; for example, causing cable stocks to drop with his statements on net neutrality last year. When the President speaks, the markets listen. 
Of course, election day is still a year out. A lot could -- and will -- happen between now and then.
"It seems rather far away," said John Goodell, associate professor of finance at the University of Akron. He also noted that market volatility often tends to run high anyway early on in the election process, though it generally settles down as time goes on. "As election uncertainty resolves, then the market will calm down and become less volatile," he said.
But Goodell's research for a 2013 paper titled "U.S. Presidential Elections and Implied Volatility: The Role of Political Uncertainty" indicates that once a specific candidate begins to stand out, anxieties among investors can set in. "Once you identify one candidate likely to be elected, there's sort of a nervous reaction to that," said Goodell. "We thought that was the process of campaigning that caused that."
Beyond knee-jerk reactions in the equity markets to Clinton's comments on the campaign trail, there is another kind of market that may prove an even stronger indicator that investors believe she's headed to the Oval Office -- prediction markets.
"[That's] probably the most direct way," said Eric Zitzewitz, professor economics at Dartmouth University and prediction markets expert.
Prediction markets are exchange-traded markets created for the purpose of trading the outcome of events, including politics. They've proven their presidential-predicting prowess in the past. Intrade, a now-defunct prediction market based in Ireland, correctly predicted the outcomes of the 2004, 2008 and 2012 presidential elections. "Intrade was incredibly accurate," said Brandi Travis, Chief Marketing Officer at PredictIt, a site that has risen in Intrade's wake.
PredictIt currently has Clinton listed with an 80% probability of getting the Democratic Party nomination, well ahead of Bernie Sanders, whose chances are listed at 21%. Travis said that after Vice President Joe Biden announced he would not be making a third run at the presidency, Clinton's stock spiked. PredictIt gives Clinton a 55% likelihood of landing in the White House in the general election.
Betfair, a U.K.-based site, has Clinton at about 52% odds of becoming the next president. Both Betfair and PredictIt list Marco Rubio as her likely Republican opponent, though they give the Florida senator significantly lower odds of winning the presidency at this early stage.
While those investing in prediction markets may not be the exact same individuals involved in the stock market -- or in biotech and private prison stocks, specifically -- the psychology they work on is very much the same.
"They are all exposed to the same public information, and they may not be reacting to it in the exact same way, but when you get large numbers of people, the average reaction is likely to be fairly similar," Zitzewitz said. "The odds of her winning in [prediction markets] are probably roughly three times [her competitors]. . . . I would expect statements she would make related to policy would be moving the market three times as much as whoever the highest odds Republicans are at the moment."
This article is commentary by an independent contributor. At the time of publication, the author held no positions in the stocks mentioned.