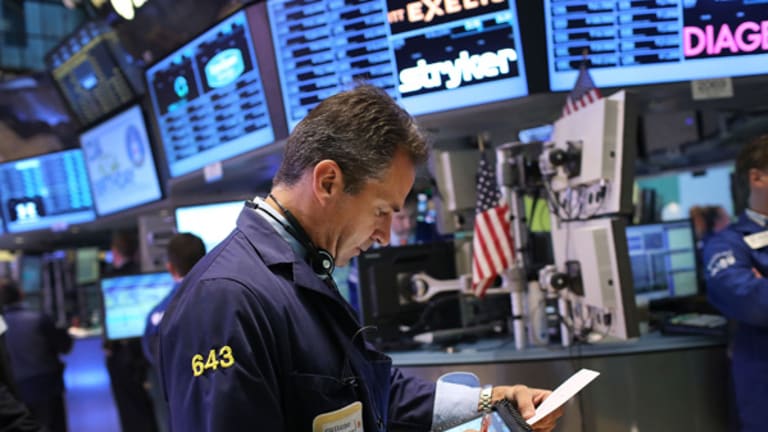 The Stock Market Holiday Bulge: Prepare for Selling
Savvy traders realize that a market selloff is in the cards.
NEW YORK (TheGoldAndOilGuy.com) -- I would like to start by wishing you Happy Holidays and a Happy New Year!
So far, this year has been a great one for trading, and I expect 2014 to be as good or better. I'd like to talk about the stock market and what is likely to unfold in the next week or two so you can protect your investments.
As many of you know, I follow and post frequently on StockTwits.com. I like to see what traders and investors are thinking/feeling about the broad market using extreme sentiment readings as a contrarian signal. This helps me develop trade ideas or protect open positions more by tightening my protective stops and locking in partial profits.
Below I have posted two charts on sentiment courtesy of StockTwits.com to show these extreme readings for the U.S. stock market. The first chart is of the symbol $STUDY, and this sentiment shows us that 98% of trading material is bullish on the stock market right now. My theory is that if most traders are moving in one direction, you'd better be ready for them to change direction. The masses move like a school of fish, and once they get spooked, they change direction and start selling everything they just bought.
The second sentiment chart is of the SPDR S&P 500 ETF (SPY) - Get SPDR S&P 500 ETF Trust Report exchange-traded fund. It tracks the S&P 500 index and is also a gauge for broad market sentiment. If we think back to the 80/20 rule, we know that 20% of the crowd/clients are correct while 80% tend to be incorrect. Sentiment is reaching the highest level in a couple of months, the index is making new highs and there's the holiday price bulge. Logic says a pullback in the near term is very likely and that it could be sharp and almost like automated trading.
Market Sentiment -- Broad Market Contrarians Indicator


The stock market has wave-like patterns that form on a monthly basis and provide us with a steady stream of trading opportunities. One of the best swing-trading tools for timing these waves is the chart below provided by Barchart.com.
This chart rises as more stocks trade above their 20-day simple moving averages. When the majority of stocks are in a strong uptrend, a lot of people are trading in the same direction and the odds favor a temporary change in direction. These waves are great intermediate trends for swing trading and typically last multiple weeks at a time. This is one of the strategies I share with my subscribers to TheGoldAndOilGuy.com alert newsletter. Keep in mind, it's not as easy as it looks, because there are more moving parts to this equation, but you can see these extreme waves clearly in this chart.


With the stock market still firmly in an uptrend and firing on all cylinders, short-term analysis is pointing to a pause or pullback in the next week or two. I did forecast this exact price action several weeks ago and how it could lead to the start of a major market top. If a major top does form early in 2014 then we could make some big money once the selling begins.
Remember, stocks fall three to seven times faster than they rise, so once we get short, we can make massive gains quickly. While the masses (those schools of fish) are losing money, we'll be on the other side, watching our trading accounts skyrocket!

This article represents the opinion of a contributor and not necessarily that of TheStreet or its editorial staff.
This commentary comes from an independent investor or market observer as part of TheStreet guest contributor program. The views expressed are those of the author and do not necessarily represent the views of TheStreet or its management.
Chris Vermeulen is founder of the popular trading sites www.thegoldandoilguy.com and www.ActiveTradingPartners.com. There he shares his highly successful, low-risk trading method. Since 2001, Chris has been a leader in teaching others to skillfully trade in gold, silver, oil and stocks in both bull and bear markets.