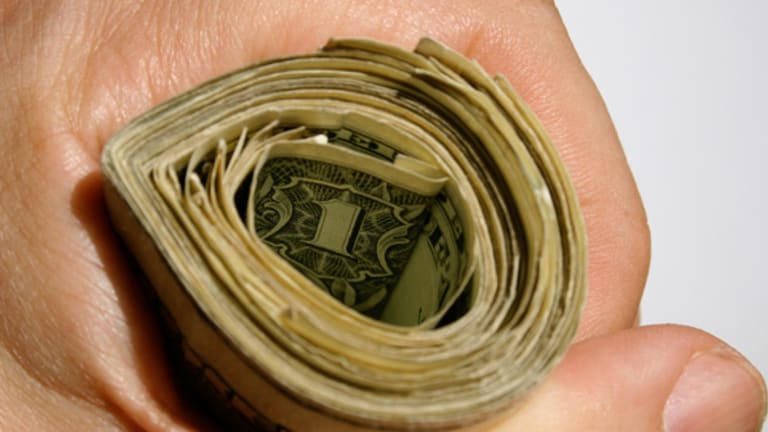 The Stimulus: Biggest Win, Believe it Or Not, Was Shareholder Value
Go ahead, laugh at claims the stimulus created 1.6 million jobs. It helped make shareholders rich.
NEW YORK (TheStreet) -- The final White House report on the effect of the 2009 stimulus came out last week, and was met with a collective yawn. President Obama's Council of Economic Advisers said the $763 billion of tax cuts and spending created or saved 1.6 million jobs a year.
Eeveryone played their assigned role: The New York Times editorial board tut-tutted the remaining doubters, while the libertarian Cato Institute called the analysis "fairy dust''.
But after Washington's windbags have their respective says, we are left with this: Stocks aided by the stimulus have clobbered the market since 2009. In the real world, results like that matter. The business headlines -- not the political ones -- are riddled with success stories that far outweigh the scattered failures of stimulus-backed companies that went bust. As Ronald Reagan once said (on the second try), facts are stubborn things.*
Indeed, back in 2011 I asked tech-consulting shop IDC to put together a list of companies that had been top beneficiaries of the $100 billion IDC estimated that the stimulus would prompt spend on technology -- almost all of it for electronic medical records and new energy technologies. Along with road construction, unemployment insurance and aid to state budgets, this was the biggest chunk of stimulus spending. Then I plugged in their stock prices when President Barack Obama took office in 2009. Here are some highlights of what happened, through Friday's close.
A model portfolio of top health-care information technology companies identified by IDC has more than tripled. (In each example here, I assumed I had bought 100 shares of each company, and the results compare to a 99% gain in the Dow Jones Industrial Average). Of these, the top performer was Athenahealth

undefined

, up 476%. (Athenahealth is a political bastard child, co-founded by President George W. Bush's cousin and President Obama's top technology aide).
A portfolio of the three now-public companies that took loan money to build factories for next-generation autos has climbed 14-fold. This gain is driven mostly by Tesla (TSLA) - Get Free Report -- which built its Model S factory with a government loan deal that included since-redeemed warrants that would have let the government buy Tesla shares for $7.53, or just a smidge below Friday's close of $209.60. The 612% gain for Ford (F) - Get Free Report, which used stimulus-related financing to refit factories to make fuel-saving EcoBoost engines, and the 159% gain for Nissan (making electric-powered Leafs in a Tennessee plant financed with Energy Department loan guarantees) are just gravy.
I count 11 post-2009 initial public offerings of companies that took stimulus money. Most have stumbled after going public -- the list includes at least four biofuels companies and electric car battery maker A123 Systems, which declared bankruptcy. But Tesla's epic performance and SolarCity's (SCTY) climb to $76 from an $8 IPO in 2012 means the list as a whole has jumped almost 120%.  (SolarCity's customers for home-based solar systems could get grants under the stimulus, in lieu of tax breaks).
When solar-panel maker Solyndra went broke before it could stage a planned IPO, defaulting on its $535 million stimulus loan to build its factory, Washington made much of a memo from ex-Obama aide Larry Summers saying "government is crappy VC.'' The argument was that the administration couldn't capably do what venture capitalists do to seed the economy. Solyndra wasn't the only failure. Vehicle Production Group (a startup that made natural-gas powered vehicles for the disabled), Fisker Automotive, and A123 all went bankrupt, too.

But if you say tomato, I say tomahto. You say "Fisker," I say "Tesla." You say "Solyndra," I say "Solar City." Or Ford, or Nissan, or Athenahealth.  Or so on.
What Larry didn't get was that VC is a hit-driven business, designed so a handful of moonshot successes overwhelm the often-larger number of misses. Which you know are coming, and which you accept as part of the game. That's how VC works.
By the way, the stimulus had a fantastic fourth quarter of 2013.  Athenahealth and Fisker both beat profit expectations, while Ford reported in November that it had sold 2 million EcoBoost engines (with production up more than half in the last year). Just Ford's behemoth F-150s, once equipped with EcoBoost, save more fuel than Tesla and Toyota (TM) - Get Free Report plug-in cars combined, Ford says. Even the Nissan Leaf -- sorry, it's an ugly car -- hit a total of 100,000 units sold.
The stimulus was always meant to have multiple bottom lines.  Go ahead, laugh at the estimate of 1.6 million jobs a year if you want. But even if you do, the U.S. has an electric-car industry where there was none before, and electronic medical records are making huge leaps after years of politicians praising the idea of electronic health care without funding it.
George Bush called for EMRs for years in every State of the Union address; Obama funded them. And U.S. generation of wind power has doubled, with solar generation quadrupling, projects that borrowed stimulus money figure prominently in both.
It's just silly at this point to deny that the stimulus created economic -- read, shareholder -- value. Facts, the man said, are stubborn things.
* In his 1988 address to the Republican National Convention, the Gipper's first pass at that line came out "facts are stupid things.''  To his credit, Reagan laughed at his mistake and then fixed it.
Tim Mullaney is an economics contributor to TheStreet.com who has written for BusinessWeek and USA Today.
This article represents the opinion of a contributor and not necessarily that of TheStreet or its editorial staff.
Tim Mullaney is an economics contributor to TheStreet.com who has written for BusinessWeek and USA Today.