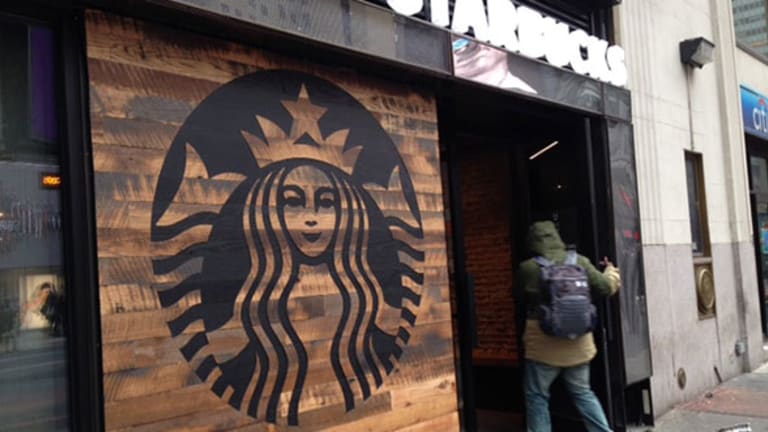 The Starbucks-Dunkin' Donuts Smack Down: Which Stock Will Deliver Better Total Returns in 2016?
Both companies are making inroads in the growing "fast casual" sector, but only one belongs in your portfolio.
Coffee and donuts are generally a great combination. However, this story is a little different.
Coffee retailing giant Starbucks Corp. (SBUX) - Get Starbucks Corporation Report has managed over 51% total returns in 2015, dwarfing the meager 2% gains offered by Dunkin' Brands Group Inc. (DNKN) - Get Dunkin' Brands Group, Inc. Report so far.
data by
That's why, in terms of valuations based on forward earnings, Starbucks, at 28.5 times, is relatively high when compared to Dunkin', which is trading at less than 20 times.
Will the two stocks experience a reversal of fortunes in 2016? The key is to find the stock with the most attractive valuation, with the best upside opportunities at current levels. Let's delve deeper.
This isn't the first time Starbucks has beaten Dunkin' in terms of total returns -- in 2014, Starbucks was at 6.07% and Dunkin at -9.61%. In 2013 again, Starbucks and Dunkin' were neck-and-neck, having churned out total returns of over 47% each, outperforming the restaurant sector's 30% gains. Only in 2012 did Dunkin' (35.2%) defeat Starbucks (18.13%).
Valuation is a crucial investment criterion. As such, analysts' suggest that Starbucks possesses the greatest wherewithal to grow faster.
Starbucks is trading at a premium when compared to many in its peer group. Dunkin' Brands, which has a higher profitability at 20.8% (trailing twelve months) than Starbucks at 14.4 %, posted 9.3% revenue growth in the nine-month period ended September.
On the other hand, Starbucks finished 2015 (year ended Sept. 15) with a handsome 16.5% rise in topline. Its earnings-per-share (EPS) grew by 34.8% while Dunkin's EPS in the nine month period was almost flat.
The Aggressive mover, the Slower Rival
Clearly, the edge and the momentum is with Starbucks. The company predicts a full year consolidated revenue growth for 2016 of over 10% on a 52-week basis, with the 53rd week expected to add approximately 2%. It estimates global comparable store sales growth at just above mid-single digits.
Most importantly, Starbucks believes its fiscal-year 2016 operating margins should reflect a slight increase versus the previous year, with roughly $1.4 billion in capex expenditures. The company reported a $1.58 EPS for fiscal 2015, a growth of 18.7% over 2014. Analysts expect the company to post an EPS of $1.89 in 2016, implying a rise of nearly 20% from 2015.
For Dunkin', analysts expect the company to finish 2015 with a topline of $810 million, an 8.4% growth over the 2014 fiscal year. Revenues in 2016 are expected at just above $851 million, a meager 5% rise. Dunkin's 2015 EPS growth is projected (by analysts) at 8.5% and in 2016 this figure is expected to accelerate to 14.7%.
A word about dividends: Starbucks, with a yield of about 1.10% (which looks a little measly after the spectacular stock price run this year), has not reduced quarterly dividends since at least March 2010, as per available data.
With a payout ratio of 35.1% and free cash flow of nearly $2.5 billion, Starbucks shouldn't have no problem in maintaining dividends. Dunkin', with 2.51% yield, has a good dividend track record as well. Dividends have grown from 60 cents a share in 2012, to 76 cents in 2013, 92 cents in 2014 and $1.06 in 2015.
However, Dunkin's payout ratio at 61.5%, though not too terribly high, indicates that higher dividends may be difficult, because the company's annual free cash flow has fallen since 2012.
The verdict: Starbucks is the better stock and it should trump Dunkin' once again in 2016 and beyond.
Warren Buffett, the greatest investor of all time, gets sentimental about a specific investing strategy. How come? Because it helped him make his first million back in the day. In fact, the founder of Berkshire Hathaway (BRK.A) - Get Berkshire Hathaway Inc. Class A Report wishes he could still use this system. But Buffett's immense wealth makes the strategy off-limits to him. Luckily, there's nothing stopping you. Buy these fast-growing stocks and watch your portfolio beat the market year after year; just like the Oracle himself. Click here to learn more.
This article is commentary by an independent contributor. At the time of publication, the author held no positions in the stocks mentioned.