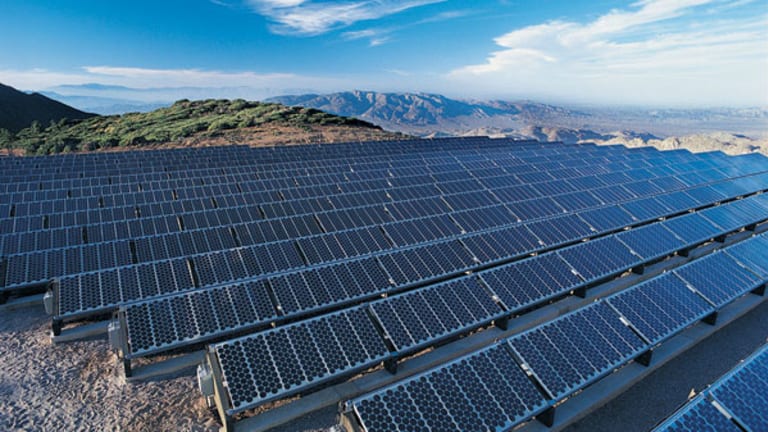 The Solar Bears Are Wrong
Solar costs are declining, storage is creating new markets, and subsidies may no longer be necessary once they expire.
Solar costs are declining, storage is creating new markets, and subsidies may no longer be necessary once they expire.
NEW YORK (TheStreet) -- Right now, some 2,400 solar installations with 43 gigawatts of power are at some stage of the building process. They will make the U.S. the world's third-largest solar market.
Yet, there is an immense bearish pressure being applied to solar energy these days:
Arizona has imposed a fee of roughly $5/month on all solar panels, for connecting to the grid. Such taxes tend to increase with time.
New Mexico has cut solar's share in its renewable energy mix, reducing the value of solar energy credits and increasing the value of those devoted to geothermal energy.
In Europe, which has 76% of the world's solar panel energy (Germany alone has 30% of the total), subsidies have been cut back repeatedly in recent years.
Renewable energy "skepticism" has replaced pure denialism, but its policy choices are the same. Bjorn Lomborg, an adjunct professor in Copenhagen who got his degree at the University of Georgia, is the cover boy for the new movement. In books like Cool It he calls renewable energy subsidies inefficient.
But there are some much better reasons to ignore the solar bears and look favorably on stocks like First Solar (FSLR) - Get Report, up 89% this year; SolarCity (SCTY) , which has nearly tripled in 2013 and SunPower (SPWR) - Get Report, up a whopping 431% for 2013 alone.
There have also been gains in the previously beaten-down Chinese solar sector. Industry leader Yingli Green (YGE)  is up almost 128%, Hanwha Solarone (HSOL)  is up 256%, and Jinko Solar Holding (JKE) - Get Report has quadrupled in value this year.
The economics of solar have changed.
The Institute for Global Self Reliance offers a "solar parity map" that shows that, by next year, 18 states will have solar costs in line with those of other grid energy -- without subsidies of any kind.
Add in the 30% federal tax credit due to expire at the end of 2016 and nearly the whole country has already reached parity. When it falls to 10%, only nine states will find solar power uneconomic on those terms.
The solar industry has also learned to tap the capital markets. It started a few years ago, with First Solar finding it could develop large projects for utilities and then sell them on to companies like Mid-American Energy, a unit of Berkshire-Hathaway (BRK.A) - Get Report.

Now SolarCity has created bonds to finance residential solar energy installations. It sold $50 million this year, and plans to sell $200 million next year, with more due every quarter.
GTM Research says solar economics are due to keep improving. Scale, automation and other new technologies should drive Chinese panel prices down to 36 cents/watt by 2017, with the rate of savings accelerating through the period.
Costs aren't price, of course. The price of a panel is just 20% of an installation's costs when labor, permits, and inverters are added. But savings are accelerating in these areas as contracts become standardized, inverters are incorporated into panels and governments get used to issuing permits on all types of solar installations.
Imre Gyuk of the Department of Energy thinks that for each five watts of energy in the grid, we need one watt in storage, both to handle the intermittency of renewables and to reduce brownouts that cost the $250 billion electricity market $79 billion each year. 
Thus, increased use of battery storage makes the grid more reliable. The Federal Energy Regulatory Commission is encouraging it with new economic incentives that put battery storage on regulatory par with other forms of standby grid power, such as natural gas plants, and make them eligible for fast track approval.
For utilities that don't want to cooperate with small solar installations, storage offers other uses for the electricity. SolarCity is selling Tesla (TSLA) - Get Report battery packs that can store excess rooftop solar for use in electric cars. A start-up called Stem is leasing even larger battery systems to hotels that reduce their dependence on the grid.
Stanford has just announced self-healing battery electrodes and sulfer graphene-oxide batteries should soon start replacing lithium-ion, increasing the range of electric cars and providing another boost to storage economics.
The purpose of subsidies like the solar tax credit and government-subsidized research was always to create a renewable energy sector that could stand on its own and compete directly with fossil fuel energy based on costs.
That goal is being achieved. Solar costs are going to continue to come down while fossil fuel costs are expected to keep rising. With less need for subsidy, solar advocates are also better positioned to go after the fossil fuel industries' tax advantages.
Who would you rather be backing: an industry with rising costs and playing defense, or one that has lower costs and is playing offense?
At the time of publication the author had no position in any of the stocks mentioned.
This article was written by an independent contributor, separate from TheStreet's regular news coverage.