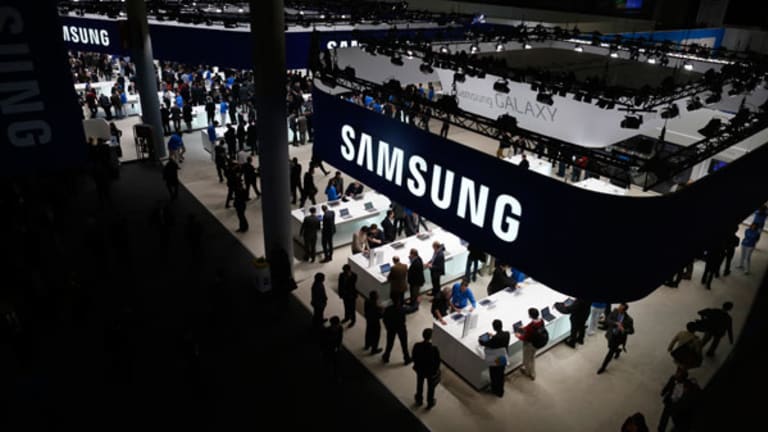 The Skeptic's Guide to Samsung Pundits
Samsung taking advantage of Apple's Achilles' heel? The argument doesn't compute.
NEW YORK (TheStreet) -- As a student of Skepticism, I really enjoy uncovering the logical fallacies tech writers create when pitting one company against another.
I enjoy it because it's fun watching them get caught up in their own exuberance trying to make a point and miss the opportunity due to lazy journalism. This seems seems to happen more when it involves someone trying to knock down
Apple
(AAPL) - Get Free Report
.
I was alerted to just such a piece by an apparent detractor of mine, who is also a follower of my
Twitter
feed. He's obviously a
Samsung
fan, evidenced by the Samsung Twitter references he stuffed in the tweet.
I guess he thought by sending me the tweet he was offering incontrovertible evidence that Samsung had gained an advantage over a hapless Apple. Somewhere in his mind, he probably thought this spelled impending doom for the iMaker.
I really wasn't concerned, I get these things every day. It's the curse of being an Apple evangelist. However, I still wanted to see what this Samsung pundit had to say because you never know -- there could be something interesting to ponder, an alternative, well-reasoned viewpoint.
The article was written by
, a contributor for Forbes.
I had to read the
several times, because I was confused over the points the author was trying to make.
Then I realized his argument that Samsung had "found Apple's Achilles' heel," was built upon a logical fallacy. Here's the key information he offered as evidence; unfortunately, he completely failed to connect it with any sort of premise.
Samsung took advantage of Apple's oversight. Samsung maintained its SG&A budget at 15% of revenues -- even growing it to 24% for a brief time in 2009, before returning to 15%....Instead of looking back at its old ad budget in dollars...Samsung allowed the budget to grow...along with revenues...And that's how Samsung changed the game on Apple. Once America's untouchable brand...People now question Apple's sustainability.
Nowhere in the article does Hartung explain how this information is relevant, or how it makes this a "game changer" for Samsung, although earlier in the article he does wax fantastic how great Apple once was.
I was really hoping to read a reasoned argument. Instead, I was left confused.
--
Written by Ernie Varitimos, author of the Apple Investor blog.
This article was written by an independent contributor, separate from TheStreet's regular news coverage.
Ernie Varitimos has a long history with Apple as an investor, trader and consumer of its technology. He started his career as a rocket scientist and has spent the past 25 years driving, controlling and influencing technology in the financial industry. Ernie is a former hedge fund manager and current futures trader.