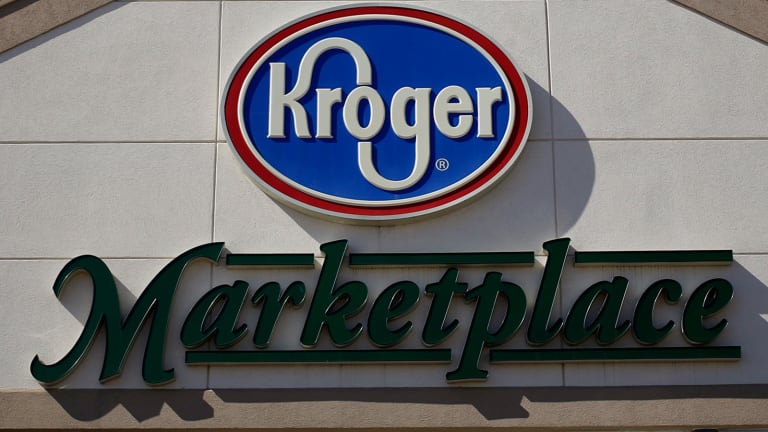 The Single Biggest Reason Kroger Is Destroying Whole Foods
Kroger's greater affordability and its increased organic food offerings are making it hard for Whole Foods to compete.
Editors' Pick: Originally Published Tuesday, Dec. 15.
Updated from Dec. 15 to include new analyst comments from Wells Fargo.
Despite renewed efforts to slash some prices in produce and packaged foods, organic grocer Whole Foods (WFM) is still having difficulty shedding its "whole paycheck" image, much to the delight of hard-charging traditional supermarket Kroger (KR) - Get Free Report .
According to a new price checking survey by Wedbush analyst Phil Terpolilli, Whole Foods is making "slow but steady progress" on improving its prices, particularly in departments such as produce and other "non-value added categories" like packaged foods.
But the goods news on prices for Whole Foods stopped there, as overall, the survey found that Whole Foods remains grossly overpriced relative to grocery stores that have ramped up their discounts and offerings in the natural food space. 
Whole Foods' price premium on a basket of items including produce, dry goods, frozen goods and meat versus conventional grocers increased during the fourth quarter to 29.4% from 28% in the third quarter. In the meat category, Whole Foods had a whopping price premium of 50% compared to competitors, due in part to its higher quality offerings.

Whole Foods has more work to do to get its prices competitive with traditional grocery stores.
As Whole Foods tries to get its overall house in order, Kroger -- armed with a greater number of organic offerings and cheaper prices compared to Whole Foods -- has continued to thrive.
Kroger's third quarter marked an astounding 48 consecutive quarters of same-store sales growth. For the quarter, Kroger's same-store sales rose 5.4%, outpacing Whole Foods' 0.2% decline. Kroger said it saw an increase in both the number of households shopping at its stores and a lift in the number of visits per household.
All geographies and departments notched same-store sales growth in the quarter, with deli and produce (where Whole Foods is selectively dropping prices) leading the way. Same-store sales from Kroger's natural foods department, where its private label Simple Truth continues to be well-received by consumers, rose by a double-digit percentage, according to the company. Simple Truth set a record high for total sales in the third quarter.
Kroger did not reply to requests for comment for this story.
Kroger went on to raise its full year earnings guidance to a range of $2.02 to $2.04 a share, compared to $1.92 to $1.98 a share previously. Same-store sales, excluding sales at over 1,300 fuel stations, are expected to increase 4.0% to 4.5% in the fourth quarter. S
Shares of Kroger have surged about 32% this year, compared to a 34% plunge for Whole Foods and a modest 0.7% drop for the S&P 500. The disparity in stock price performance between Whole Foods and Kroger would be worse if not for speculation that Whole Foods is exploring a transaction to take it private -- shares of Whole Foods are up about 13% in December.
Co-Founder John Mackey recently denied rumors it was looking to make a deal.


Kroger is on a hot streak thanks to affordable prices and more organic offerings.
Only lately has Whole Foods execs articulated a comprehensive plan designed to regain Wall Street's trust and hopefully, that of consumers shopping the aisles of Kroger. Whole Foods has unveiled a plan to reduce expenses by about $300 million by the end of fiscal year 2017. As part of the plan, Whole Foods announced in late September that it will get rid of about 1,500 people, or 1.6% of its workforce.
The money saved from slashing jobs and running its operations more efficiently will be reinvested in lower product prices. Said Mackey on a call with analysts Nov. 4, "We're re-examining our business, and we're systematically working, basically, to cut costs that aren't going to create value for our customers, and then we can invest a lot of that in promotions and into strategic lower prices."
The issue, suggests Mackey, is that people are not seeing why buying more expensive organic produce at Whole Foods is a good economic decision when cheaper options are now available at traditional supermarkets. "So one of the challenges Whole Foods has to do a better job at is communicating our superior quality," noted Mackey, hinting that the company will also be marketing more aggressively in the future to attract shoppers. Based on the Wedbush survey, however, those efforts are moving at a snail's pace.
Summed up Wedbush analyst Phil Terpolilli, "we believe Whole Foods mixed price spreads leave limited near-term potential upside to recent same-store sales and gross margin trends." In other words, Whole Foods is likely still be an overpriced shopping experience in an increasingly competitive organics space, led by new entrants such as Kroger, and will have trouble retaining savvier customers.
Meanwhile, Wall Street remains quite bullish on the prospects of Kroger. BMO Capital Markets analyst Kelly Bania wrote on Dec. 3 that "Kroger's unique ability to satisfy consumer needs against the still bifurcated economic backdrop with its save-and-splurge business model and increased penetration of higher-margin natural/organics fresh categories" is likely to keep it in the good graces of investors in 2016."  
Over at Wells Fargo, which initiated coverage of Kroger shares on Dec. 18 with an outperform rating,  the take on Kroger is much the same. 
"In an industry facing heightened competition, rapid consolidation, and the looming threat of non-traditional competition, Kroger has managed to build a better mouse trap," wrote Wells Fargo senior analyst Zachary Fadem.

Fadem added that "Kroger's customer-first strategy, which focuses on high quality service, efficient operations and fresh products, is resonating with consumers, and recent data analytics investments are driving improved customer loyalty and engagement while the company is also winning share by offering attractively priced fresh, natural and organic products."