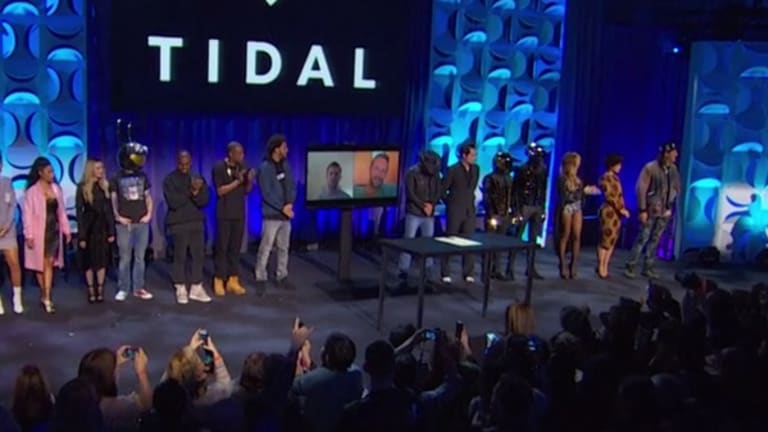 The Sad Story of Bookish, When Book Publishers Tried to Do Tidal but Failed
Book publishing once tried what musical artists are trying today with Tidal -- and it failed miserably.
Book publishing once tried what musical artists are trying today with Tidal -- and it failed miserably.
NEW YORK (TheStreet) -- With music streaming service Tidal, stylish mega-star and music mogul Jay-Z is following the path of boring, tweed-wearing book publishers. And if you know anything about how book publishers have fared in the age of Amazon (AMZN) - Get Report, you know it's not a path to success.
In 2011, three of the world's largest book publishers -- Hachette, Simon & Schuster (CBS) - Get Report and Penguin, which is now part of Penguin Random House -- banded together to create an online book retail site called Bookish, which they hoped would counter Amazon. At the time, the companies said the site was created for "engaging and informing readers about authors and books," essentially, giving them smarter, more useful recommendations on books. But most observers clearly understood that the actual goal was to challenge Amazon's growing hegemony in book retail.
Two years and two CEOs after it was initially announced, Bookish launched as a book retail site, as suspected. Publishers cheered. They were upset that Amazon was selling their books and e-books for less, devaluing their products.
Looking into the future, many of them envisioned a scenario -- which has since come to pass -- where Amazon would be such a dominant retailer that it could force even the largest publishers into terms they didn't favor. A viable retail alternative would help prevent or at least delay that prophecy.
To beat Amazon, Bookish tried offering what it said was a better book recommendation engine, a close connection to authors, exclusive editorial content and a great reading experience for those purchasing e-books.
Less than two years later, Bookish, widely considered a failure, was sold for what was rumored to be a pittance to another online book retail start-up, Zola, which basically stripped it for parts (the recommendation engine, the editorial presence and some of the staff).
Why did Bookish fail?
It turns out consumers really care far more about price and convenience than all the other stuff Bookish threw at them. Amazon kept on doing what it does well: making sure consumers are happy, regardless of how suppliers (and shareholders) feel. The start-up never had a chance.
The similarities between Bookish and Tidal are startling:
1. Bookish claimed a differentiator from the competition that consumers don't really care about: a recommendation engine. Tidal has high-definition as its selling point. Many people can't tell the difference between high-def and whatever Spotify provides.
2. To compensate, Bookish offered editorial content that would help connect readers to authors. In the words of Tidal's CEO Andy Chen in its Justice-League-of-music-stars-filled event, Tidal will have, "exclusive editorial content."
3. About those stars, a bizarre panoply of mostly hip-hop and pop artists with some indie rockers and electronic producers and a token country musician, Jason Aldean, so as not to seem discriminatory to that most polarizing of genres: Bookish tried the same thing. It was launched by publishers, who initially promised unique access to its version of stars: authors. And they delivered. Even today, you can find articles on the much-diminished Bookish.com like "Five Authors Pick Their Favorite Pranksters in Literature" and "Romance Author Jennifer Ryan on Embracing Your Guilty Pleasure Reads."
4. Pricing. This is the most important part. Bookish priced its product in a way publishers could live with. Tidal is doing the same. Amazon and Spotify are much more focused on pricing models that millions of consumers can live with. Tidal says that it's about providing a better experience to customers, but let's take a closer look at the tape:
"We believe that it is in everyone's interest, fans, artists and the industry as a whole, to preserve the value of music and to ensure a healthy and robust industry for years to come." -- Tidal co-owner Alicia Keys at the Tidal launch
We're not fooled by this and consumers won't see it the way the artists do: It means higher prices and actually paying for music with money rather than attention to ads, like at Spotify and Pandora (P) . Industry observers can obviously see the long-term wisdom of this, but that's just not how consumers think.
Bookish may have failed because publishers were unwilling to go to extremes to make it a necessary destination for readers. Readers could still find Hachette, Simon & Schuster and Penguin books elsewhere -- and they mostly did. Bookish's new owner, Zola, hasn't made the same error, striving to acquire exclusive content for sale that can only be found there. Still, Zola hasn't been able to make much of a dent in the book retail landscape. Amazon is thought to control nearly all of the e-book retail market in the UK and is thought to control nearly half of all book sales in the U.S. and the vast majority of online book retail.
To be sure, the music industry and book publishing industry are different. For instance, book publishers have managed to continue to get consumers to pay directly for their content, whereas the music industry has been plagued by piracy problems and a consumer-base that has become accustomed to free as a price point.
Still, the enthusiasm of a very successful, determined set of artists aside, going up against an entrenched first-mover in Spotify and a behemoth in Apple (AAPL) - Get Report with its Beats Audio service, Tidal may not have much of a chance.