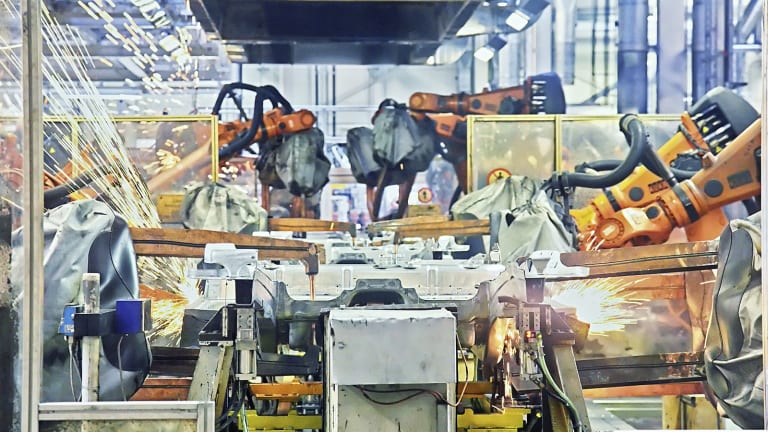 The Reason You Should Worry About Falling Factory Orders Isn't What You Think
U.S. factory orders may be falling because of the strong dollar, which makes imports cheaper than goods manufactured at home rather than a change in consumer spending.
NEW YORK (TheStreet) -- Look out, below: There's a worrying sign in the factory orders data, one that's also somewhat puzzling.
When you chart the data, it looks even worse. Data reported by the St. Louis Federal Reserve Bank shows a dramatic downward trend in new factory orders for consumer goods over the past year. Consumer goods are items that you and I might buy like shoes or hats. It's not industrial machines or aircraft.
It matters for two reasons. First, consumer spending accounts for around 70% of U.S. GDP so if factories aren't getting orders, it may be because the consumer isn't buying.
Second, new orders represent future economic activity. The new order comes in and the factory manager will deliver it in the future. If the manager needs to do so, more workers might be hired. If the orders don't come in, the workers might be fired. That's why economists look closely at new orders.
The downward slope of the orders in dollar terms since April 2014 is notable. They have fallen from $214 billion a month in April 2014 to $193 billion a year later. What's worse is that the trend appears similar to the slope in 2008-2009 during the financial crisis. Ugh!
If orders are down, is that something we should be worried about? On its face, it should be particularly troubling to anyone who is invested in consumer discretionary stocks like those held in the Vanguard Consumer Discretionary ETF (VCR) - Get Vanguard Consumer Discretionary ETF Report, such as Walt Disney (DIS) - Get Walt Disney Company Report or Amazon (AMZN) - Get Amazon.com, Inc. Report. Consumers cut the cable TV contract long before they skimp on the toothpaste or the soap.
Here's where we need to do some detective work because it's not obvious what's going on.
One reason the new orders could be down so much is that retailers didn't see much consumer spending over that period and didn't need to replenish inventories. That seems to be at odds with what we've been hearing out of the retail sector. Yes, retailing is a challenging business these days. But Macy's (M) - Get Macy's Inc Report hasn't exactly been hurting and neither has the stock.
No one is saying consumers are spending like drunken sailors, but they clearly aren't dead either. So what happened?
My thought is that it's a combination of two things. Mainly, the stronger dollar is making imports cheaper. The dollar index was around 96 recently, up from 80 this time last year. If the dollar is strong, then retailers can order their goods from overseas, where the greenback will go further.
Another possibility is that the harsh winter and the economic slowdown in the first quarter may have exacerbated the situation, leaving some retailers with larger inventories than they expected.
Should we be worried? Not about the American consumers. He and she is doing OK. Not great, but OK. I worry about the state of the factory sector and the future prospects for employment if this trend keeps up.
For a radically different, and rather dire, interpretation of the new factory orders data and other related statistics, go to the Economic Collapse blog. Needless to say, I disagree with that perspective.
This article is commentary by an independent contributor. At the time of publication, the author held no positions in the stocks mentioned.