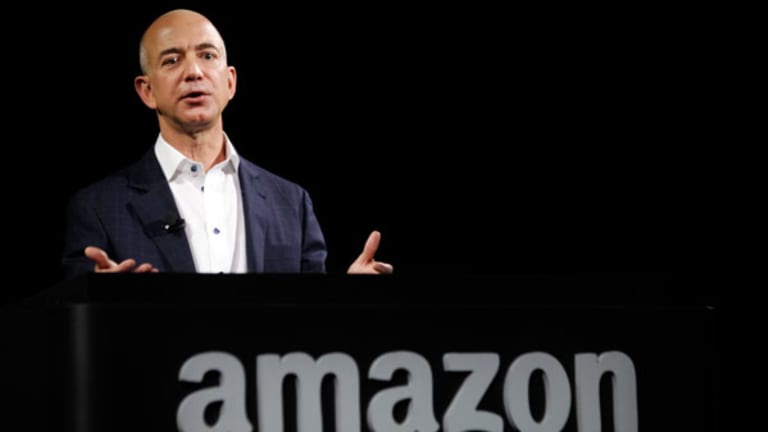 Why Amazon Crushes Apple as an Investment
The story that underlies a company often better explains its stock performance than quantitative metrics.
**Telling Apple (AAPL) - Get Apple Inc. Report and Amazon.com (AMZN) - Get Amazon.com, Inc. Report charts on Page Three.
NEW YORK (TheStreet) -- The hysteria over Twitter (TWTR) - Get Twitter, Inc. Report euphoria underscores the mindlessness of the media as well as the pointlessness of Wall Street "analysis" and their garbage-in, garbage-out quantitative models.
Over the last week we have seen the financial media drone on about TWTR's run and its subsequent valuation. Everybody's looking for answers, but only to the extent scribes, pundits and talking heads can keep pumping the inane Why did Twitter take off question, making it appear even more mysterious and confusing by the second.
Because mystery and confusion equals, at least as the fading theory goes, page views and ratings.
Part of the problem is that so many folks who pay attention to the stock market can't let go of traditional notions of valuation. As humans, we tend to hang on to what we know. We like the comfort of the status quo, what we learned in school, whatever.
It's easier to spew "AMZN is overvalued," rather than try to wrap your head around why that tag no longer matters or even applies.
It's even easier to look at stocks that have a high price per share (but not necessarily a high price), such Google (GOOG) - Get Alphabet Inc. Class C Report, and call them "expensive" or argue they can't possibly go higher.
Other than me!, there's only one guy I have seen lay it out in some of flavor of how it is. TheStreet's Jim Cramer said it best in a Real Money article I have bookmarked, The Case for Amazon:
Welcome to the world of bull-market discipline -- the discipline to buy stocks that aren't cheap but are right. It's the rigor to recognize what the market wants, and not what you want. It's the dichotomy that says you would rather have your portfolio be hated by the intelligentsia and make money than be bound by concerns that simply aren't working right now.
That's one way of saying throw the rule book -- and what comforts you -- out the window.
I'll take it a step further.
This is the type of correspondence I receive everyday, almost all day via the myriad forms of communication our society employs.
From the comments section of last week's article where I called Google a $2,000 stock in 2014:
As usual. you throw a vague number up into the air, without even remotely saying what metrics you might have ued (sic) to get there! Isn't it all emotional then?
I guess this guy wanted something that reads more like this:
Our $35 PT is based on our DCF model through 2020, which assumes a 12% cost of capital, 4% terminal growth rate and a 13.0x terminal EBITDA multiple. Key Drivers of our DCF projection include 2012-2020 CAGRs of 37% and 114% for Revenue and EBITDA. Our PT is also equates to ~7x FY2015E revenue of $958M.

That Morse code comes from an analyst note on Pandora (P) , but it's representative of how Wall Street analysts set price targets and such. Even though reality shows us daily, via the stock market, that this approach no longer applies, these guys keep coming with it, the print media keeps regurgitating it and CNBC and others keep booking these out-of-touch suits as guests.
The method, which consists of plugging numbers into boilerplate, is part of what allows Wall Street analysts to maintain a culture of unaccountability. When you use an objective model and it fails, you can fall back on that model and blame the external forces that failed to cooperate for its failure. But, in the real world, and as TWTR and AMZN, not GOOG, but most definitely AAPL show, external, and not always quantitative, forces are most often at play. As such, you can't simply apply formal models like the one above and expect them to produce consistent results.
If these models had any merit or real-life utility, AAPL would trade higher, AMZN lower and so on and so forth. The bearish argument on AAPL is qualitative. Same goes for the bullish AMZN case. They defy anything quantitative. And when AAPL goes up or AMZN goes down, it won't be because of what the models told us, it will be because something changed with the respective company's narrative. It might be that some number was missed, but that's merely a trigger that leads to a reassessment of the business.
In other words, a once intact narrative starts to unravel, stock falls. Or, inversely, with Apple, the narrative starts to come together. An earnings beat (not a sandbag beat, but a real one) might prompt investors to take another look at Tim Cook as CEO.
Or, pursuant to TWTR (and any other name for that matter), it might just be that it was time for a breather. But, if confidence in the business holds, the stock will again head higher, irrespective of valuation concerns. 
Fascinating stuff as far as I am concerned. I love talking about it. Leaving some questions and thoughts open-ended as to move the conversation forward and challenge my own beliefs.
It comes down to the interplay between quantitative and qualitative methods of analysis. In graduate school, studying the social sciences, I was amazed at the divide between researchers. Most committed to themselves to one approach, dissing the merits of the other in the process. The cats who took on the emerging multi-method, multi-disciplinary approach seemed to get it more than everybody else.
Same with looking at companies and stocks. Sure, I am bias to qualitative analysis because that's what I know and think works. But I'm not completely discounting the quantitative. Because of the ubiquitousness of the quantitative I have to come at it hard, but that's not to say you don't look at it. You look at in its proper place ... and, like Cramer basically said, you don't stay away from a stock simply because the numbers don't add up. If you have, you have left boat loads of cash on the table.
So, over email (on Page Three), I get this comment from a reader:

Not sure why it is easy to see why Amazon outperforms Apple.  One makes boatloads of money and the other does not.  One trades at a 1400 pe and the other 14.  I can see no reasonable basis why Amazon trades at a 1400 pe. None.
You can't take the quantitative at face value like that. Otherwise, you'll wind up on the less lucrative end of this:
That's the one-year look. To be fair, here's the two-year chart:
And the three-year:
Only on the five-year chart, without nearly as much Steve Jobs' health-related concern on the front-end, does the comparison look better:
Because quant models don't mean a damn thing when external forces come into play. External forces such as confidence in the CEO. Follow the line of stock performance and the healthy, steady CEO at the helm explains the variation between AAPL and AMZN a million times better than traditional Wall Street analyst quantitative price target models do.
Both companies took over the world. AAPL has traditionally impressive financial metrics. AMZN does not. But AMZN blows AAPL away as an investment (though, granted, AAPL hasn't been all that shabby). The only way to explain this is to look at the narratives -- both in the rearview mirror and visioning what lies ahead -- which, of course, are highlighted by two strong CEOs and one who doesn't necessarily expire confidence the second he walks on stage.
Put forth any company, particularly battleground names and/or high flyers (e.g., Netflix (NFLX) - Get Netflix, Inc. Report, Best Buy (BBY) - Get Best Buy Co., Inc. Report, Hewlett-Packard (HPQ) - Get HP Inc. Report), and I can trace the company's story -- past, present and possibly future -- alongside stock performance. That's why, now more than ever, as TheStreet's Nicole Urken explained last week on CNBC, we exist in a stock picker's market.
You can't run stock screeners and come up with investment ideas any longer. You might as well buy a dartboard, darts and a bottle of gin. You have to think. Novel idea I know. But, if there's any justice in the world, 2014 marks the year where "thought" and "thoughtfulness" returns to the financial media, the rest of the media, the market and any other entity you deem bleeped up.
--Written by Rocco Pendola in Niagara Falls, New York
Rocco Pendola is a columnist for
TheStreet
. Pendola makes frequent appearances on national television networks such as
CNN
and
CNBC
as well as
TheStreet TV
. Whenever possible, Pendola uses hockey, Springsteen or Southern California references in his work. He lives in Santa Monica.