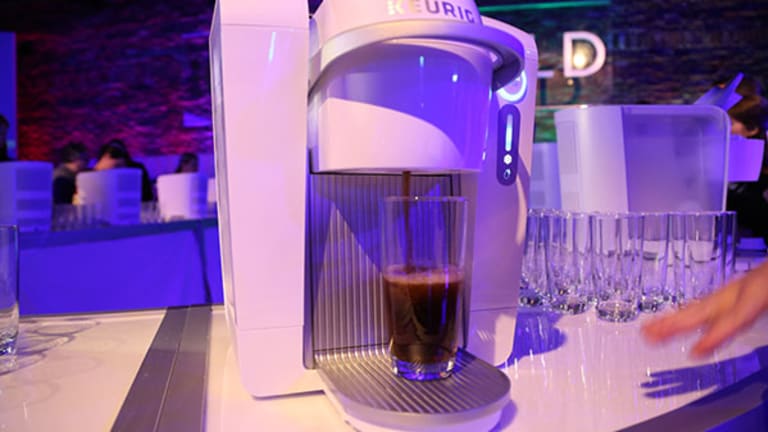 The Real Story Behind The Keurig Green Mountain Deal
Ignore the hoopla! We explore what's really going on with this Wall Street darling and what it means for investors.
If you're a Keurig Green Mountain (GMCR) shareholder, the coffee must taste sweet in the wake of its merger announcement. But could there be a bitter after-taste?
Personal beverage system company Keurig Green Mountain recently announced that it was being acquired for approximately $13.9 billion by the European private equity JAB Holding Co.
So what does the deal portend? Will Keurig soar in 2016, along with other well-positioned game changers, or will the deal prove much ado about nothing? Let's take a look.
GMCR
data by
Throughout the year, before the news of the acquisition, Keurig, backed by beverage giantCoca-Cola Co. (KO) - Get Coca-Cola Company Report , was in a difficult spot.
GMCR was down 60% this year, languishing to a large extent, when the proposed merger between JAB Holding and Keurig produced a sharp reversal of fortunes.
The agreement, which has been unanimously approved by Keurig Green Mountain's Board of Directors, will see JAB acquire the stock for $92 per share in cash. This represents a premium of approximately 77.9% over Keurig Green Mountain's closing stock price on December 4. At the price, Keurig is valued at nearly 25 times forward earnings.
For a company with a solid market share, Keurig's 2015 fortunes (pre-acquisition) were largely linked to the declining sales of its single-serve coffee pods and brewers amid extreme competition. Earnings took a hit as well.
Fast forward to today. With 2016 on the horizon, you should be looking for growth stocks poised for gains in the coming year. Now that Keurig's stock price hovers near $89 levels, some distance away from $92, the big question is, should you buy?
Well, to begin with, it's a risky proposition. While the offer by JAB is for $92 and the deal is expected to close to by first quarter of 2016, the only way for you to get more money as an existing shareholder or a new one is if the deal doesn't go through. Soon you won't have a choice to sell or hold, because it's going private. You can sell now and take the money. Or you can wait six months to a year for the forced buyout at possibly about the same price. The only real reason to hold onto the Keurig stock would be if you think the offer is undervalued and won't go through. Remember to calculate the tax implications, though.
Also, bear in mind, there isn't enough reason to think Keurig is being hugely undervalued at the acquisition price. Before the acquisition announcement, Keurig's EV to EBITDA multiple of around 7.5 made it cheaper than Coca-Cola, Dr Pepper Snapple Group, Monster Beverage and Starbucks.
Post-acquisition and after the huge move in its stock, Keurig trades at 12.8 times EV/EBITDA (trailing 12 months), compared to 16.7 times for Coca-Cola, 13.5 times for Dr Pepper Snapple, 28.7 times for Monster Beverage and 20.8 times for Starbucks.
Keurig is still cheap but you must factor in its weak earnings and the recent not-so-good product reviews. Also, there have been persistent murmurs of how the turnaround in the Keurig business was going to be far tougher than many on the Street had estimated.
The upshot: Climb aboard, if you can shoulder the risk.
Looking for the next Keurig? We've found a small-cap tech stock that has the potential to surge 100% or more in the coming months. This is a growth story with major momentum, so it's important to learn the full details as soon as possible. The stock is trading under $8 a share, and its long-term prospects have never been better, making it a great value. We expect this rocket could take off soon, so be sure click here now and learn more.
This article is commentary by an independent contributor. At the time of publication, the author held no positions in the stocks mentioned.